We use affiliate links. If you buy something through the links on this page, we may earn a commission at no cost to you. Learn more.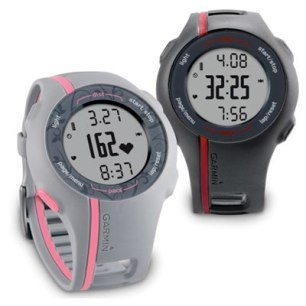 The brand new Garmin Forerunner 110 GPS watch, designed primarily for joggers has recently been unveiled.  It's sleak, small and packed to the hilt with features.  Garmin have also said it will be priced reasonably too.
The 110 Forerunner will be Garmin's latest entry-level watch however, don't be fooled as just because it'll be its cheapest model, it'll still pack a punch when it comes to fetaures.   Firstly, it will run for eight hours in GPS mode, and three weeks on standby, and it will use Garmin's 'HotFix' technology in order to keep track of your route, even when your shrouded by trees and buildings!
When you back in the house catching your breath, you can upload your stats to Garmin Connect, but it'll store up to 200 hours of data on its own, so if you'd rather grab a shower when you back and you forget to upload, it's no big deal! And, the clever little gizmo will even work with Garmin heart rate monitors, so you can see just how many calories you're burning during your pavement pounding routines.
The Garmin Forerunner 110 will be available in April, after being put on display at the Garmin booths at the Paris, Boston and London marathons.  After this time, your local running shop will be stocking it.  No firm word on pricing yet though.
[Via Garmin Blog]