We use affiliate links. If you buy something through the links on this page, we may earn a commission at no cost to you. Learn more.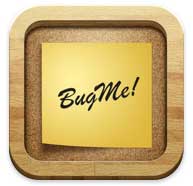 The iPhone's built in Notes app works fine for entering notes with the touch keyboard, but it doesn't have the option to use your finger like stylus to write a note. BugMe! from Electric Pocket is a third party alternative that forgoes the keyboard in favor of scribbling with your finger tip. Some of you 'old timers' might remember BugMe! from the Palm OS days as it has been around for quite awhile. Our own Mark Adkins reviewed it a couple of years go. Let's take a closer look at the iPhone version.
When BugMe! is launched, you're presented with a bulletin board showing your latest notes. To create a brand new note, you just tap the upper Left New Note note.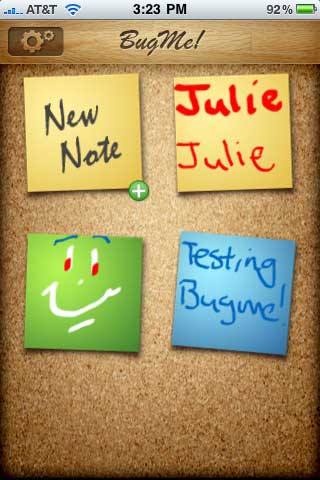 As you add more notes, the board will scroll. But at any one time, you can see 5 of your latest notes. You can also move the notes around the same way that you move icons on home screen, by tap holding and then moving.
The note drawing interface has 5 tool icons below the note. From Left to Right, there's the brush / eraser tool, color palette / brush size tool, note background color picker and camera tool, note share tool and alarm tool.
In addition to choosing the background color of notes, you can also create notes using existing photos in your gallery or by snapping a new image and drawing on it.
The drawing tools are very basic. There are just two brush sizes (example of the sizes shown above in the Left note) and eight color choices. I really wish there were more brush sizes. The note area isn't very large, so it's pretty hard to write much with your finger with the available brush sizes.
Notes can have alarms attached to them, but you need data connectivity for the alarms to actually work. This is probably the main 'gotcha' with BugMe! You should not rely on this app to remind you of important appointments or reminders. If you happen to be out of coverage or don't have a wifi connection, you're out of luck.
In addition to alarms, you can also email your notes, tweet them and save them to your home screen.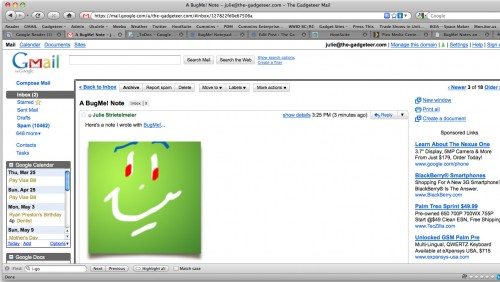 Emailed BugMe! notes and tweets show up like you see above.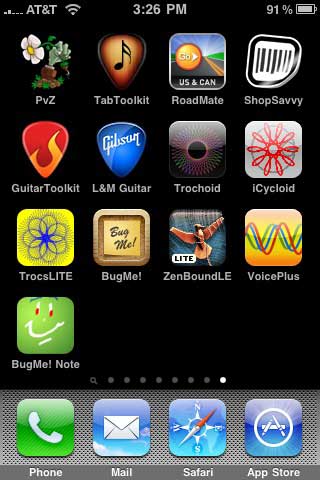 Here's an example of adding a BugMe! note to your home screen.
When it comes down to it, I'd like to see more functionality than what BugMe! currently offers. If they can fix the alarm issue and add a smaller brush size, I think they will be on the right track. That said, it's hard to complain that much about a 99 cent app. Can anyone suggest other note apps that may be better?
Product Information
Price:
$0.99
Manufacturer:
Electric Pocket
Pros:

Easy to use
Can email and tweet notes

Cons:

Only 2 brush sizes
Alarm feature only works if there is an internet connection