We use affiliate links. If you buy something through the links on this page, we may earn a commission at no cost to you. Learn more.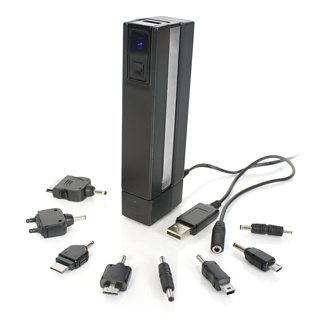 The guys over at Freeplay who kindly came up with the idea for the infamous Wind-up Radio, have now came up with a super-fast method of charging your gear.  It's called the ZipCharge Quick Charger.
Basically, the ZipCharge is a high conversion efficiency rechargeable nano-phosphate lithium cell, that has an 1100mAh capacity.  It utilises very clever lithium-ion battery technology & chemistry and Freeplay say it will charge four times faster than a normal lithium-ion cell.
This means that charging it for only 15 minutes can provide full power for your iPod, mobile phone or even the ability to snap 800 pictures on your digi camera.  Not quick enough?  Well, if you're in a real hurry and need some juice for your kit, then fear not.  Pop the Zipcharge on charge for just 60 seconds (Yep, you read right… 60 seconds) and you'll have enough juice to power your iPod for two hours, take around 80 pictures with your camera, or keep your mobile on stand-by for 8 hours (15 mins talk time).  Impressive!
There are a range of adaptors included with the ZipCharge, so it'll charge almost anything out of your gadget collection.
The ZipCharge Quick Charger is priced at £49.99 and is available from Firebox