We use affiliate links. If you buy something through the links on this page, we may earn a commission at no cost to you. Learn more.
The Palm Centro. Small. Cheap. Powerful. No Notepad program.
Ah, Palm… I know things are not going that great for you right now, but come on- leaving NotePad off the Centro? Forcing thousands of your devoted fans to use (shiver) pencils and paper for quick notes? You might think that Voice Memo is good enough, but one cannot scribble the design for a working Flux Capacitor in Voice Memo now, can one?
OK, so you can beam NotePad from any other Palm that has it (although I understand that notes saved on another Palm cannot be opened on the imported version). There are also some good freeware versions that work nicely (such as DiddleBug). Then there is Electric Pocket'sBugMe! Notepad.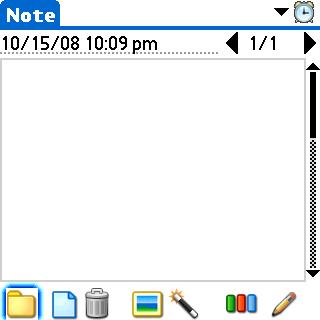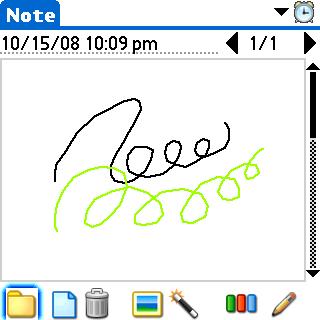 [BugMe's Main Screen- clean, simple, well-organized… and an example of how everyone seems to test pens and notepads.]
BugMe! is a Notepad replacement for $19.95 that has been around in various incarnations for years. It brings some nice touches to the party. The addition of drawing tools and colors is the most visible part, and it greatly helps my doodling and notes to be able to change colors. The addition of 'rubber stamps', or icons you can place and move is fun as well- and you can use many standard icons, such as Datebk and other programs use. Fun, but honestly not something I use often.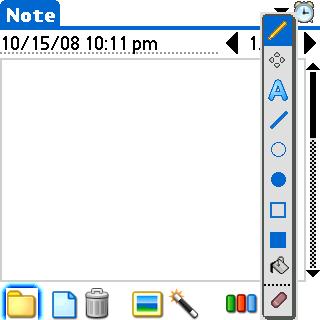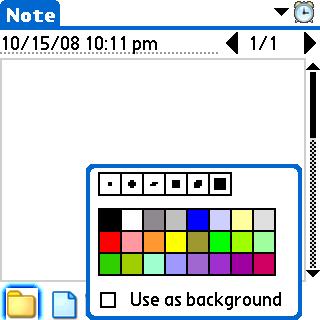 [Simple, intuitive drawing tools and a good color pallete.]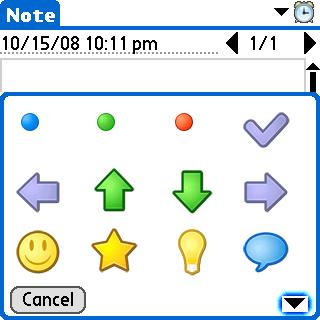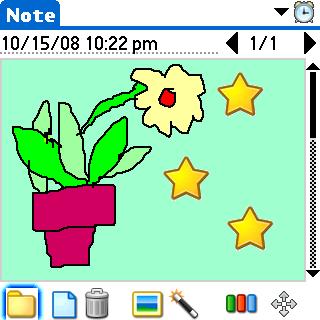 [Some of the 'rubber stamps' and a rather dumb doodle using them.]
Another fun and more useful tool is the ability to draw or write on images- photos, screenshots, imported images- pretty near anything BugMe! can display, you can scribble on! In my sample, I took a photo of some shelves for sale and scribbled the approximate dimensions on the note. Other examples can include marking directions on a map, putting people's names and/or numbers on photos, etc.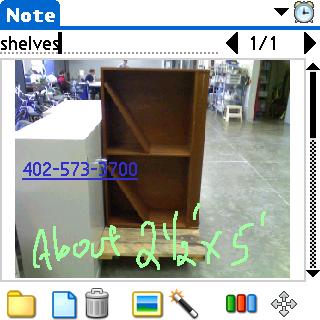 [Photo with written notes, and embedded phone number.]
About the phone number* on that last screenshot… If you use the Text tool, you can embed a phone number, website, etc. in your image and open it by tapping on it. There are some limitations to this, but it is quite handy! BugMe! is full of nice touces like that- a sweetly simple alarm that opens the image and whatever notes or links you associate with it, and other nice features in 1.23M of space. It runs nicely on the Centro- stable and easy to see. The icons are simple and easy to figure out, and there is a well-done menu with 'undo' and other familiar commands that makes it hard to mess anything up too badly. (*- the number listed here is a local business. It had to be a real number to work for the demo. Please don't call it.)
BugMe! can be thought of as a Notepad replacement, a simple 'Paint' program, and a nice alarm all rolled up into one package. I find it so useful that it is one of my 'Old Reliables' that I almost always have on my PDA. To make a really bad pun, BugMe! is one of the few programs that has never bugged me.
Product Information
Price:
19.95
Manufacturer:
Electric Pocket
Pros:

Restores 'Notepad' functionality to the Centro
Goes beyond Notepad

Cons: