We use affiliate links. If you buy something through the links on this page, we may earn a commission at no cost to you. Learn more.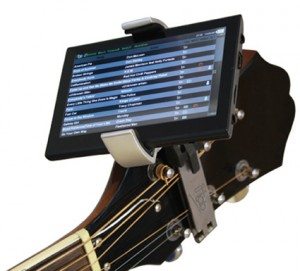 The i-tab is a portable 4GB guitar tablature player with a 5 inch touch screen and built in speakers. Clip it on to the end of your guitar's headstock and it will scroll lyrics and chords while you play. It can also be used to display guitar lessons and play backing tracks. It ships with 30 free songs, but you can purchase more content through their tab store. The i-tab is available now for $199. I wish they had a ukulele version too! Press release after the jump.
PRESS RELEASE – FEBRUARY 2010
i-tab, the worlds first dedicated portable guitar tab player now launched
The revolutionary and patented i-tab, for the first time ever, offers guitarists a pocket sized unit that scrolls chords and lyrics in perfect time. The i-tab allows users to download backing tracks and video cover lessons from a massive library of fully legal tabs, tracks and lessons on www.i-tab.com. Once downloaded, the i-tab sits conveniently at the end of your guitar and acts as the ultimate prompt giving you a seamless clear display of chords and lyrics at the tempo of your choice. Now you can take your tab library with you wherever you go and this really will be your best friend on your guitar.
Ideal for players of every level, the i-tab will help you learn songs, remember lyrics whilst storing 100's of tabs, backing tracks and reels of video. A 4GB memory gives you plenty of room to organise your songs into handy playlists and build your own song library. If you are learning to play you can also download i-tabs free tuition video modules to help you along. Funky video cover lessons will help build your portfolio of cool songs for gigs and parties.
The i-tab unit has a 5" touch screen, in-built speaker and comes with headphones, stylus, USB connector, power charger, soft carry pouch and weighs in at only 0.14kg. The i-tab comes with 30 free song tabs including U2 (Beautiful Day), Oasis (Wonderwall) and The Rolling Stones (Jumping Jack Flash). It also includes TV out leads so you can play synchronized chords, lyrics and backing tracks through the player or through your TV and everyone can sing along!
The i-tab is available to purchase now through www.i-tab.com for £129 (EU€149, US$199). The first units are shipping mid-March and will hit the streets worldwide from early April 2010. The backing tracks and songs (including the chords and lyrics) can be purchased from the website at a price of 25 pence for the tabs and 50 pence for backing tracks.
i-tab, songs at your finger tips
For further information visit www.i-tab.com