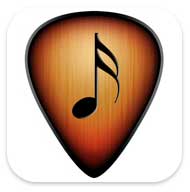 When I first discovered the TabToolKit iPhone App by Agile Partners I thought it was a very cool idea for guitar players who like to use tablature to learn new tunes. I quickly learned that this application isn't just for guitar players. Ukulele players like myself, banjo players, piano players, etc will also love this app.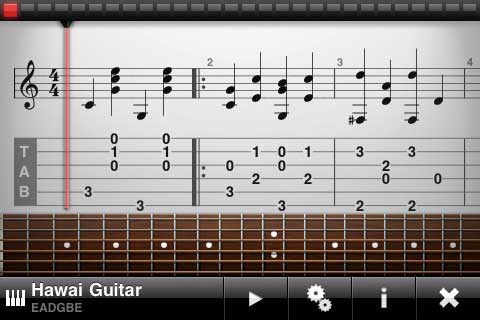 Tablature is an alternative to standard musical notation. But instead of showing notes and pitch, tablature shows exact finger positions on strings. For people that do not know how to read musical notation, tablature is much easier method for learning songs. TabToolKit allows you to download text, PDF, Guitar Pro and Power Tab tablature files from the internet directly to your iPhone or iPod Touch, giving you a way to view and even LISTEN to the music. That's right, you can listen to the tab files (specifically Guitar Pro and Power Tab files) in real time through your device. As the song plays, a fretboard shows fingerings.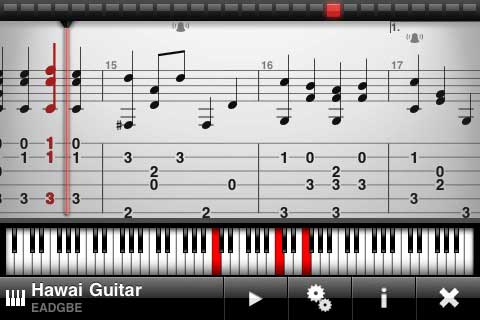 Want to learn to play the song on your piano instead of stringed instrument? No sweat, you can switch to the keyboard view which shows the pressed keys as the song plays.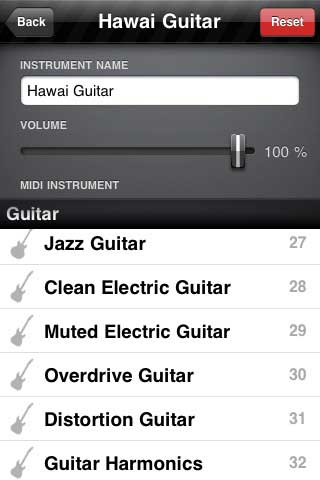 You can also switch the playback sound to huge variety of instruments.
Other built in features include a metronome with many sounds choices and the ability to slow down or speed up the playback speed.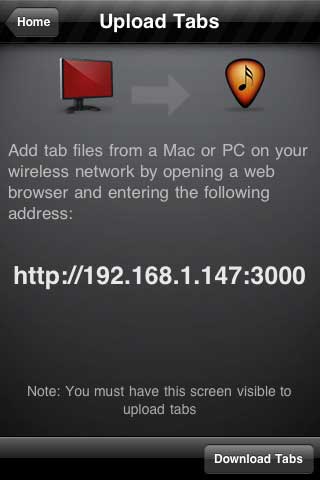 Uploading the tab files to your iPhone or Touch is very easy. You can either search google on your desktop computer for files, download them and then upload them using Wifi…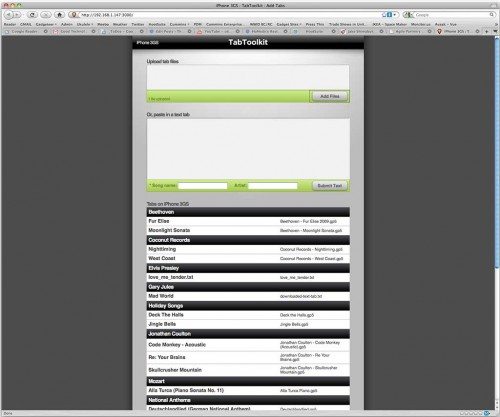 …by typing in the specified IP address into your desktop browser. Doing so will open an upload interface that will install the files on your device.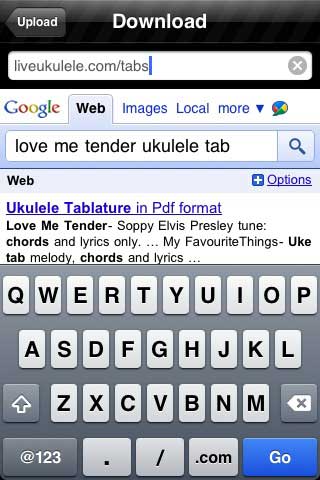 Or you can use the built in browser feature to find tab files directly from your handheld. I prefer using the desktop method just because it's faster to upload more than one file at a time.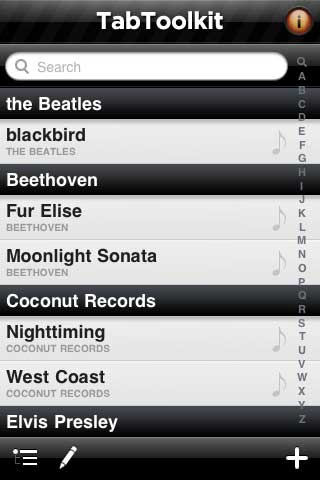 Installed tab files are then displayed in an organized list, making it easy to find what you're looking for.
The only thing missing is the ability to create your own tab files from scratch, but even so TabToolKit is one of those apps that make the iPhone so great. It's easy to use and is perfect for seasoned musicians as well as people just starting out learning to play.
Agile Partners also offers an additional application called GuitarToolKit that has a chromatic tuner, metronome, scales reference and chord library for Guitars (6 and 12 string), Bass, Banjo, Mandolin and Ukulele. I think it would be nice to add these same features into TabToolKit making one full featured application. Yes, I'm greedy 🙂 Either way, both of these apps are very well done and definitely worth the price.
Support The Gadgeteer
:
We may earn a small affiliate commission from purchases made from buying through links on our site. As an Amazon Associate I earn from qualifying purchases. Learn more.
Product Information
Price:
$9.99
Manufacturer:
Agile Partners
Pros:

Easy file loading features
Ability to switch between fretboard and keyboard modes
Plays music in real time
Playback speed features

Cons:

Can't create your own tab files