We use affiliate links. If you buy something through the links on this page, we may earn a commission at no cost to you. Learn more.
Whether being environmentally conscious  is the "thing" to do these days or whether they really mean it,  Keen Inc., appears to really mean it.  Making the right choices in the materials they use in their lifestyle apparel products is the hallmark of the Keen mission statement.  As a recycler in a disposable society, I can seriously get behind this kind of thing.  I'm a big fan of Use It Up or Recycle It and Keen is too.  Their line of laptop bags are manufactured from unwanted materials that would otherwise end up in landfill.  Keen calls it "Reclaiming unwanted fabrics…and Repurpose(ing) them into this bag".  I also like their "Redefine its potential" attitude towards unwanted fabrics and materials.  Rather than calling it recycled materials or landfill fodder, this company "redefines" it and finds a way to "repurpose" it.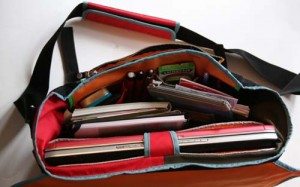 The Cornell II laptop bag is great bag.  It's roomy, compartments for pens, pencils, package of gum, mouse, books and an adjustable shoulder strap with a  folded over moveable pad. It also has a nice, comfy cozy suspended laptop compartment.   Being a klutz, I really like the suspended laptop sleeve feature.  It's made of repurposed materials which means no two bags are exactly alike.  So essentially, you get a cool bag which is unlike anything anyone else has (if you're into that) and you're a pal to the environment at the same time.  My Keen bag is a bit loud in the color department…rather looks like it got sideswiped by the Partridge Family bus but…I can pick it out of lineup against all the Black Laptop Bags out there and let's face it… if you're an individual, you get a designer looking bag without the designer price.
My Cornell II bag is from Keen's Harvest collection and retails for about $90.00.  Given the durability, roominess and utility of this bag, I'd say that was a fair price.  I've seen many other bags with less utility, fancier names and substandard construction that cost far more.
If I had to complain about the Keen bag, I'd have to pick on the design.  My last laptop bag had water bottle pockets on the in and outside of the bag.  I would also like to have some exterior pockets for easy access to keys, rail pass, coffee-house frequent buyer card or MP3 player.   I'm also not in love with the aluminum hooks closures on the front of the bag.  I find them a bit clumsy but in its defense, at least I'm not snapping the skin on my fingers with the plastic locking fasteners common on backpacks and bags today.  The Velcro on the underside of the panel helps to keep the bag fastened if you choose not to employ the aluminum fasteners.
I'm also no fan of the big advertising patch on the front of the bags which explains, in 40 words or less, the mission statement behind Keen's environmental stance on using repurposed materials.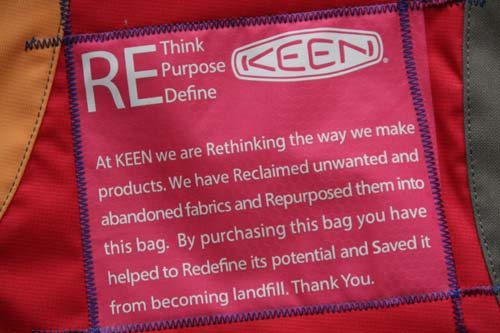 Fortunately, these patches are sewn on using a wide tensioned  zig-zag stitch which is stitched on to only the first layer of the panel… the thread does not go all the way through to the lining of the flap..  A very sharp pair of small embroidery or nail scissors or a nice sharp seam ripper and the patch comes off easily.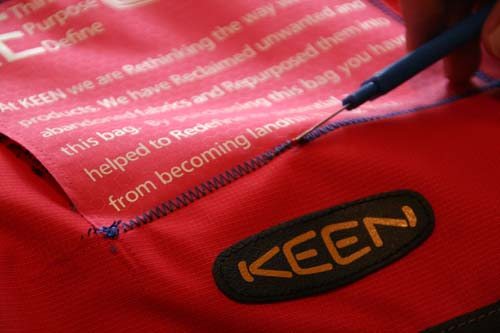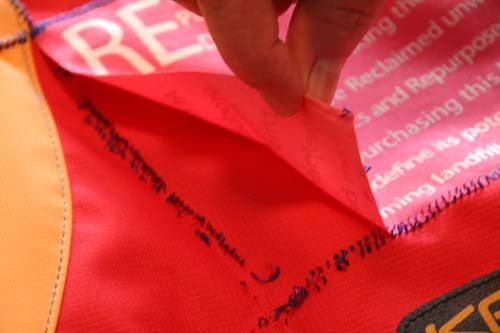 Once you remove the patch and the threads, there  will be a visible outline of where the patch used to be.  I'm not concerned about that.   Eventually, use of the bag will iron that out and in transit, the outline is hardly noticeable.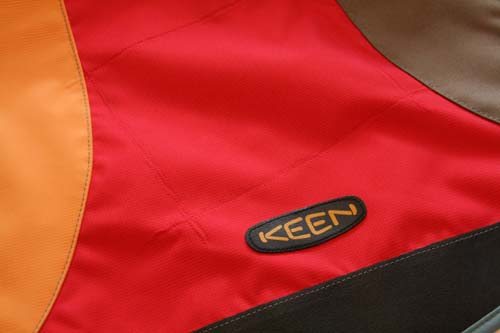 Aside from that, the Cornell II is more than just a decent laptop bag.  It does what it is supposed to do, it's durable which is great because I carry a really big lot of stuff, you can put a lot of stuff into  it,  it's very well made and sturdy, my laptop is safe from my clumsiness and it's using recycled materials.  It's a solid product.
Product Information
Price:
$90.00
Manufacturer:
Keen Inc.
Pros:

Sturdy
Durable construction
Roomy
Suspended laptop pocket
Made of recycled materials
Creative
Colorful
Pockets for pens, accessories, etc

Cons:

Aluminum fasteners on flap are a bit clumsy
No water bottle pocket
No external pockets for easy access to MP3 player, keys, cell phone, etc