We use affiliate links. If you buy something through the links on this page, we may earn a commission at no cost to you. Learn more.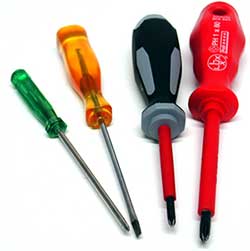 Do you have your eye on a multi-device charging system, but don't want to fork over the $'s to buy one? Have you ever considered making one? That's exactly what Gadgeteer reader Robert Grenader decided to do. Check out his handy work.

Robert:
Reading Eliminate Cable Clutter with the IDAPT Charging System, I was moved to send you a photo of my home grown charging station that only cost me about $25. Here's how I did it…
I was surrounded by numerous devices all requiring constant charging. Multiple Bluetooth headsets, cell phones, smart phones, cameras, etc. The list goes on and on. Then I saw ads for those nifty charging stations that allow you to "charge all your mobile devices in one location." Hammacher Schlemmer had one in ebony wood for $150, Brookstone has a nifty one for like $75, with an integral plug strip and the ability to hide the power bricks, but it would only hold something like 4 devices. Gee, this had to be better than headsets, phones, Kindles, iPODs etc loose on the edge of the bookcase.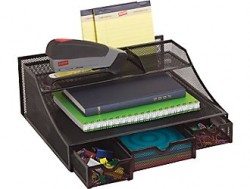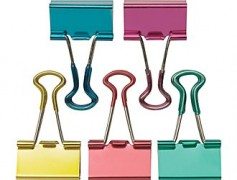 Then I walked into an OfficeDepotStaplesMax (I can never tell them apart any more) and paid $20 for a wire desk storage thingy, $5 for a box of colored plastic butterfly clips and !presto chango! I can now charge all my stuff in one place.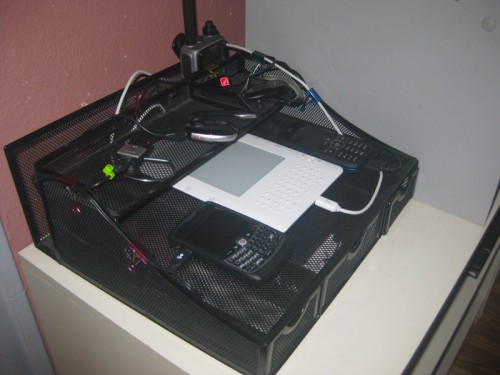 What you don't see is the surge protector around the corner behind the bookcase. This gives me the added ability to turn off the power when everything is nice and charged and eliminate at least one source of vampire power consumption.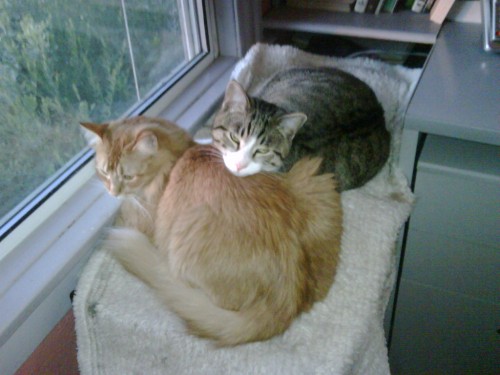 All in all, I am quite pleased with the investment. Now, if I can only keep the Orange Cat from sitting on it….
Julie:
What do you guys think? Have you created something similar, better? Tell us about it.