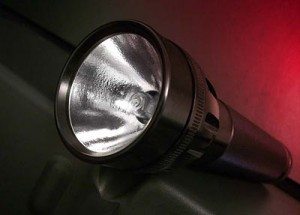 Single-purpose items are so 2009!  Why invest in a flashlight that merely illuminates your surroundings when you can have one wielding enough power to light matches or prepare breakfast?!  Enter the Torch Ultra-Bright Flashlight!  Billed as the most powerful consumer flashlight, the Torch Ultra-Bright Flashlight packs enough power (4100 lumens) to roast marshmallows, burn plastic, and…illuminate your surroundings!  For a mere $299 – you can be the life of the campsite!
Disclaimer: The Gadgeteer does not condone any misuse of severely powerful flashlights…please use with discretion.
[Courtesy of ThinkGeek]
The Gadgeteer may receive a commission on purchases made from affiliate links on our posts.