We use affiliate links. If you buy something through the links on this page, we may earn a commission at no cost to you. Learn more.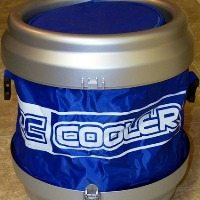 You ever wanted an ice-cold beverage but were sitting too comfortably to get up to quench your thirst?  This gadget might be the tool that solves just such a dilemma.  The RC Cooler InteractiveToy Concepts is a remote-controlled cooler.  You might recall that Julie posted a comment on the site about this on 3-Dec-2009. Let's check it out and see what it has to offer.
Product Features / Specifications:
Full function (forward, backward, right, left) remote control
Holds 12 drinks
Maximum load capacity of 10Kg (approximately 22 lbs.)
Works indoors and outdoors
Completely collapses for easy storage
Removable and adjustable shoulder strap
Zippered lid to keep pests and moochers out
Four easy glide wheels
Requires one (1) 9V and six (6) C batteries (not included)
Effective radio range of 35-50 feet
RC frequency: 27MHz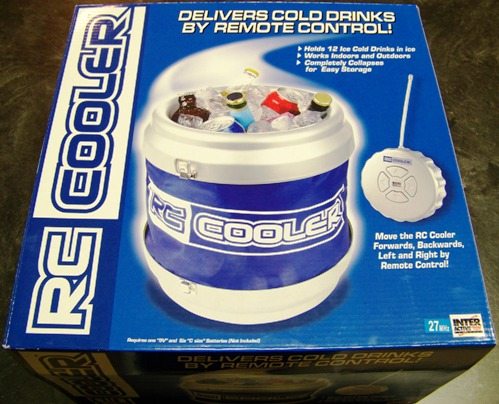 In The Box:
Cooler
Remote control
Removable and adjustable shoulder strap
Instruction sheet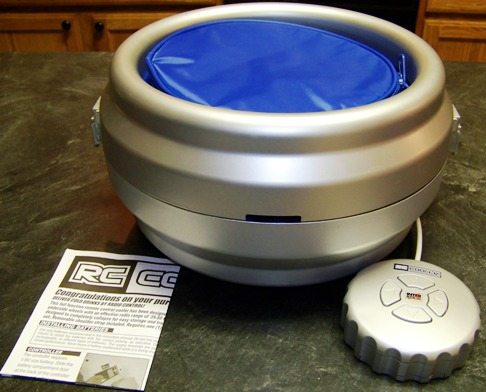 At first glance, I am initially surprised by the small size of the cooler's box.  I am wondering if it can really hold 12 drinks.  Opening the box, I see that the cooler is in its collapse state and packed pretty well.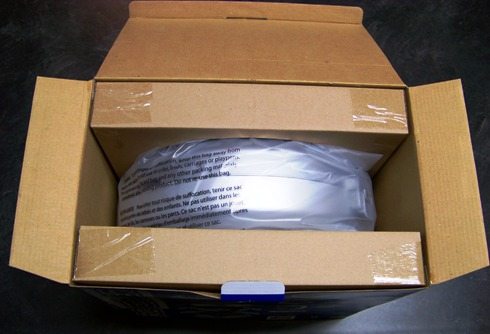 The manufacturer uses semi-rigid plastic, colored in silver, and blue heavy-gauge denier nylon.  Although the plastic makes me suspect its durability, the denier nylon feels robust.  On the website, they have pictures of coolers with red and blue nylon too, if that suits you better.
I carefully unpacked the device and the other contents.  I find the two plastic snap-down locks located on opposite ends and release the cooler's top from the bottom, expanding the cooler to full-length.  Without any drinks, the cooler does not want to remain expanded.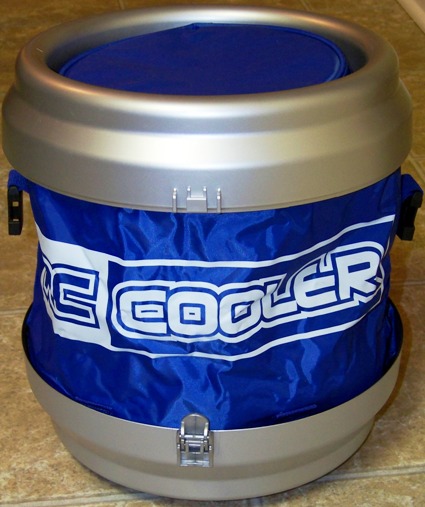 I turned the RC Cooler over, exposing the screw secured battery compartment located in the center between the wheels.  The cooler requires six (6) C batteries to operate.  Yes, that is not a mistake, I said SIX.  At approximately $1.50 per battery, that is an extra $9.00 needed to make the cooler come to life and that is not taking into account the one (1) 9v battery used in the remote control.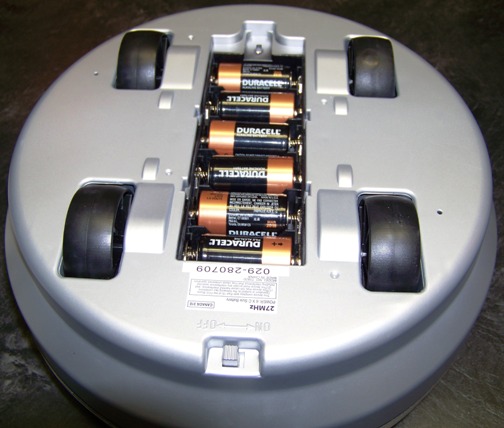 The four wheels made of black hard plastic and strategically placed at different ends to provide maximum balance.  Nobody wants their drinks and ice to spill out because the cooler tips.
The last thing of significance on the cooler's bottom is the On/Off switch.  I appreciate the ability to turn off the device and hopefully save some of the life in the batteries.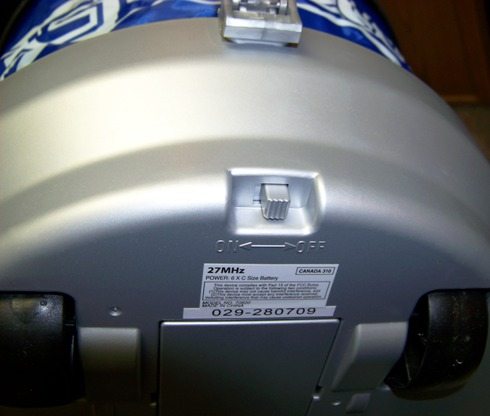 The top of the cooler has two metal zippers that are utilized to securely close the circular entry point.  The denier nylon top sits slightly lower than the plastic rim which makes it a little difficult to open and close easily.  I think that using velcro to secure the top might have been a better design option.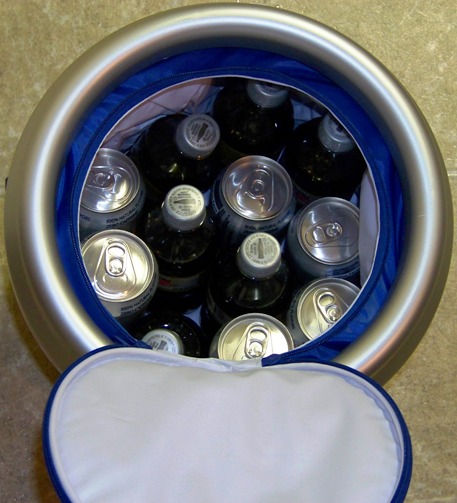 The product specifications state a maximum capacity of 12 drinks, so I loaded it down with the maximum, choosing a mixture of 12 oz. cans and plastic bottles.  Filled with the beverages, the cooler easily remains fully upright.
During later trials, I filled it with 12 bottles of beer and it was pretty tight, with not much room to spare.  I definitely recommend loading the drinks first and then pouring the ice in around the beverages.
To help you gain an idea of the cooler's size, here you can see how tall it is compared to a few 12 oz. cans of soda.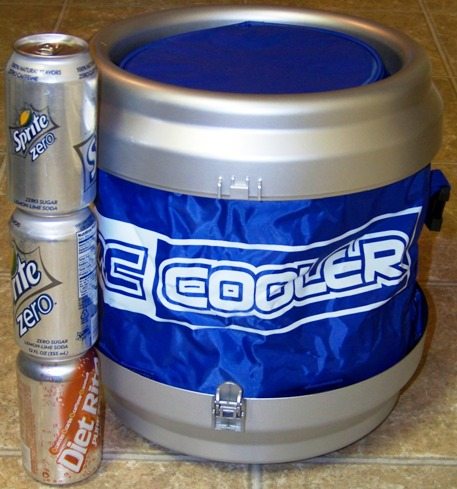 The other partner in this dynamic duo is the remote.  It has a round shape with four buttons (forward, backward, right and left), giving the operator options to navigate around obstacles.  Here you can see the size of the remote compared to my Blackberry Storm.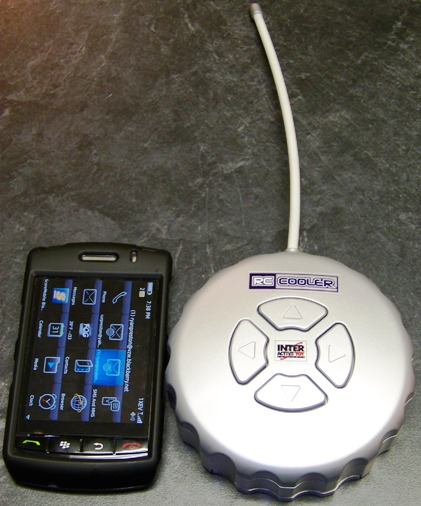 Here is the cooler expanded and loaded with beverages, batteries installed and the device's power turned on, I am ready to test drive the cooler.  Look out kids, here comes daddy's new toy.
Now it has been a while since I played with anything remote-controlled and seeing how I have two little girls, I doubt I will get much practice but I must say that it did not take me long once the remote was in my hand.  I was cruising around the house both on smooth and carpeted surfaces.
Upon operating the cooler, you immediately notice sound from the motor.  There is definitely no chance you are going to be able to sneak up on someone with an ice-cold one.  I will say that the sound became less noticeable the more that I used the device.
Having conquered the interior surfaces, I decided to take it outside and test it on my concrete patio.  It easily navigated over the slightly rough texture of my backyard patio, where it will primarily be used.
My last test was in through the grass.  I was not expecting much but I was impressed that it did progress slowly through my yard but it did get stuck a few times, so you should probably stick to a harder, more consistent surface.
Now like most coolers, they are primarily used when we are going somewhere else so to make getting the cooler there easier, the manufacturer included an adjustable shoulder strap.  The strap is removable via two black plastic insert snaps.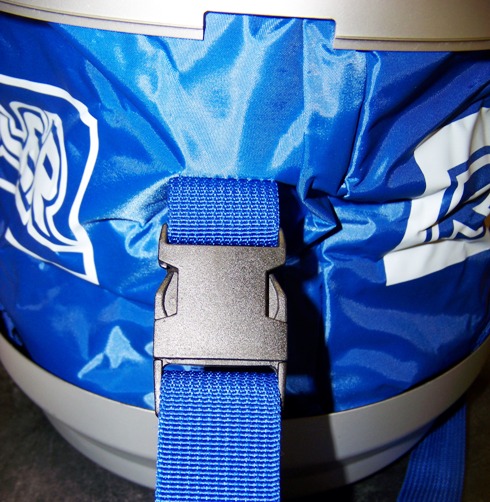 The strap lacks shoulder padding, so you definitely do not want to do a 5k walk carrying this cooler.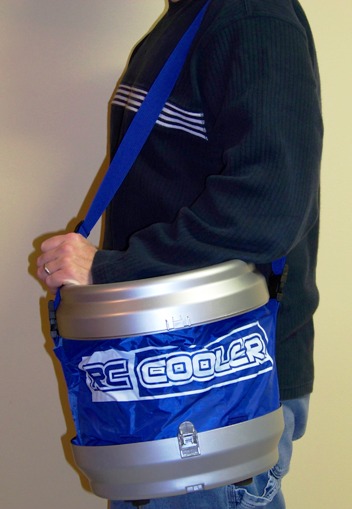 In summary, I really like the RC Cooler.  As any other cooler, its primary function is to keep drinks cold and it does that fine without leaking any excess water from the ice, which is always a concern with the denier nylon coolers.  What this cooler has above all others is its ability to bring you a drink while you are sitting comfortably in your seat.
The $69.95 price tag, the slightly loud motor noise, the difficulty in opening the top via the zippers and the number of batteries are my biggest complaints.  You can buy a cooler with a much larger capacity at a much cheaper price but can that cooler bring you a beer when nobody else will?
The times that I utilized the cooler, it was a hit with my friends and I cannot wait until the summer months when I will get to take it with us to pool parties and tailgates.  So if you have $70 to burn and spend a lot of time outside drinking ice-cold beverages, I suggest buying the RC Cooler.
Lastly, I want to give credit to the marketing folks at InteractiveToy Concepts for making a great commercial for this product.  I highly recommend going to www.rccooler.com and watching the RC Cooler commercial.  After viewing, my wife stated in a purposeful tone, "if you ever look like that guy or even attempt that with me, I will hurt you."  Think I might heed that warning.
Product Information
Price:
$69.95
Manufacturer:
InteractiveToy Concepts
Pros:

Can bring your beverage to you
Collapsable
On/Off switch
Lightweight
Ability to handle multiple types of semi-smooth surfaces

Cons:

Requires 6 (C) and 1 (9v) battery
Top can be difficult to open
Price
Operating noise
No padded shoulder strap