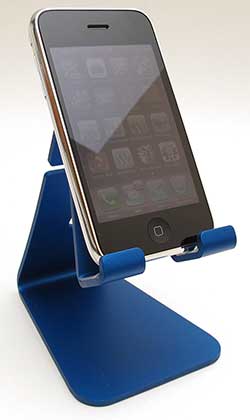 Last week's news post about the iClooly iPhone Stand sparked quite a few comments – not all of them specifically about the product though. A few days after I wrote that post, I received the Element iPhone Stand from Keynamics in the mail. They sent it to me unsolicited since I had reviewed one of their previous products – the Aviator Laptop Stand. As I removed it from the box, I wondered if the review would have the same results as the iClooly post. I guess we'll see.
The Element iPhone Stand is an anodized aluminum stand made in the USA from recycled materials.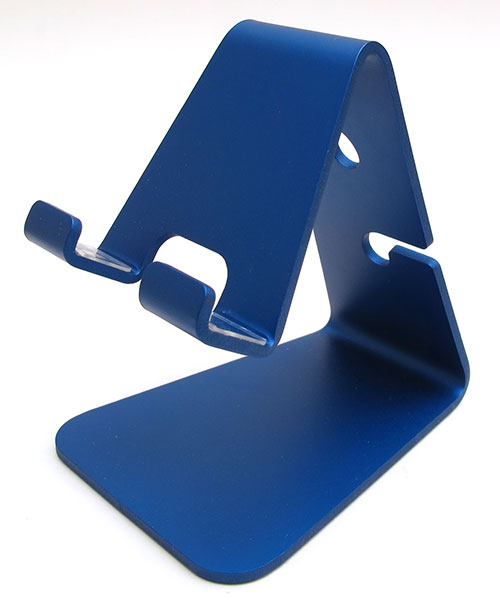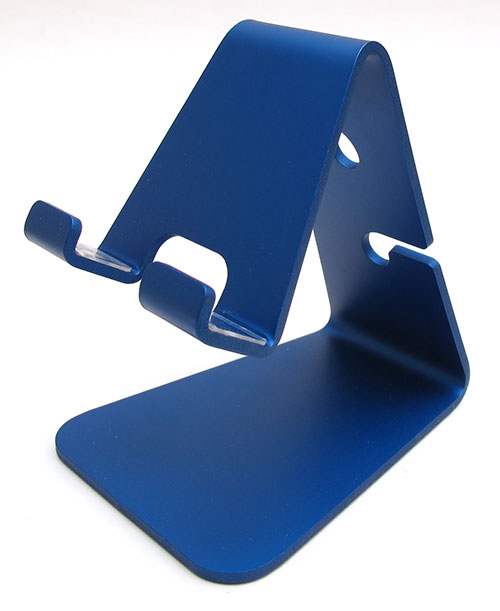 Currently available in four colors (Blue, Black, Red and Silver), you can see that I was sent the Blue version of this stand.
The stand is made from one piece of aluminum 1/8 of an inch thick, that has been bent into shape. The material is very strong, but light weight.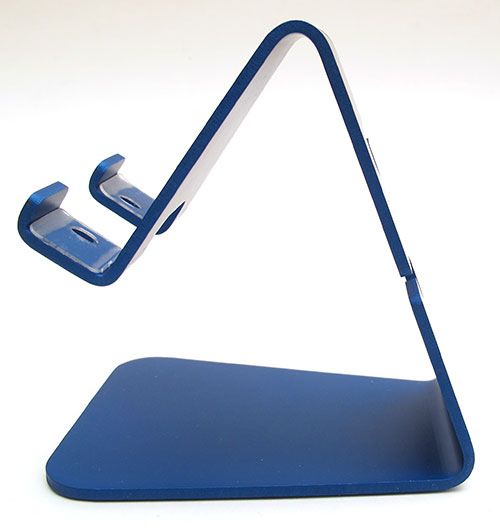 All of the edges have been smoothed.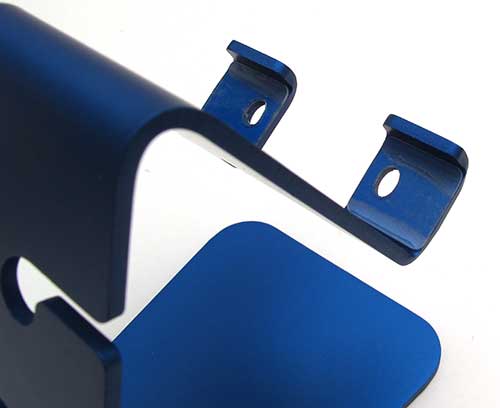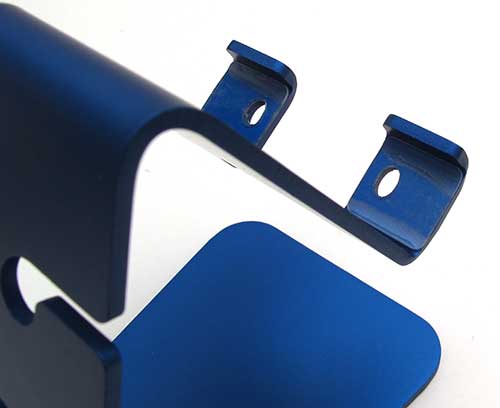 The Element Stand has a few features worth pointing out. First of all, the ledge that holds the iPhone, has a thin layer of clear silicone (at least I think that is what it is) that provide a cushioned place to rest the phone. This layer is only at the bottom of the ledge. I think Keynamics should continue the silicone up to the top of the curved front edge. As is, it is easy to pull out the iPhone and rake it on the front edge of the ledge. There's a slight potential to scratch the iPhone's chrome bezel.
There are also circular holes in the ledge that match up with the speakers on the iPhone when it is in portrait orientation.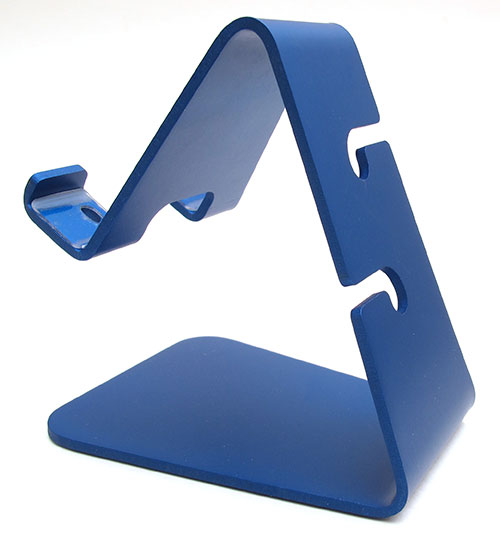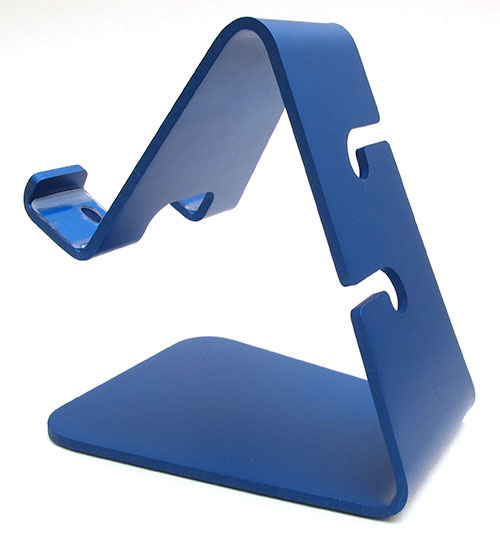 The bottom of the stand has two strips of clear silicone (?) to keep it from sliding around on your desk.
The back of the stand has slots for charge / sync cables.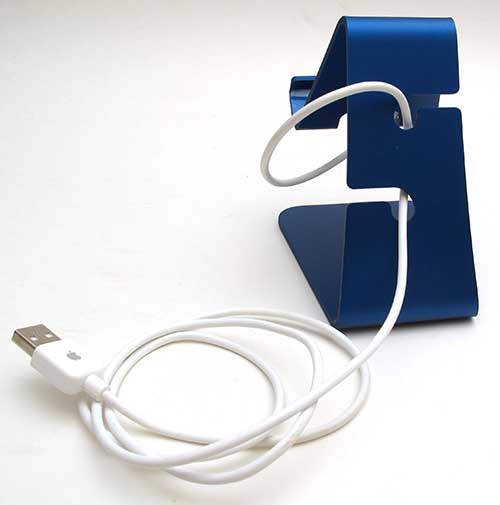 I'm not convinced that these slots are any better than just having one hole cut in the center of the stand so that the USB docking cable can be routed out the back side.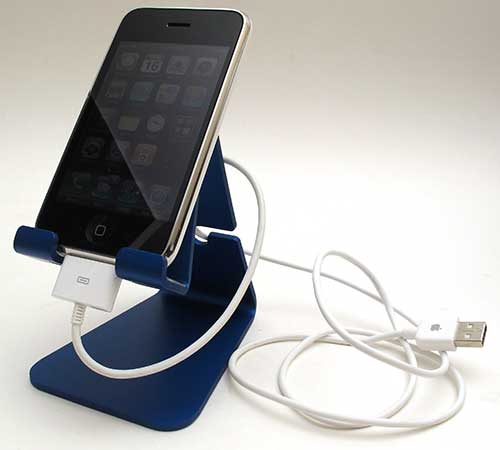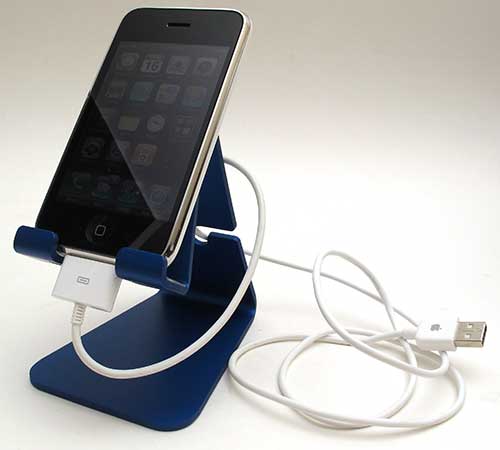 Here you see the iPhone in portrait mode with a cable attached.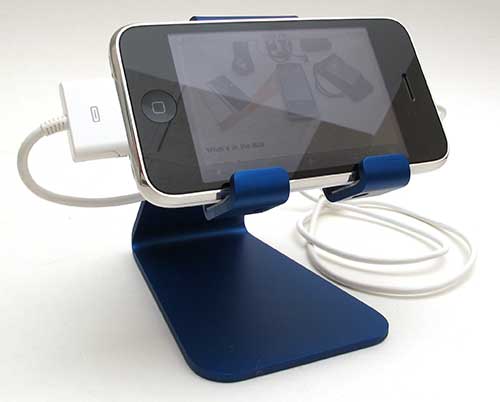 Here it is in landscape orientation. As you can see, the stand works well with the phone in either orientation and reclines the screen in a perfect viewing angle.
The base of the stand is wide enough to provide stability and the width of the ledge even allows an iPhone in a case (of course it depends on the case) to easily fit.
The Keynamics Element iPhone Stand is a simple product with a simple purpose: to provide a stable stand for your iPhone. It has no problems fulfilling that purpose and I can find nothing to complain about as far as how it has been constructed or the materials that have been used. If you have been considering a stand for your iPhone, this one should work well for you.
Product Information
Price:
$29.99
Manufacturer:
Keynamics
Pros:

Stable base
Provides good viewing angle
Holds iPhone in portrait or landscape orientation

Cons:

Entire ledge should have a layer of silicone