We use affiliate links. If you buy something through the links on this page, we may earn a commission at no cost to you. Learn more.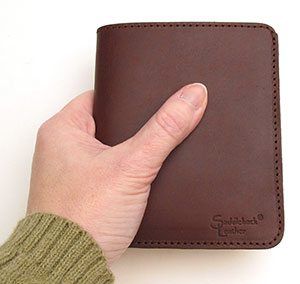 Saddleback Leather Company is well known for their rugged bags that are constructed to last a lifetime. A claim which they back up with a whopping 100yr warranty. I've reviewed several of their bags in the past couple of years, but this is the first time that they've offered to send me one of their wallets to review. Since I'm always on the lookout for a wallet that might become my new favorite (check my favorite gear page if you would like to know the one I'm currently using), I happily agreed to the review.
Saddleback offers several wallets, but they sent me the Bi-Fold Large which is available in Black, Chestnut, Dark Coffee Brown and Dark Tobacco Brown.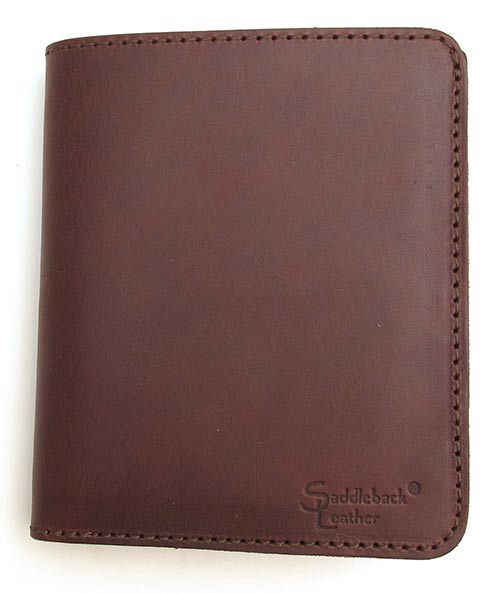 I was sent the Chestnut version which has a rich reddish color to it. Besides natural leather, this is my favorite stain.
The Bi-Fold large is just that, large. Folded it is 4.25 wide x 5.13 tall x 0.5 thick (when empty).
It's made of 100% non-tenderized full grain leather with tough pigskin lining. The design is pretty simple and doesn't include garish logos. There's just a small stamped logo in the bottom Right corner.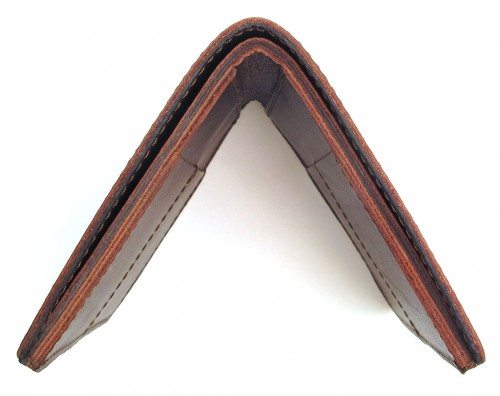 If you're looking for a thin wallet that you won't notice in your back pocket, this isn't the wallet for you. Click the image above for a larger view that will give you a better idea of the leather thickness.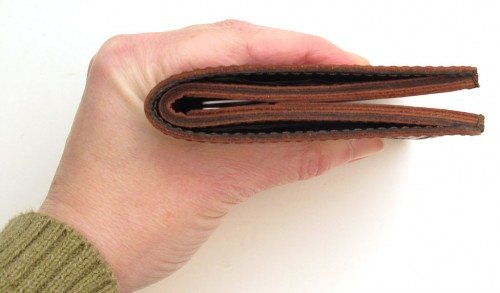 Like I mentioned, the Bi-Fold isn't a thin / minimalist wallet as you can see from the image above. In my opinion, this is a chunky wallet that is best kept in a gear bag or cargo pants pocket.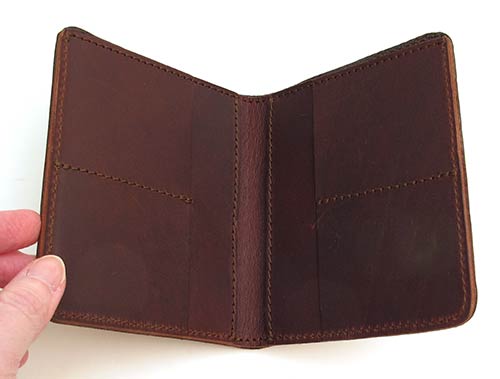 Bi-Fold means that the wallet is like a book and folds in half. When you open this wallet, you'll find 4 horizontal card slots that can stretch to hold several cards. On each side behind the pair of card slots is a vertical slot that can hold larger papers.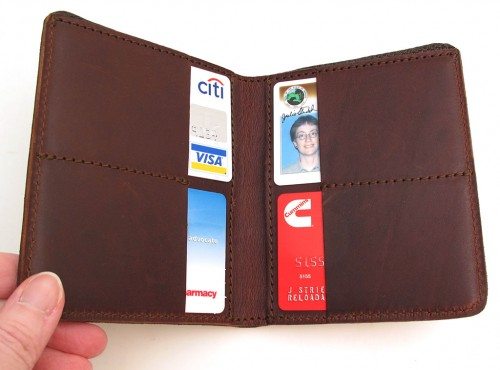 The card slots are pretty snug, but I was able to fit two cards in each slot without much trouble. I'm sure that with some stretching, that 3 cards should fit easily.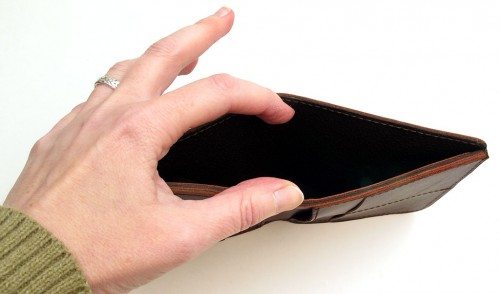 There's a very large currency slot that can easily hold…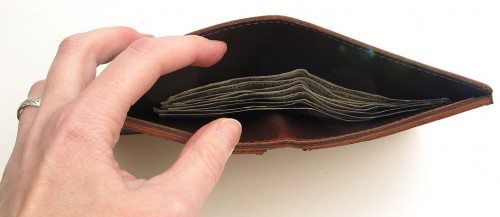 … US currency with lots of room to spare.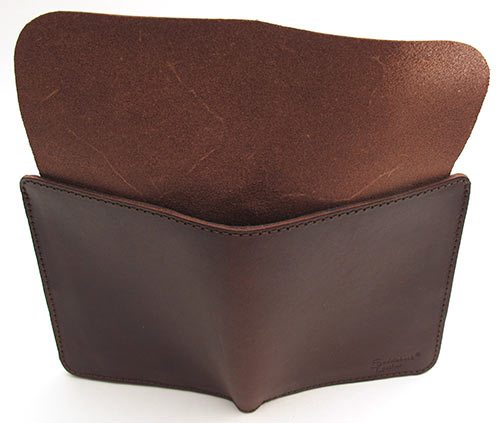 There's also a thin leather flap that is sewn into the front wall of the currency slot. Saddleback recommends using this hidden flap as a way to hide money from your spouse 😉 It's also a nice way to stash a $20 or so that will always be there when you need it. The flap folds back over the money, making it 'disappear'.
The Bi-Fold Large wallet is very well constructed. Like their bags, it's not going to fall apart in this century. The leather edges are even, the stitching is also even and straight. I can't find anything to gripe about as far as the materials and construction. The price seems very reasonable too. The only thing I complain about is how bulky it is. That said, someone looking for a thin wallet wouldn't consider this one anyway. If you want a rugged manly leather wallet that you can use till you die, this one is definitely it.
Note: The links to Saddleback Leather Company on this page are affiliate links. If you use one of these links to make a purchase, we will earn a small percentage of the sale, so we appreciate it if you click through.
Product Information
Price:
$55.00
Manufacturer:
Saddleback Leather Company
Pros:

Rugged
Hidden money compartment
100yr warranty

Cons:

Thick even when empty
Bulky