We use affiliate links. If you buy something through the links on this page, we may earn a commission at no cost to you. Learn more.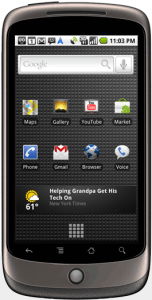 The Android Press conference is still going on, but they have already activated the web site to buy the new Nexus One phone. As expected, it is available both unlocked and at a reduced rate with T-Mobile service. The reduced cost is $179 and the unlocked version is $529.
It is an impressive piece of hardware. Quick highlight of specs:
3.7-inch (diagonal) widescreen WVGA AMOLED touchscreen
800 x 480 pixels
100,000:1 typical contrast ratio
1ms typical response rate
5 megapixels
Autofocus from 6cm to infinity
2X digital zoom
LED flash
Video captured at 720×480 pixels at 20 frames per second or higher, depending on lighting conditions
You can get more details at http://www.google.com/phone/static/en_US-nexusone_tech_specs.html.
It is also interesting that they plan on offering more phones, and more providers from their web store. Here is a quick screen grab: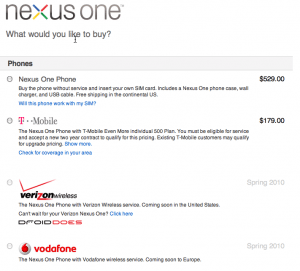 Interesting tidbit in the Q&A, a future upgrade of the Android OS will allow you to store applications in removable media. This will be a big (and welcome) change for Android.
And finally, kudos to the presenters NOT call it an "iPhone-Killer" but stressing that it is about choice.