We use affiliate links. If you buy something through the links on this page, we may earn a commission at no cost to you. Learn more.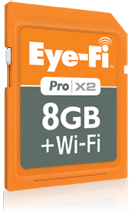 If you like to share your photographs and you don't have an Eye-Fi card, you are missing out.  I just bought my first one about a month ago, and I love it.
Fortunately for us mobile shutterbugs, Eye-Fi just announced their latest model, the Pro X2.  At 8GB, it doubles the max capacity of their previous high-end models, adds 802.11n support, and sports a new feature called "Endless Memory".  This allows the card to remove images automatically as they are uploaded, so you can shoot and shoot and shoot and never have to worry about filling up the card.  Like previous models, the Pro X2 still includes features like lifetime geotagging and Selective Transfer, and all for a ridiculously low $150.  The Pro X2 is available for pre-order on Eye-Fi's website or through Amazon.