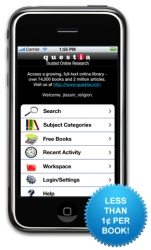 Questia is an online research library with current non-fiction and reference books and periodicals.  For $9.95 a month, you get access to all their books on any one topic, or you can access their entire catalog of more than 70,000 titles for $19.95 a month.  You'll have an online workspace to store your notes in folders;  you can even create instant bibliographies from your research materials.
The new Questia iPhone app lets you always have your research materials at your fingertips.  The app is $0.99, and it gives you free access to the entire library for one week and  permanent access to 5,000 books.  If you're not already subscribed, you'll have to pay the monthly subscription fees to have continued access to the entire library from the app.
Some of our links in posts like this one are affiliate links, which means that we may receive a small commission on purchases at no cost to you.