We use affiliate links. If you buy something through the links on this page, we may earn a commission at no cost to you. Learn more.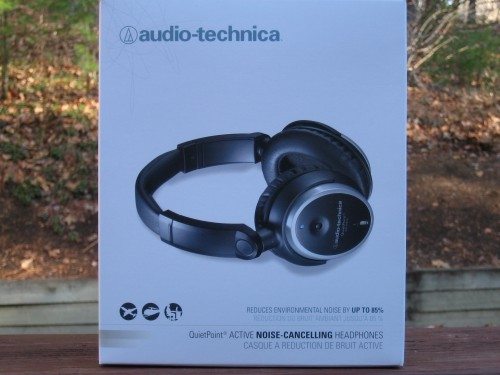 My first experience with noise cancelling technology was many years ago when I got bumped up to first class on a Singapore Airlines flight.  They offered us the headsets for a 15 hour flight to the West coast US and it made me want to buy a set when I got back home.  Unfortunately at that time the options were very expensive, but today there are several products and they range in price from $20 to almost $300.  The audio-technica QuietPoint headphones fall in the middle of that price range, so I thought I'd give them a try.
For those who aren't familiar with the technology behind active noise cancelling, in a nutshell, there are small microphones on each ear cup that monitor the background noise and then take that waveform and invert it 180 degrees to cancel it out when fed back into the headset.  This reduces that background noise by some percentage and should make it easier to hear the audio without having to crank up the volume.  I'm be no means and audio engineer, so for details try Wikipedia.  Also, I'm not an audiophile, so this review is from the perspective of my everyday work and personal life.
Specifications:
TYPE

Active noise-cancelling

DRIVER DIAMETER

40 mm

MAGNET

Neodymium

FREQUENCY RESPONSE

10 – 25,000 Hz

QUIETPOINT® ACTIVE NOISE REDUCTION

Up to 20 dB

MAXIMUM INPUT POWER

500 mW

SENSITIVITY

109 dB

IMPEDANCE

300 ohms

BATTERY

AAA (alkaline)

BATTERY LIFE

Up to 40 hours, typical (alkaline)

WEIGHT

210 g (7.4 oz), without cable and battery

CABLE

Detachable 1.6 m (5.2′) with 3.5 mm (1/8″) stereo mini-plug;
Detachable 1.0 m (3.3′) with 3.5 mm (1/8″) stereo mini-plug

CONNECTOR

3.5 mm (1/8″)

ACCESSORIES INCLUDED

6.3 mm (1/4″) stereo adapter; airline adapter; AAA battery; carrying case with attached accessory pouch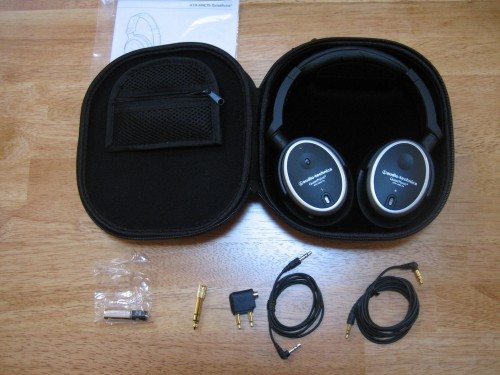 Everything you need comes in the box, including a battery.  The overall quality of the headphones is very good.  I did compare the materials used to a pair of Sony MDR-NC6 noise canceling headphones and would say that the QuietPoint uses heavier plastics and has more padding.  The supplied semi-hard case is very handy and protected well after several drops.  The 1/4 " stereo adapter was a nice thought.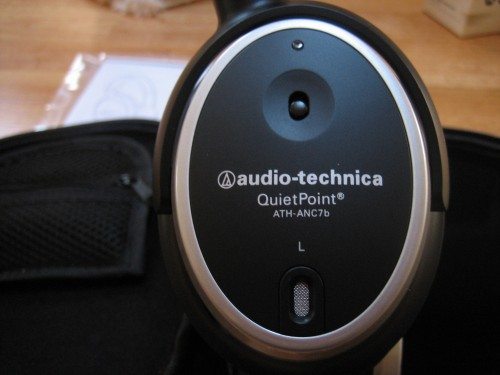 The left earphone has the on/off switch, the left microphone and the power on indicator LED.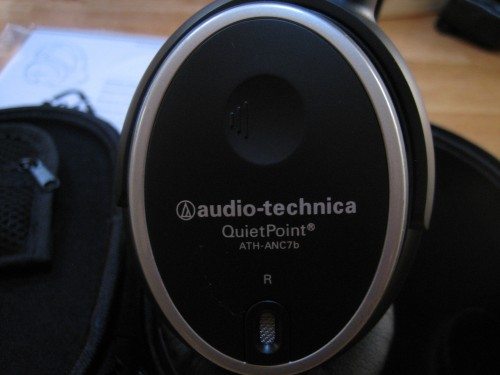 The right earphone has the battery compartment and the right microphone.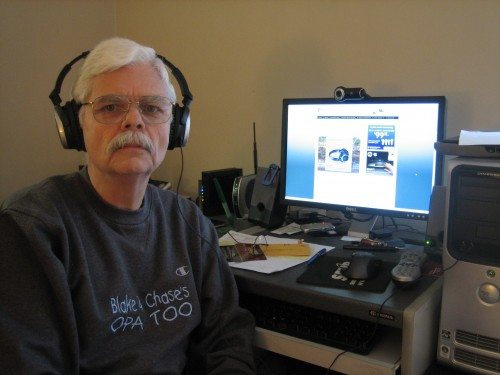 Aside from making one look like a first class geek :-), the headset wears well.  I've had the opportunity to wear the earphones for a several hours and  find them comfortable.  The fact that the ear cups are oval-shaped probably helps.  These headsets are the over the ear type and the cushions are soft and pliable, contributing to the comfort level.  I prefer this type to the on the ear type for sound isolation and long-term wearing.
My first test was to determine the sound cancelling ability of the device and because one of my jobs takes me to the bowels of a commercial airport about twice a month, where there is a continuous din of conveyor belts and motors running, it gave the units a good workout.  The noise reduction was very notable, although it would be hard for me to prove that it was the 85% claimed by the manufacturer.  Normally I would be wearing earplugs, but the headphones were more comfortable and had the added benefit that I could plug-in an audio source.
I gave up flying in 2004, so I had to simulate an aircraft cabin environment.  Luckily I have a device  that generates various sounds and again there was a distinct lowering of the background noise when the headphones were switched to active mode.  I should also note that just putting the units on, without the noise cancelling active,  decreased the noise level appreciably, probably because of the over the ear properties.
So, from a noise reduction perspective, the headphones did their job and were pleasant to wear.  A feature that I particularly liked was the detachable audio cable, so that when I was using the headphones for noise cancelling only, I didn't have a cable dangling down my side.
To test the audio capabilities, I selected several different tracks from my music collection varying between  Gotta Be Somebody by Nickleback  to Can't Help Falling in Love by Lick The Tins.  Although the manufacturer states that these headphones can be used in "passive" mode, without the noise cancelling feature turned on, the sound was terrible.  Everything was "muffled".  I found the same to be true with my Sony unit and also a Sony demo set I tried at Sam's Club.
I was pleasantly surprised by the fidelity from the headphones when they were in active mode.  I was able to hear details I hadn't before.  The bass was very acceptable and high tones reproduced well.  For comparison I played the same pieces though my sound system and actually preferred the headphones.  I occurred to me that the cancelling of the background noise added to the perceived better sound from the headphones.
When I began my search for a decent pair of noise cancelling headphones, there were very few on the market and the prices were beyond my reach.  However, during my Christmas shopping this year I've seen them as low as $20 at Staples and running up to over $300.  The audio-technica QuietPoint headphones have an MSRP of $219.95, but a quick check using Bing found prices as low as $129.  Interestingly, having let friends try out the headphones and then asking what they would pay, the median number was $150 which unscientifically suggests that the price is reasonable.
In my opinion, the QuietPoint headphones are a good buy.  I now use them daily while sitting at the PC.  Until I used these I didn't realize how much ambient background noise there was in my environment.  I enjoy listening to my tunes while working and relaxing.
Update 01/08/15
My go to headphones.  Work well and muffles the grandkid noise when I'm trying to work.
Product Information
| | |
| --- | --- |
| Price: | varies from $129 and up |
| Manufacturer: | audio-technica |
| Pros: | Quality, comfort, noise cancelling, fidelity |
| Cons: | |