We use affiliate links. If you buy something through the links on this page, we may earn a commission at no cost to you. Learn more.

I have been pondering upgrading my stock car stereo for a fancy new one with some of, if not all, the bells and whistles; touch screen, navigation, iPod interface, HD radio, USB connection, etc. The real sticking point has been the cost. While the stereo may only cost between $350-$1000, the installation and additional parts bring the cost to more than double the cost of the stereo itself.  A bit pricey in these lean times. I debated on doing the installation myself; purchasing the unit and other pieces through Crutchfield.com. I called Crutchfield three times while deciding to go through with this, talking with a different operator each time. All three were very courteous and knowledgeable.  We discussed primarily the level of difficulty and risk of damage or failure. All three reassured me that the installation was a 3 to 5 on the difficulty scale, damage to my vehicle was minimal, and total time should take between 1 to 2 hours. We'll see how accurate their estimates really were.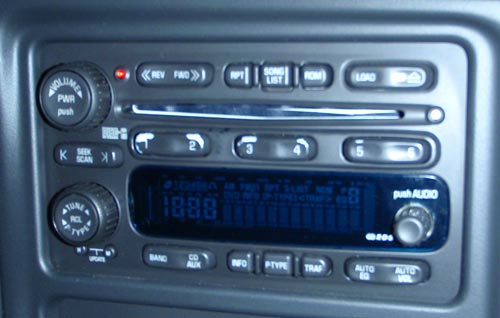 The original stereo that came in my Chevy truck still worked and was fine enough but was getting older and worn.  Plus the fact of being a writer on the-gadgeteer.com and a die-hard tech-guy, not being able to play my iPod in my vehicle was getting to me.
I am a relatively handy individual, doing many construction and tech-related projects without a second thought. The main reason I hesitated doing the install myself is that back in my younger days, I damaged (temporarily) the electrical system of my first brand new car while installing a stereo. Let's just say it was a bad day and the trauma is with me still today ;).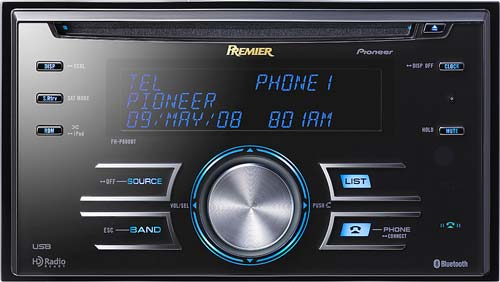 I debated quite a while on which double din receiver I wanted and which features I thought I needed. I decided on the Pioneer Premier FH-P800BT (I finally decided that I did not need navigation or dvd play back but did have to have iPod connectivity, bluetooth, usb input, and HD radio).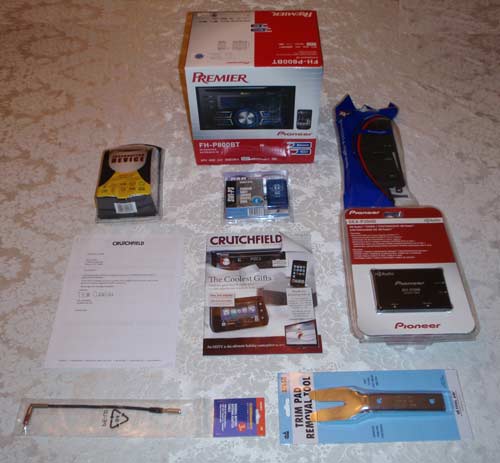 So, I called Crutchfield back and we talked through (again) all the adapter cables I needed for my new Pioneer receiver to plug-in and work seamlessly with my Chevy pickup.  The wiring harnesses I needed included a cable for power/speakers/chime ($49), cable for my steering wheel controls ($75), and cable adapter for my antenna (free). Crutchfield also includes the necessary in-dash receiver kit (sadly plastic) and Custom MasterSheet™ Instructions.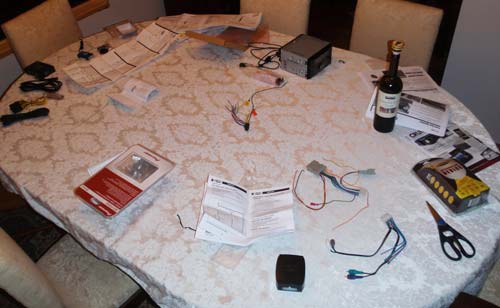 Once you get all the pieces and wiring harnesses unpackaged, the intimidation factor does go up a bit. All I have to say is, the key to not getting completely cross-eyed is to keep all the pieces, wires, and screws organized.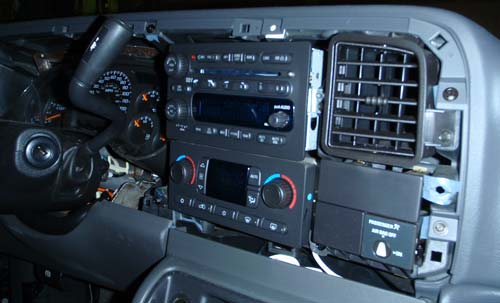 The scariest part of the installation was removing the front of the dash (aka, the plastic bezel holding the front of my dash in place). It came off just as the folks at Crutchfield described. To remove it, you carefully pry it off with your fingers, angle it past the steering wheel, and put it aside.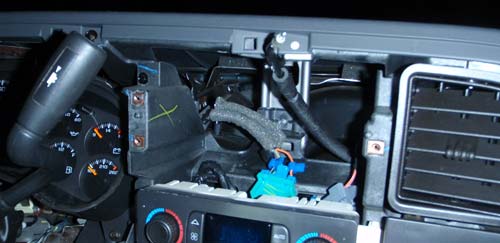 Once the dash bezel was removed, uninstalling the factory stereo took less than 10 minutes.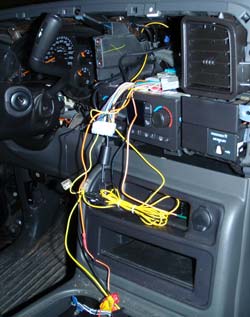 Making all the components talk with each other took a good amount of manual studying, technical support calls to Crutchfield, and going line by line, step by step, connecting all the wires and harnesses correctly.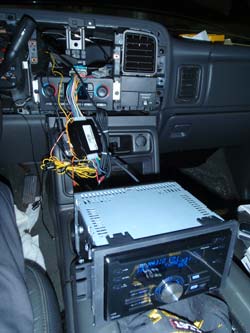 I called Crutchfield's technical support five times and (believe) I talked with a different operator each time. All were very knowledgeable, friendly, and effective. They were all able to answer my questions and help me troubleshoot any roadblocks I came to; the biggest being once everything was connected, no sound came from the speakers. It took the operator all of 60 seconds to get the stereo completely operational.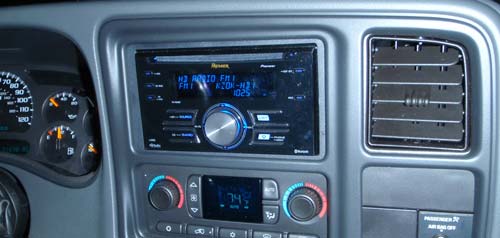 The new stereo works as well I had hoped and looks very nice to boot. That said, we should get back to the point of this review/commentary, I am very pleased with my decision to install the Pioneer stereo myself and even more so of the customer service and technical support I received from Crutchfield.com. Start to finish, the folks at Crutchfield were spot on….could not have asked for a better customer experience. I even called and told them I would like to return a few unused items and they were just as nice as when I was ordering from them. During the course of the research and installation, I discovered you can temporarily (90 days) hire them just for their technical assistance if you already have a stereo for $30.
I agree with the original purchasing specialists, for me at least, the difficulty level with their assistance was a 4-5. Although the installation took me 4 hours; double what Crutchfield estimated. However, I took my time, took pictures, and was very methodical in what I did. If I had to do it again, I could easily get it accomplished in a 2 hour window. To conclude, if you are not very handy or have a very expensive car, I would recommend paying the $250+ (more for a navigation unit) to have a professional installation. But if you are looking for a new car stereo and your technically inclined, like DIY projects, and want to save more than a few bucks, I suggest you give it a try :D.
Product Information
Price:
Manufacturer:
Crutchfield
Pros:

Great customer service
Excellent technical support
Competitively priced
Fun if you are into tech-projects

Cons:

Need to be good at DIY projects
Difficulty depends on your vehicle & dash-unit you choose