We use affiliate links. If you buy something through the links on this page, we may earn a commission at no cost to you. Learn more.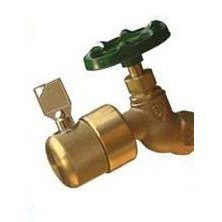 This morning I was taking a shower when I noticed a drop in the water pressure.  We have an old house, and this always happens when someone turns on the water somewhere else in the house – but no one else was using any water.  After a couple of minutes, the water pressure returned to normal.  I insisted someone was using water, so I sent my husband out to check the outdoor faucets.  The one in the front of the house was dry, but the one in the back was dripping.  Someone was stealing our water.  No wonder our water bills have been higher in the past couple of months.  An internet search and some digging on Amazon uncovered something that may solve our problem.  The FaucetLock from Flow Security Systems is designed to keep unauthorized people from using your outdoor water faucets.
The FaucetLock is a solid brass device that screws onto your outdoor faucets, and it cannot be removed without a special key.  It requires no tools to install – you just screw it into place.  Once you lock it, it just turns freely and can't be removed unless you have a key.  If you order directly from Flow Security Systems, you can request that all your FaucetLocks be keyed alike.  Go to the Flow Security Systems site, and you can watch a video showing how to install and remove the FaucetLock.
The FaucetLock is $19.95 directly from Flow Security Systems.  If you prefer, you can order it from Amazon.com for the same price.  I ordered two.  If they work as well as all the reviews at Amazon.com say, they'll pay for themselves in a couple of months in water savings!