We use affiliate links. If you buy something through the links on this page, we may earn a commission at no cost to you. Learn more.

In October, Julie had an article about vooks – a melding of ebooks with multimedia content.  They can be read on your computer (through paid web access) or on your iPhone.  At the time, Julie said there were only four titles available.  It seems they are up to six titles now.   I was digging around with Google, and I saw that there was a vook available from an author I've read before.  The title will only be available as a vook and the iPhone app version was discounted now, so I decided I'd give it a try.  This is a fiction book, and when I first heard of vooks, I thought the format would lend itself to do-it-yourself and self-help books better than to fiction books.  I decided I'd test my theory with this vook.
First of all, it seems that you have to buy a copy for reading on your computer and a copy for your iPhone/iPod if you want it in both formats.  It's not like buying ebooks from Sony and like the old ebooks I bought from Peanut Press years ago.  With those companies, you have access to your book on both your computer (using free software) and on your reader device.  Apparently this is not true with vooks, and there doesn't seem to be any discount if you buy both formats, either.  I obviously used the iTunes software to buy the vook, and downloaded it directly to my iPod Touch.  Each title you buy is a separate application; there is no reader application that will manage your library and allow you to read your titles.
Okay, I'm going to have to finally admit what I bought now.  I bought a vook called "Promises" by Jude Deveraux.  (Keep your snickering to a minimum, please.)  I haven't liked her last few books, but I thought I'd rather risk $4.99 on a book by an author I'd read before than on an author I've never heard of.  Since I knew what to expect from Deveraux, I thought it would be a better test for the format – "do I hate this book or do I hate this book because I hate this format?" might be easier to answer.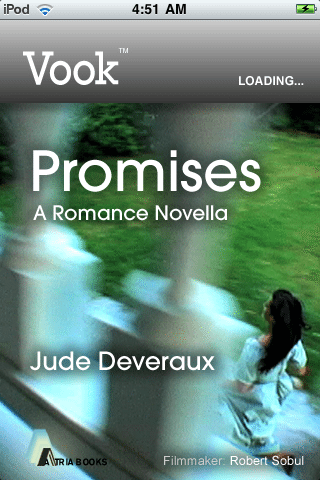 It took 5 minutes or so to download the vook to my iPod Touch.  It's a rather big file, about 105 MB.  After the vook was downloaded, I found it took several seconds to actually open the file for reading.  A splash page with the cover image displays while it opens the file.  You then see a table of contents.  There are four options displayed at the bottom of the screen.  You can read (which also allows you to watch the embedded videos), watch the videos only, connect to the internet for associated content, or read the "about" information.  In the case of this vook, the only internet content was to follow the publisher on Twitter or follow vook on Twitter.  This vook had 16 chapters, each with a video file.  I tapped on chapter one and began.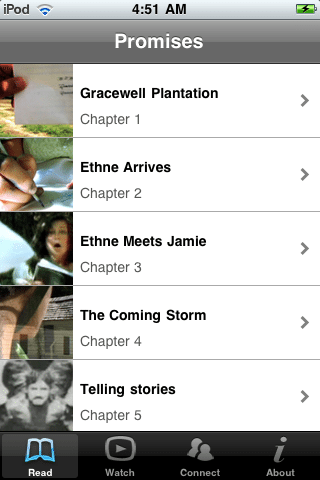 The embedded video displays as a small, static  picture on the page.  When you tap on it, the video starts to play.  You have to rotate your iPod to the horizontal position to watch it.  The videos only play in the horizontal orientation, and you can read only in the vertical orientation.  I found this a bit irritating.  So how were the video clips?  Have you ever seen any of those old 60's TV shows where they were trying to show a bad "acid trip"?  You know the crazy camera work, the weird color changes, the really bad acting to show us how horrible it all was?  It seems the director of these clips was trying to emulate those 60's acid trips.  I was not a fan of his style.  The clips did play well, and the resolution was good.  I don't think they added anything to the story at all.  I did eventually go back and watch all the videos, but I found they were very distracting while trying to read.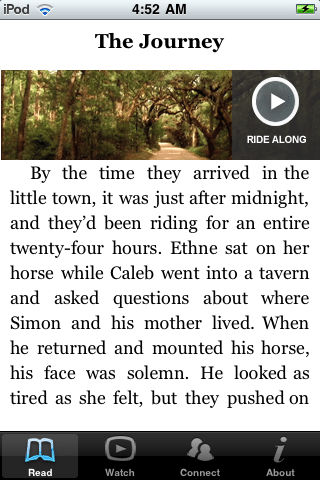 This vook was called a novella, but it was more like a short story.  It would have taken only about 30 minutes to read it and watch the videos if everything had worked seamlessly.  The first problem I had was with how you navigate through the book.  Chapters don't flow into the next by simply turning a page.  When you reach the end of the chapter, you either have to select the "read" option at the bottom of the screen and choose the next chapter from the table of contents, or you can tap on the screen to make another menu drop down at the top of the screen.  From there, you can choose to go back to the table of contents (redundant), use up/down arrows to navigate to the previous/next chapter, or change the font size.  Again, I found this irritating.  However, my biggest problem and my biggest source of irritation was the vook app crashed about 85% of the time when I tried to move to the next chapter.  Remember I said it takes several seconds to open up the vook?  That really adds up when you have to restart the app for every chapter.  And if you close the app for some reason, you'll find that the app doesn't save your page, and there is no way for you to bookmark it.  You can't even write a note to yourself with the page number because the pages aren't numbered!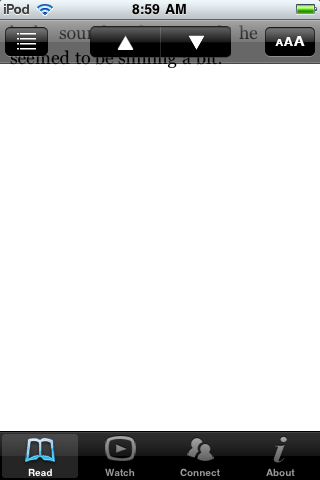 My verdict on the "Promises" vook was:  I didn't like the book and I didn't like the vook format.  The videos were bad (in my opinion) and they didn't add a thing to the book.  But I did say I didn't like Jude Deveraux's last few books, and I did think the format would be better for non-fiction books, so it is only fair I try a non-fiction book as well.
They didn't have a lot of things to choose from, and most vooks cost $5-$7 per platform.  They did have one cookbook – or should I say "cookvook"? – for $0.99.  I decided I'd try that one.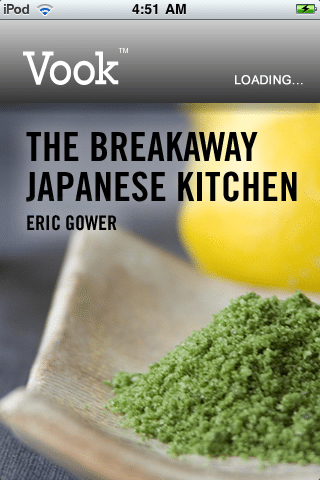 The videos in "The Breakaway Japanese Kitchen" by Eric Gower were well-made and had good resolution.  They were usually set in a nice-looking kitchen, where we watched him assemble ingredients in a pot then magically open up the finished product.  At least one video was set in a grocery store, where he talked about various types of tofu.  Gower himself was well-spoken and seemed to know what he was doing.  But since each video is only about 1-2 ½  minutes long, we don't get a lot of information in any of them, unfortunately.  There also wasn't a lot of text to go along with the videos, nor were there a lot of recipes.  There were only fourteen "chapters" in this book, with one recipe per chapter.  The app crashing between chapters was also a problem with this book, but it didn't happen as frequently.
Never miss one of our posts again. Sent MON, WED, and FRI with the latest gadget reviews and news!
Another irritation for me was lack of standard formatting in the two books.  In the fiction book, I changed pages by flicking my finger over the screen from right to left, much like turning the page in a paper book.  In the cookvook, I changed the page by scrolling up and down.  All the other formatting was the same, so why couldn't page turning be the same as well?
So I do find that the vook format works much better for the non-fiction title I tried, but I think both titles were lacking in content.  I understand that the authors must be paid, and the videos cost a lot of money.  I understand that the vook company is trying to find a balance between cost and content.  I think the cost was too high for the amount of content in both cases.
I personally don't mind paying $13-17 for an ebook copy of a hardcover novel.  However, I wouldn't want to have to pay to add video content on top of that for most books.  I don't feel I got my money's worth for the Jude Deveraux book.  To keep the cost low, it seems she used the same approach used in the cookvook videos.  We saw her put a few ingredients in, but then she cut to the pot being opened to show us the finished product – she left out all the story to make room for the videos.  The videos didn't do anything to fill in those plot holes, either.
The cookvook wasn't a lot better, but it was probably worth the $0.99 I paid for it.  I'd much rather pay $35 for a year's access to the Cooks Illustrated website.  I can get access to 16 years of magazine articles and videos there, and get a lot more detail than I got in the cookvook.
Bottom Line:  That was $6.00 and two hours of my life that I'll never get back.
Product Information
Price:
Varies; about $5.00-7.00 per title per platform
Manufacturer:
vook
Pros:

You can carry it with you on your iPhone or iPod Touch
Videos can be useful to demonstrate techniques in non-fiction books

Cons:

Lacking in content
Videos are distracting in fiction books
Expensive for what you get
The app doesn't remember what page you left off on