We use affiliate links. If you buy something through the links on this page, we may earn a commission at no cost to you. Learn more.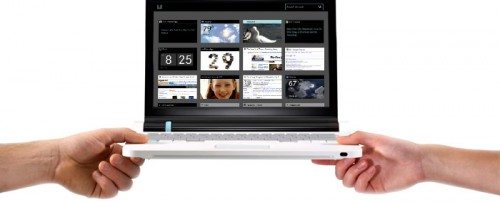 There's a new 'WebBook' on the market called Litl, and it's a top-to-bottom operation that's designing the whole widget with the philosophy of "The computer works for you ( not the other way around )". Litl has designed both the hardware and the software with the web experience as the priority, and they call the resulting 3lbs beauty 'Litl'. Besides it's new OS, the high-end 12.1 LCD panel with a 178 degree viewing angle really sounds nice. Accompanying the awesome display is an Atom processor, 1GB of ram, 2GB of CompactFlash storage, and from the 720p video acceleration I'm guessing they're using Nvidia's ION platform. The OS appears to be a web-centric design with a 'Card' based homescreen that looks a Litl ( sorry ) like Safari's 'Top Sites'. Read on…
The hardware has some really useful features like HDMI output, an 'easel' display mode that swings the keyboard out of the way, and a 'wheel' control on both the unit and the remote to scroll through items. Plus, since most of your data is stored in the 'Litl' cloud, it looks like they can quickly swap units if your Litl breaks or gets stolen; Litl can even track down the thief using the stolen device. I think the keyboard looks silly, and it's layout is going to take getting used to, but overall I like design. The Litl is a bit more expensive than a high-end netbook at $699, but the excellent design and unique feature-set seem worth it. Whats more, this company really stands behind their product with an unconditional 2 year guarantee; If you're not satisfied, they'll replace it or refund it.
http://www.litl.com/