We use affiliate links. If you buy something through the links on this page, we may earn a commission at no cost to you. Learn more.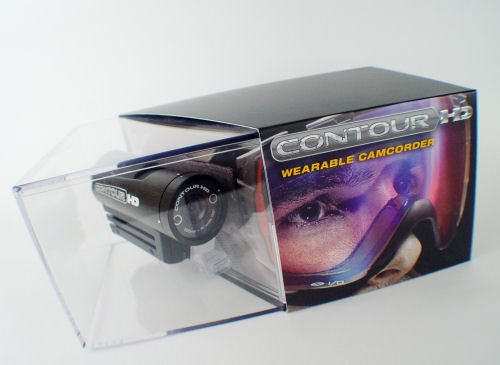 When it comes to shooting interesting video, how you get the shot is half the fun. Plus having the right equipment doesn't hurt either. And with The VholdR ContourHD getting that shot is just as easy as pointing and shooting.
The ContourHD is a sleek mountable action camcorder that is the smallest and lightest HD wearable camcorder around.  It has a water-resistant aluminum body and is shock and impact proof. It records to a  MicroSD card (2GB supplied, maximum 16GB) and has a removable 3 hour lithium battery. It also records audio via an internal microphone.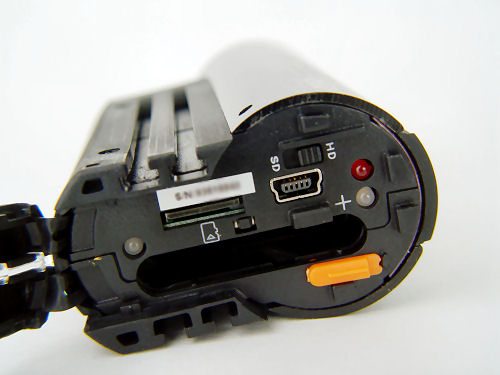 The ContourHD shoots in two shooting modes, HD (1280×720) at 30fps and SD (858×480) at 60fps.  It captures video with a 5MP CMOS sensor and captures audio in AAC Audio Compression.
While recording in HD mode the ContourHD shoots with a 135 degree lens and 90 degree in SD mode.
The ContourHD  records 30min per GB in HD mode and 60min per GB in SD mode.
And it is amazing  small and light at just 4.3 ounces which makes it one of the smallest HD wearable camcorders on the market.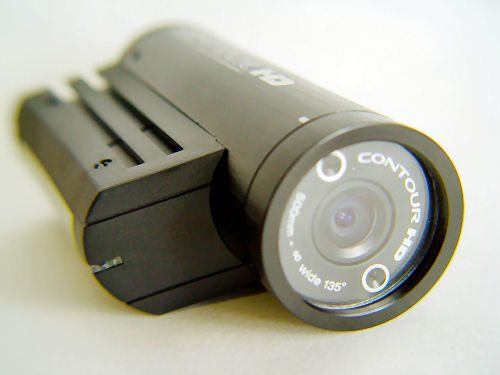 Enough of the technical stuff and on to why this is a great choice for a wearable camcorder.
One of the great things about this camcorder is the dual laser lights that emits from the  front lens barrel to show if the lens is aligned properly. Very helpful. I just beamed the lights against a flat surface I was facing to see if they were level. Simple as that. The ContourHD has the ability to rotate the lens 180 degrees so as to mount anywhere with its supplied flat surface mount or goggle mount.  Other mounts are available such as windshield mounts, handlebar mounts, roll bar mounts and more at www.vholdr.com.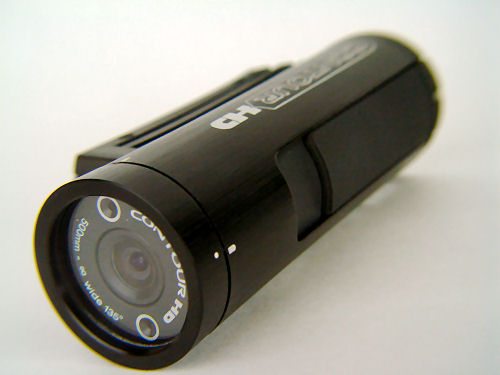 On top of The ContourHD it features a large slider  button for easy on and off recording just by sliding the button forward to record and back to stop recording. Nothing could be easier.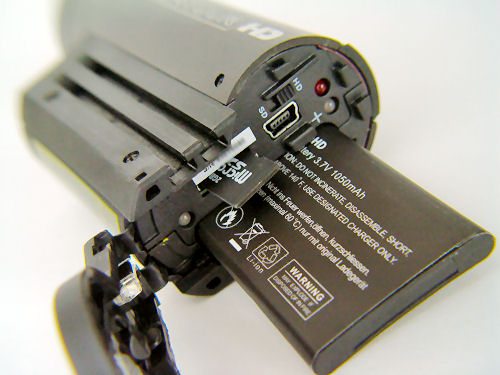 It is also easy to power on the ContourHD. At the back is the power button and a LED light that informs you of the battery level as well as another LED for remaining MicroSD card capacity.
Behind the back cover is the miniUSB port to charge the battery as well as upload your movie clips. Directly beside that is the HD-SD switch to change between modes.
The ContourHD records with a 5MP CMOS image sensor, or rolling shutter, using an H.264 codec. Other camcorders use a CCD chip.
I tested out this camcorder with my friend Daniel Arroyo from MTV's Ultimate Parkour Challenge.  I strapped it on his head using only a headband for small portable flashlights and the google mount.  Since he had sprained his ankle a few days prior he was only going to do strength movements.  However, Daniel being a true traceur, he decided to do precision jumps despite his sprained ankle. Had I known this I would have beefed up the headband to be used for more jostling but it worked just fine anyway.
The footage that the ContourHD captures were very rich with deep saturation. The footage seemed very clear and crisp. It seems to be at its best in well-lit scenes. It did not  do so well in dark or low light situations but the majority of camcorders have that problem. Fortunately, most action sports footage you'll wanna capture with this camcorder will be during the day anyway.
VholdR.com offers Easy Edit software that you can download off their site to easily import, clip and post your videos to their site for others to view. Since the ContourHD's codec is H.264 it is basically a final delivery codec which makes it difficult to import and edit into your own editing software. The Easy Edit is mainly used to trim any unwanted footage from the beginning and end of your clips.
I like to chop up my footage when I edit so I had to export my clips in Sony Vegas 9 to an AVI file then import it into Premiere Pro since Premiere Pro can't edit H.264 files.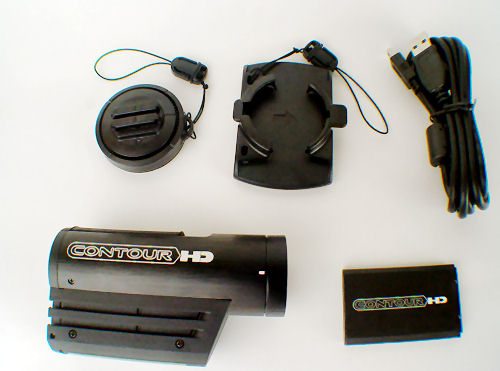 The contourHD also comes supplied with a USB cable, a flat surface mount and a goggle mount. Each mount has a small removeable lanyard that connects to the ContourHD for added security in case the camcorder should ever fall off the mount  like in a bad spill or an earth-shaking impact.
Other wearable camcorders on the market are the GoPro Hero, ATC5K, and the VIO POV.
At this time there is also another version called the ContourHD 1080p which records up to 1920×1080 and can be custom configured such as exposure and audio gain.
Product Information
Price:
$279.99
Manufacturer:
VholdR
Pros:

Light weight
Large record button
Dual laser alignment
Wide 135 degree lens
HD/SD modes

Cons:

Sound recording could be better
No LCD
Not waterproof only water resistant