The Gadgeteer is supported by readers like you! If you buy something through links on our site, we may earn an affiliate commission at no cost to you. Thank you! Learn more.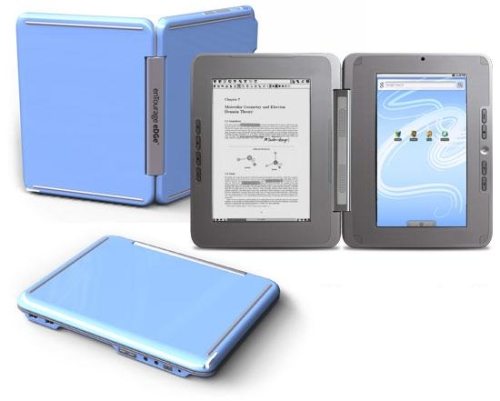 People who have an interest in reading ebooks but who want a multi-functional device may be interested in the enTourage eDGe device.  The eDGe closes like a book, and it has a 9.7" (measured diagonally) e-Ink screen on the left and a 10.1" (diagonal) 1024 X 600 pixel color touchscreen on the left.
The eDGe ebook reader side allows you to read PDF and ePub files.  It is not associated with any bookstore, however.  You can take notes in the books using highlighting, dog-earing pages, or by handwriting directly in the books. 
The netbook side has WiFi, Bluetooth, and optional 3G connectivity.  Its operating system is Linux with Google Android.  You can surf and email and run applications, like the included journaling program.  It comes complete with a voice recorder and a web camera.  It has 3 GB of user-accessible internal memory, and you can add an SD card for more.
The eDGe is 8.25 X 10.75 X 1.0 inches when closed.  It weighs 2.5 pounds.  It is will ship in February 2010, but it is available for pre-order now at the enTourage website.  It costs $490.00 in midnight blue.  It is also available in ruby red, glacier white, and ice blue for $530.00.   Learn more at the enTourage website.