We use affiliate links. If you buy something through the links on this page, we may earn a commission at no cost to you. Learn more.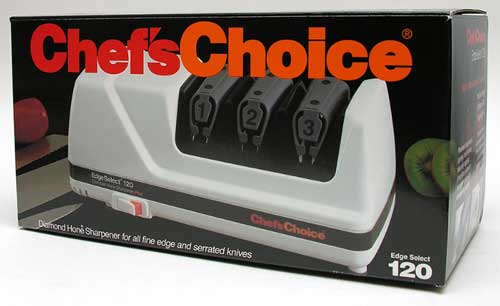 A few weeks ago, I was all set to buy a brand new set of knives for my kitchen. The ones I've had for years and years were so dull that they weren't very useful any longer. Every so often I'd think about taking them to a knife shop to get them sharpened, but never did. I'd also thought about buying a sharpening stone to try sharpen them myself. Again, I never followed through. Let's face it, I'm basically lazy and need the easiest solution possible for any task at hand. Luckily, I think I've found a super easy and fast solution for sharpening knifes… It's the Chef'sChoice EdgeSelect 120 Electric Knife Sharpener.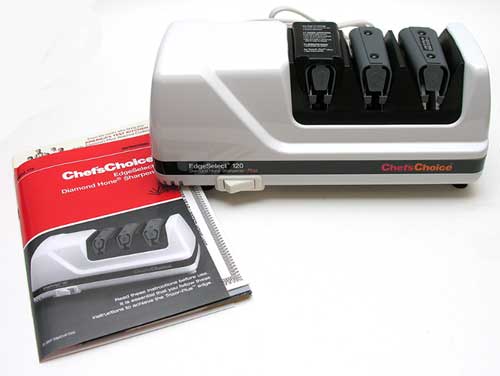 Package Contents
EdgeSelect 120 electric sharpener
Manual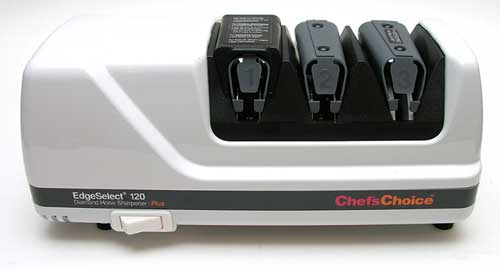 The EdgeSelect 120 is a counter top appliance with a footprint of 9-1/2″ x 4″ x 4″ inches. If you tend to shy away from devices that have too many switches, buttons, dials and gauges, you won't have that fear with this sharpener. It has just one switch (for power) on the front.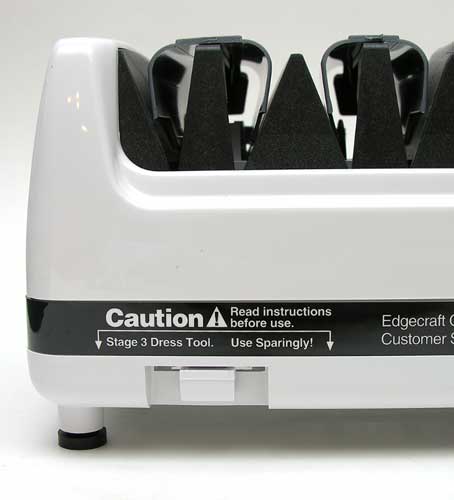 And special stage 3 disk dressing switch on the back that you might use once a year at most to reshape and clean the disks.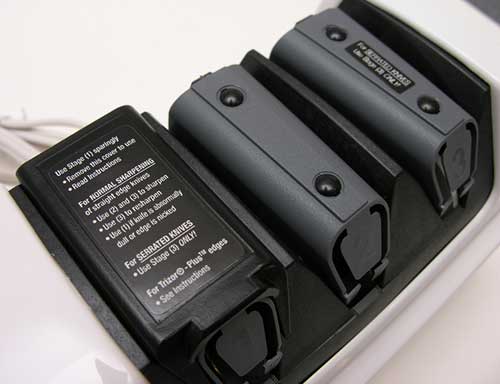 This sharpener will allow you to sharpen both straight and serrated knives. The three stage sharpener uses two precision conical sharpening/honing stages with fine 100% diamond-coated disks and one final polishing/stropping stage to give your knives an incredibly sharp edge. The EdgeSelect 120 is a three stage knife sharpener. Each stage has a Left and Right slot that positions the blade of your knife in the perfect sharpening angle.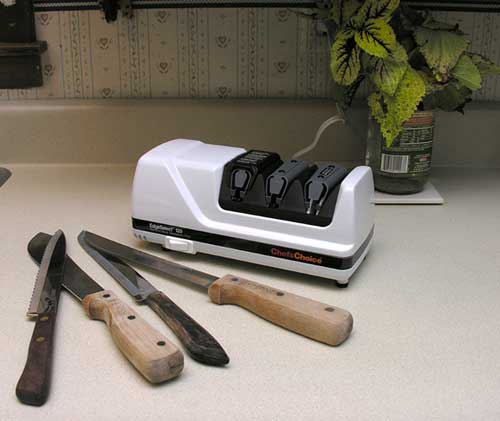 The only way to review a knife sharpener is to… sharpen some knives! So, I grabbed a selection of my knives with dull straight and serrated blades.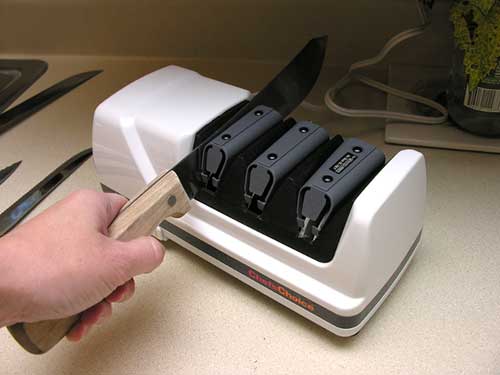 Using the EdgeSelect is extremely easy to use, but you really need to read the manual before you use it. If you don't, you'll probably use it wrong and be disappointed with the results. The manual explains when you use each stage.
Stage 1 – Used for excessively dull or damaged knives or for maximum edge "bite." Diamond abrasives create first facet. You won't use this stage very often. That's why there is a removable cover over it.
Stage 2 – Used for routine sharpening / re-sharpening. Finer-grit diamonds create a second bevel.
Stage 3 – Patented material creates third micro bevel, and polished micro-flute cutters along the super-sharp edge. This stage is the only stage that you'll use for serrated knives.
You just plug it in, flip the power switch, grab a knife and place it in the appropriate stage left slot with the handle as close to the front of the slot as possible. Then pull the blade towards you smoothly and evenly. It should only take about four seconds to pull an 8 inch blade through the slot. As you do, the built-in springs hold the knife blade securely against the angle guides, eliminating the guesswork and guaranteeing a properly sharpened knife. Then pull the blade through the right slot of the same stage to sharpen the other side of the blade. You always want to pull the blade through the left and then the right slot of the stage.
You'll definitely know that you're sharpening the blade, because you can hear it grinding in the slot. Sometimes you'll even see tiny metal shavings fall out of the slots as you pull the blade through.
By the way, no honing oils or water are required for sharpening.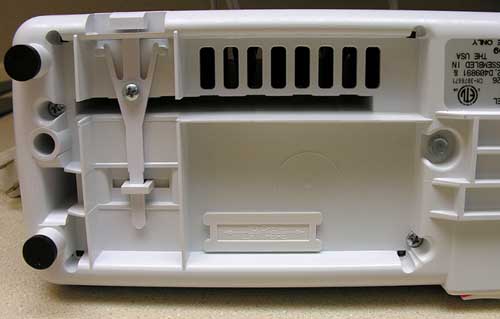 Every so often, you can clean the metal shavings out of the sharpener, by removing the magnet out of the bottom.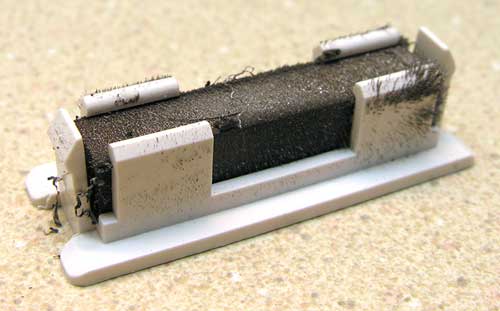 Here are the shavings from the 4 knives I sharpened.
The Chef'sChoice EdgeSelect 120 is so fast and easy to use that you don't even have to think about it. I was very impressed that it quickly turned my dull knives into super sharp kitchen tools. Even the serrated knives were noticeably sharper. We make a home made bread in my house, so a good serrated knife that can saw through crust is a must. I didn't even realize how dull my knifes were till I used the EdgeSelect sharpen them.
This appliance is expensive, but it seems like it is a perfect gift for your favorite chef or cook that will always need a sharp knife. And with the holidays just around the corner, it's time to get those ham and turkey carving knives in tip top shape!