We use affiliate links. If you buy something through the links on this page, we may earn a commission at no cost to you. Learn more.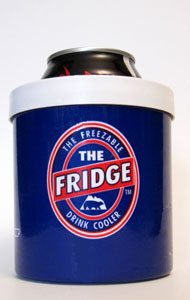 There are plenty o' devices and gizmos out there to help keep your coffee hot, but for those who prefer refreshments at the opposite side of the thermometer there is only a dearth of either lame Styrofoam "coozies" or tepid "peltier effect" boxes with fans.  But I had forgotten about The Fridge — a freezable can holder that keeps its cool for many hours.  I had reserved and used The Fridge only for outings in nature and recently it came to me that this would be the perfect accoutrement for a set of three-day week long off-site beatings, uh, er meetings I had to endure, er I mean attend.
The Fridge is a bit bulky, but the alternative at these beatings, er — meetings, for cold caffeine enriched revival fluid involves finding a vending machine with the proper dosage and expiration date.  My particular circumstances were compounded by the fact that the building we were confined to was in the middle of nowhere and required an "escort" when on such a hunting trip in the host's facility.  So I froze three Fridges the night before each week-long day; popped a pop in each Fridge; and stuffed them into a backpack along with my Kindle and laptop.  Bleah.  At an interval of every three hours I was able to pop open and enjoy a crisp can of activation liquid.  Ahhh, now what were they talking about (all at once) again?  Who cares.
Product Information
| | |
| --- | --- |
| Price: | $5.99, varies |
| Manufacturer: | Lifoam |
| Pros: | |
| Cons: | |