We use affiliate links. If you buy something through the links on this page, we may earn a commission at no cost to you. Learn more.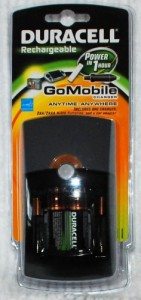 My family has started using a lot of AAA and AA batteries lately.  I've been looking around for a recharger that was economical and didn't have a lot of space devoted to battery sizes we don't routinely use.  I jumped at the chance to try the Duracell GoMobile recharger when Julie offered.  The GoMobile charges only AA and AAA batteries in a small recharger that works on your home current or in your car using the included car adapter.  With a one-hour charging cycle and a suggested retail price of $29.99 – complete with four rechargeable NiMH batteries – it sounds like exactly what I wanted for my night table!
First, let's see what comes in the package.  In addition to the recharging unit, you get an A/C adapter, a car adapter, two AA and two AAA rechargeable batteries (already charged), and an instruction leaflet.  Since the batteries were already charged, I had to discharge them before I could try out the recharger.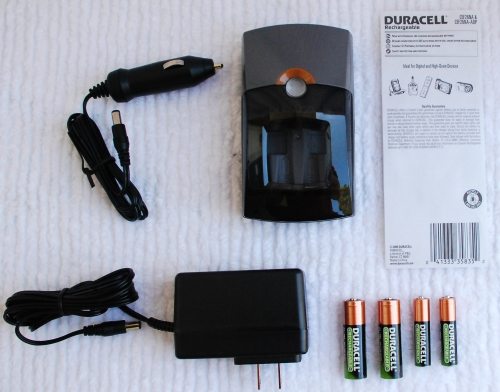 Duracell says their SmartPower pre-charged rechargeable batteries have a long "shelf-life" after charging.  Duracell claims these batteries hold 75% of their power for a year after charging, while normal rechargeables are completely drained in that time.  I don't know when the batteries sent to me were packaged, but they seemed to have a full charge when I got them.  I put the two AAA batteries in a lightwedge case for my old Sony reader and the two AA batteries in the speedlight for my Nikon camera.
The speedlight is a battery killer.  Normally, we can get about two photo-taking sessions out of a set of batteries before they are drained.  We got three sessions out of these batteries, so they stand up well when compared to non-rechargeables.
The lightwedge case for the Sony reader usually lasts about ten days of 4 hours/night reading at the lower setting.  The rechargeable Duracell batteries performed about the same.
The GoMobile recharger can charge two or four batteries at a time.  There are two charging units within the GoMobile, each with its own indicator lights.  The batteries in each unit must be a matched pair – 2 AA or 2 AAA, but not one of each.  You can have different types in the two units, though.  If you look at the pictures of the interior, you can see there are two terminals per battery slot on the positive  end, but only one terminal on the negative end.  Only one battery can be placed in each slot for charging.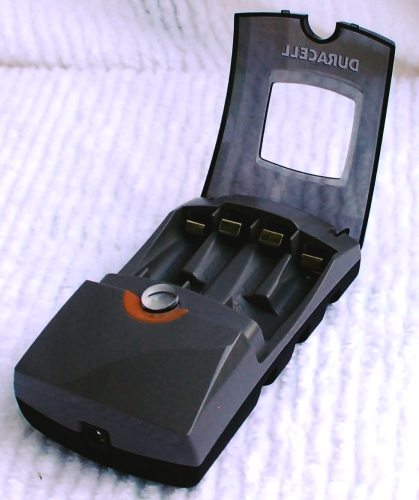 I had a little trouble getting the batteries to charge at first.  I remembered how the batteries had been placed in the unit when I opened the package, so I didn't bother to read the leaflet about battery placement for recharging.  If you click on the picture of  the package at the beginning of this review for a larger view, you can see that the two AA batteries are placed in the interior slots, and the two AAA batteries are placed in the exterior slots.  When I tried to charge a pair of batteries placed back in their shipping slots, they wouldn't charge.  It was only after I had read over the instruction leaflet a couple of times that I realized the pair of batteries should be placed in the two left slots or in the two right slots.
Once I got them paired up properly, the red indicator light came on to indicate the batteries were charging.  Closer inspection of the indicator light shows that it is actually two lights.  Each half of the charger has its own indicator.  The lights are red to show the batteries are charging and green to show charging is complete.  A blinking red light shows an error condition.
I tried the charger in my car.  It's shown sitting on top of the console, but it easily fits in the drink holder.  The cord was long enough that I could drop the unit inside my console while it was charging, but it's not so long that it was getting tangled around everything.  I like that the car adapter is completely separate.  I can just leave it in the car and I know I'll have it if I need it.  Because my car's power outlets aren't powered if the car is off, I can't charge the batteries in my car unless I'm driving around for an hour.  I brought the unit into the house and plugged it in.  At this point, I had all four batteries in the charger, and the charge cycle took about an hour as promised.  Documentation included with the GoMobile says it can charge batteries with cell capacity of 800 mAh to 2650 mAh in one hour.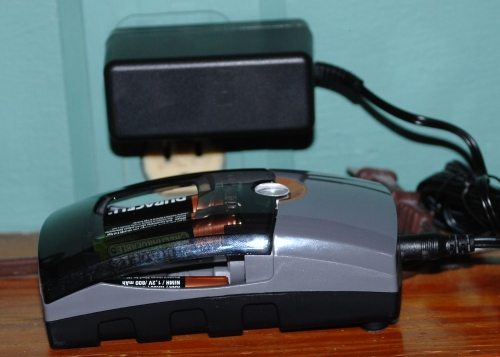 The GoMobile will make a great unit to pack in the camera bag.  My speedlight uses two batteries at a time.  I could get another set of the Duracell AA batteries, so I could be using a set and charging a set.  I can charge batteries in the GoMobile while I'm driving or once I get to the hotel while travelling on vacation.  I'll always have a fresh set of batteries for my camera without having to carry around a huge number of disposable batteries.
The biggest problem I can see with the GoMobile is the restriction of charging only matched pairs of batteries.  For this review, I tried the batteries in my lightwedge case because it uses two batteries, but I don't use that case for reading anymore.  The reading light I use now  takes three AAA batteries.  I wanted to be able to have six rechargeable batteries so that I could be using three and charging three.  That won't be possible with the GoMobile, unless I drain both sets of batteries before charging.
All in all, the GoMobile recharger is a great, compact little battery charger with some great batteries.  It's convenient for home or travel, and it's small enough to pack in your gear or camera bag.  It would make a great gift for a gadget user who needs a lot of batteries.  I often give little "learning laptops" to the toddlers in my family as holiday gifts.  This year, I'll need to also give a GoMobile to each family as a gift for the parents!
Product Information
Price:
$29.99
Manufacturer:
Duracell
Pros:

Compact
Charges AA or AAA batteries
Charges 2 or 4 batteries in only 1 hour
Great value - recharger and four batteries included for the price

Cons:

Batteries can only be charged in matched pairs