We use affiliate links. If you buy something through the links on this page, we may earn a commission at no cost to you. Learn more.

I was asked to take a look at this application for its ability to print directly to the Dymo LabelWriter. Little did I know that is somewhat similar to looking at the iMac for it's Photo Booth application. Print & Share let's you print from your iPod Touch or iPhone to any printer connected to your network and share files with your networked PCs or online services like Box.net, MyDisk.se or MobileMe.
This application is actually part of a system. You have Print N Share on your iPhone/Touch, and the WePrint Server helper application on a Mac or Windows PC. The WePrint Server application is a free download from their site.
Printing Setup
If you want to print to a printer on your network, transfer files between your computer and iPhone/Touch, you need to install WePrint Server on a Windows or Macintosh computer on your network. The application reminds you of this when you first run it. Smart feature, even provides an option to e-mail you the link.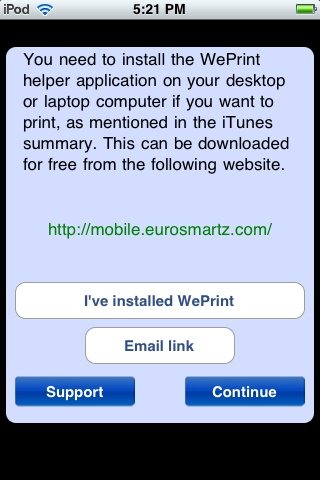 Once installed, Print n Share can print to any printer that can print to.
If you have a Wi-Fi printer you still need to use the helper application. As they explain in their FAQ, you need a print driver to print to a printer, and there are not any for the iPhone.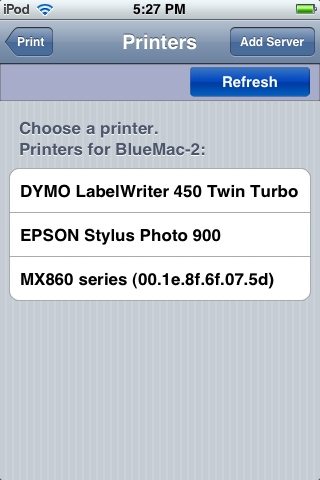 Printing
The application let's you print:
Files
E-mail
Web Page
Contacts
Images
Camera (on the iPhone)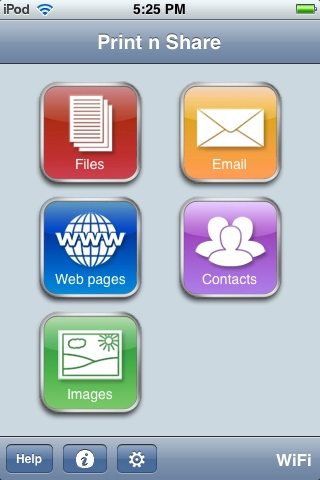 Since I am testing it on an iPod Touch, the Camera icon does not appear on the screen. Another nice touch, in case I was confused that my iPod Touch suddenly sprouted a camera.
Files
You can print any file on your iPhone/Touch that can be printed from the computer that is running WePrint Server. I had no problems printing images on my printer. I ran into an issue with an Excel file I copied to my Touch (more on sharing later). When I tried to print the document, nothing happened. That is because I run Excel in VMWare fusion, so it was not able to print it from Mac OSX. I installed the WePrint Server on my Windows VM and it worked great. You can view the Excel files in the application. Here is how it first came up: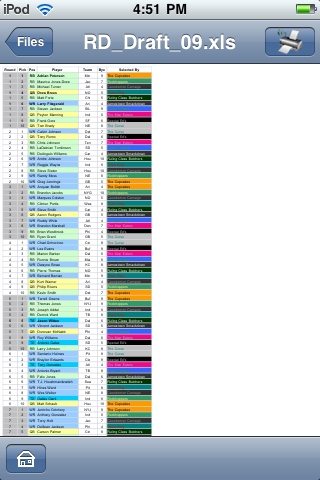 You can use standard zoom gestures to zoom in on the worksheet: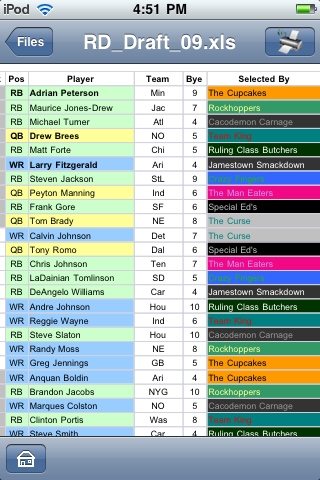 E-Mail
Even if you have e-mail setup on the iPhone, you need to set it up separately in Print n Share. This is not a limitation of the application, rather a limit of the iPhone OS since you cannot multitask. Setting up the account is straightforward, and provides custom setup screens for the major e-mail systems: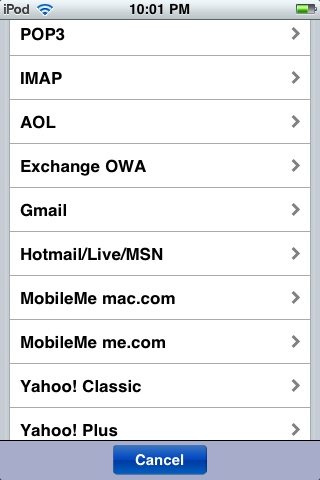 I was able to setup my Gmail account, view and print attachments.
Web Pages, Images and Camera
I could not test the Camera section, since I was using an iPod Touch, but the Web Pages and Images section worked similar to Files. You can also save files to your networked computer, WebDAV or iDisk drive.
Contacts
The Contacts section accesses the contacts on your iPhone/Touch. Now we finally get to the DYMO LabelWriter feature. You can print your contacts to any printer, but where it really shines is in the ability to print directly to the label printer. You can even choose a number of formats for the labels: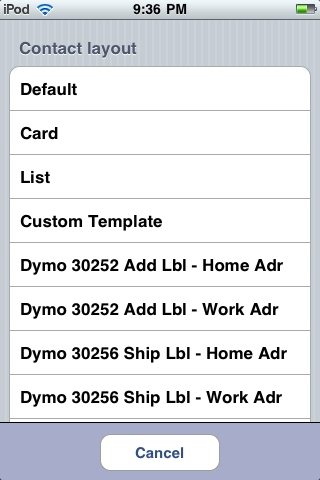 The layout options include the DYMO label # and whether it should print the work or home address. This feature adds to the convenience of your LabelWriter. Pull out your iPhone/Touch, launch Print n Share and quickly select your contact to print a mailing label for their work or home address.
Sharing Files
So we have discussed the Print part, now on to the Share. Print n Share lets you to share files on your iPhone/Touch. Files can be copied to and from the Mac/Windows machine that is running WePrint Server. By default, WePrint Server creates a WePrint Files folder on the desktop of the Mac, or the My Documents folder of the Windows machine. You can change this in the WePrint Server application.
You can also access iDisk/WebDAV folders from the application. This includes services like MobileMe, Box.Net, and MyDisk.se. Since I do not have a MobileMe account, I set up a free Box.net account. It did not work for me right away, I had to contact tech support, but once I resolved the issue it worked very nicely. Technical support responded quickly to my issue, and it turned out it was just a loose nut on the keyboard. They clearly instruct you to access box.net with the URL http://box.net/dav but for some reason I wanted to change "dav" to my username. That does not work.
Copying files to and from my Box.net account was very easy. If you want to view or print a file on a network, or iDisk/WebDAV drive you do need to first transfer it to your iPhone/Touch. I noticed they had a feature grid on their site that pointed out that DocPrinter could print and browse directly, but you lose the e-mail functionality. I do not see that as a big deal.
Conclusion
I was surprised by how much this little application does. The ability to easily move files between your iPhone/Touch and your networked computers or Internet-based storage was quite impressive. You can also access your mail, view and print attachments from the application. Add in the ability to print to your printers and even create labels directly on a LabelWriter. This is a pretty powerful application for your touch. Even if you only need a few of these features, the price is hard to beat. You can also check out their web site to compare their other applications.
Product Information
Price:
$6.99
Manufacturer:
EuroSmartz
Pros:

Print directly from iPhone and iPod Touch
Print Mailing labels directly from your contact list to DYMO LabelWriter
Free Mac and Windows helper application
Share files with networked computer
Share Files with iDisk/WebDAV services

Cons:

Requires Helper Application on Network