We use affiliate links. If you buy something through the links on this page, we may earn a commission at no cost to you. Learn more.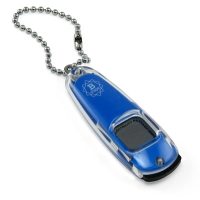 I have a terrible problem with static electricity.  I am not exaggerating when I say that I once got shocked touching the car window glass getting out of my car in the rain.  By the end of winter, my poor dog cringes when I reach to pet him.  It's so bad that my husband won't let me pump my own gas because he's afraid I'll spark a huge fire at the gas station.
Think Geek may have something to help me out.  It's the Static Electricity Eliminator.  They say you hold it in your hand and touch the rubber tip to something grounded to dissipate your built-up charge.  When you see the face on the little display, you're safe.
For $9.99, I could save myself, my family, and my poor little dog from a winter of misery.