We use affiliate links. If you buy something through the links on this page, we may earn a commission at no cost to you. Learn more.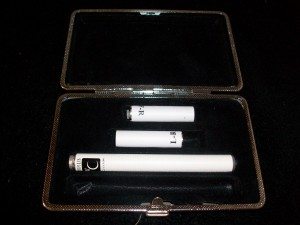 Let me start by saying I do not condone smoking in any way shape or form. Now with that said, unfortunately I am a smoker. However I am in the process of quitting…AGAIN.
I have quit in the past with the help of medication. This time I wanted to give something else a try. When I was given the opportunity to review the White Cloud Cirrus Electronic Cigarette, I instantly jumped at the chance. And why are we doing this on The Gadgeteer? Well after all, it is an electronic device.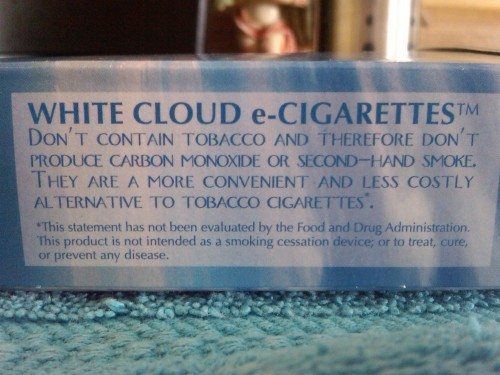 I will say that the Cirrus Electronic Cigarette is not in any way marketed as a "stop smoking" product. However it is marketed as a "healthy" alternative to a regular cigarette. When I say "healthy" I am referring to the fact that these e-cigs do not contain any tobacco, tar or any other preservatives. They don't even contain smoke. That's right NO SMOKE! You will see an odorless vapor after taking a drag from the e-cig, and that's about it.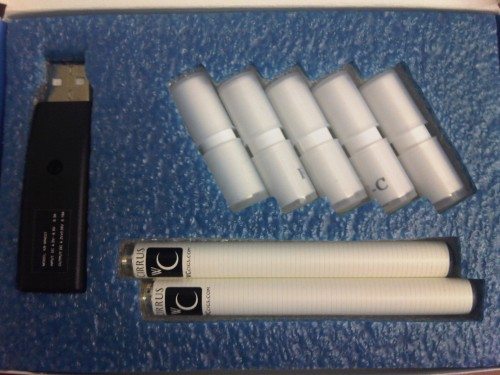 This product is a great alternative to the real thing. Plus they actually taste good… It's hard to say exactly what they taste like but to give you an idea, they taste like a very clean cigarette. Even though they do not contain tobacco they do still contain some nicotine (which is actually not the harmful part of a cigarette). So as a smoker you still get the same fulfillment as you would with a regular cigarette. Plus you have your choice of full flavor, lights, menthol, or your choice of multiple different flavors from chocolate to whiskey. That is actually a bigger variety than a cigarette. You still get the sensation of a real cigarette but without the major downfalls of them. Not only can you smoke with a lot less guilt, but you can do it just about anywhere without making most people angry.
Your starter pack comes with…
2 E-cigarette batteries
5 SimpleSmoke cartridges
1 USB charger
1 User manual
That is more than enough to get you started. Considering that one SimpleSmoke cartridge is the equivalent of 40 cigarettes. But before you actually get started you are going to have to charge your cigarette. Now I know that sounds funny but right out of the box they come with about a 90% charge already. So you literally are able to try these out right when you open the box. With your starter kit you actually receive 2 rechargeable batteries(which is the actual long part of the cigarette). Its a good thing that you get two of them because each battery take about 3 hours to charge. With two ou can always make sure you have one charged if the other battery gets too low. If they did not come with two, you would have to make sure you purchase an extra proprietarty USB charger. If and when you need more supplies, you can just go to www.whitecloudcigarettes.com. You will be able to order everything from car chargers to clamshell cigarette cases made specifically for your E-cigarette.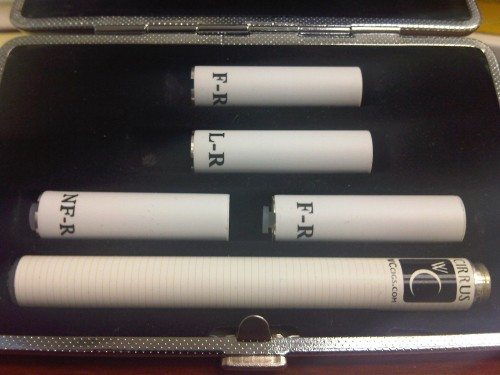 This product is a bit on the pricey side, with a starting cost of $189.99. And that is just for the starter kit. Then you still have to add on the accessories, which can range from $10 to $40 each. And don't forget that about every time you have to replace the simple smoke cartridges (which come 5 in a pack… so that is the equivalent of a carton). Which in actuality are priced pretty good, at only $19.95. With that said, in the long run, could this product save you money and possibly help you quit all together? Sure! Even if you don't quit at least it's a lot less harmful than a regular cigarette.
Has this product help me quit smoking you ask?…Not yet… But at least while I am still smoking I am doing so with a lot less hassle from people around me! So all in all this device is NOT made to get you to quit smoking. So I don't recommend it for that. On the other hand, if you do continue to smoke, I DO recommend this product purely based on the fact that it is a much "healthier" alternative to a normal cigarette.
So at the end of the day even though this product is on the expensive side, I would still recommend it to anyone out there that is a smoker that is looking for an alternative and looking to get less grief from the people around them. For me, aside form the fact that they are a bit longer than a regular cigarette I personally enjoyed them and I plan to continue using this product. After smoking one of these I did not have the urge at all to smoke a normal cigarette. So when it's all said and done I am going to continue using them, at least until I totally quit. So dish out the money up front and in the long run it will pay for itself and save you money… So to all of the smokers out there reading this, I would say smoke away and like I said before do it with a lot less guilt.
Product Information
Price:
$189.99
Manufacturer:
White Cloud
Pros:

Healthy alternative
Saves money
Lots of add-ons

Cons:

Expensive
Heavy in the hand
Too long