We use affiliate links. If you buy something through the links on this page, we may earn a commission at no cost to you. Learn more.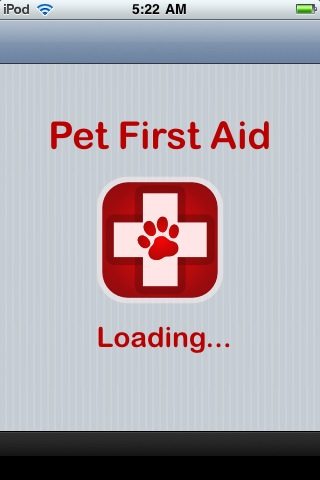 The American Red Cross teaches first aid classes so you know how to help people in emergency situations, but I've never heard of a first aid class for pet care.  Do you know what to do if your cat or dog is injured or becomes ill?  I certainly didn't.   Luckily, our dog Teddy hasn't needed a lot of  emergency care – yet.  We live about a quarter-mile from Teddy's veterinarian's office, so we could get him there quickly if he's injured during office hours.  We live about 5 miles from the closest after-hours clinic, so we might need to know how to care for him as we get him to the vet in that case.  I found an iPhone app that has exhaustive information about pet first aid.  It's called Pet First Aid by Jive Media LLC.  The content of this program was developed by PetTech of Vacaville, experts in pet first aid and pet emergency preparedness training.
The application is a large one – almost 52 megabytes.  It's worth the space on your iPhone or iPod Touch if you have a cat or dog.  At $3.99, it's more expensive than most apps, but it's worth it for peace of mind.
First, a note about the graphics before we start discussing the program.  Instead of photographs, I'm using screen captures obtained directly from my iPod Touch.   I thought the screen captures are ultimately more readable than my photographs would be because there is no glare obscuring parts of the screen.  In some cases, I'll use a thumbnail instead of a full-sized capture.  Just click on the thumbnail to enlarge.
There are three types of information in the application.  They are Pet First Aid, Pet Info, and About.  Of course, About is the typical copyright, version, and legal information and needs no discussion.  We'll explore the other types further.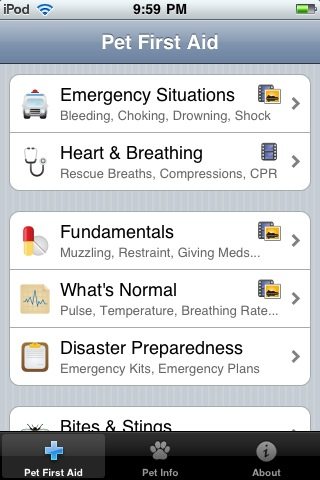 There are many categories in the Pet First Aid option.  Not first on the screen, but What's Normal is of primary importance.  Unless you see something traumatic happen to your pet, you may not be aware he's ill or has been injured.  It's important to know what is normal for your pet, so you can make his veterinarian aware of any physical changes or behavior changes when you take him in for care.  This section describes what's typical for cats and dogs and  teaches you how to perform various physical checks to determine what is normal for your dog or cat.  Pictures and drawings accompany the text to teach you how to check your dog or cat's pulse rate and other vital signs, and short video clips are used when necessary to better explain the test.  They warn you when you may need more help learning to perform a test yourself.  For example, they warn you to ask your vet to teach you to safely check your animal's temperature.  They also discuss what behaviors and changes in behavior you can describe that might help your vet diagnose your pet.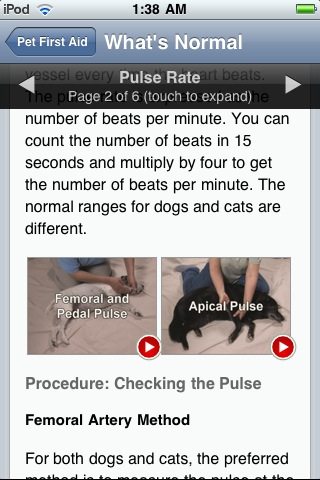 In the Disaster Preparedness category, you'll learn to how assemble a first aid kit for your pet.  Many of these items would be found in a normal "human" first aid kit, but other items are pet-specific.  In addition to gauze and tape, you'll need something to trim away or shave hair in your kit, a muzzle, and an extra collar and leash.  You may want to include an Elizabethan collar (a cone).  There is a list of medications for use after you consult your animal's vet.  You'll also learn how to prepare a disaster kit for your pet – food, water, and other supplies.  And did you know you should also include a picture of you with your pet to help you prove ownership if you get separated?
In Fundamentals, you'll learn tips to help you recognize illness and how to give medications.  You'll learn how to prepare an injured pet for transportation and how to keep both your pet and yourself safe while doing so.
Never miss one of our posts again. Sent MON, WED, and FRI with the latest gadget reviews and news!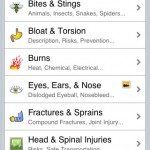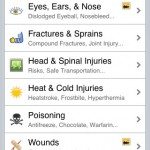 Then there are the categories no one likes to think about – until they are vitally important to the life of your pet.  You'll learn how to perform CPR, how to treat cuts, burns, and broken bones.  You'll learn how to help your animal who is suffering with more severe injuries, such as head and spine injuries, as you transport them for medical attention.  Again, there are pictures, drawings, and videos to help you learn to do these properly to give your pet her best hope of survival.
The benefit of this program is that you can read through it before the information is needed so that you have supplies on hand and a general idea of what needs to be done.  Because it's on your iPhone or iPod Touch, it's easily portable so you can keep it with you and use the step-by-step instructions to guide you if you ever need them.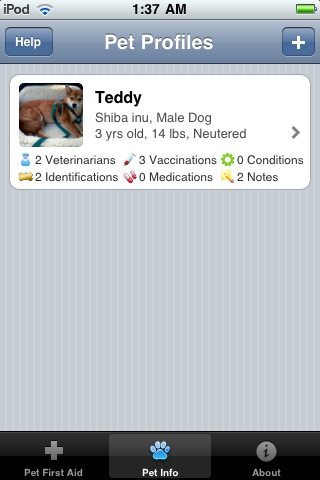 The Pet Info category helps you manage all the information you've been collecting about your pet.  You can set up an entry for each of your pets.  For each, you will track his name, gender, age, and size.  You can store a picture of your pet; click on it to enlarge it.  (You'll notice I need to change Teddy's picture to include me!)  You can enter the location and phone number of your veterinarian and emergency clinics.  You list your pet's identifications, such as tracking chip type and number, AKC number, and others.  List her vaccination types and dates, medications routinely taken, and any allergies and other conditions.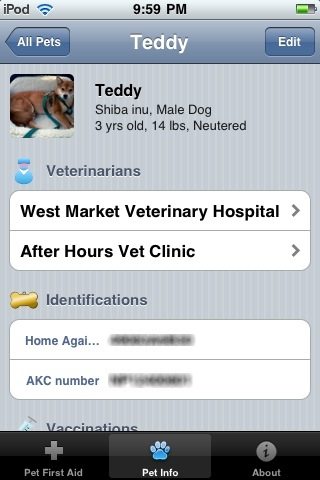 Finally, there is a place for notes where you can list identifying marks and characteristics, or the behavior traits that you have learned that are important.  For example, a couple of years ago we took Teddy to the after-hours clinic because he was shaking his head and wouldn't stop.  Of course, he had stopped this behavior by the time we reached the clinic, but they kept him over-night and recommended we take him to his regular vet for observation the next morning.  When we dropped him off there, we reminded Dr. Murray that Teddy is very shy and nervous – not at all a typical Shiba Inu.  When we picked him up that afternoon, Dr. Murray said Teddy would shiver so much when she'd take him out for exams during the day that she would have though he was having seizures if we hadn't reminded her of his nervousness.  That reminder probably saved Teddy from the trauma (and us from the expense) of a lot of tests and perhaps medications that he didn't need.  I've made notes of that type of information to remind me to relay it to the vet if I'm not thinking clearly in an emergency.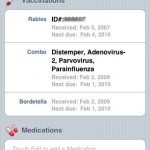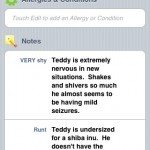 I think this application is one of the very best that I've purchased for my iPod Touch.  I hope I never need to use it!
Product Information
Price:
$3.99
Manufacturer:
Jive Media LLC
Pros:

Detailed information about pet first aid
Pictures, drawings, and videos help you learn
Place to collect your pet's medical history and identification in one place

Cons: