We use affiliate links. If you buy something through the links on this page, we may earn a commission at no cost to you. Learn more.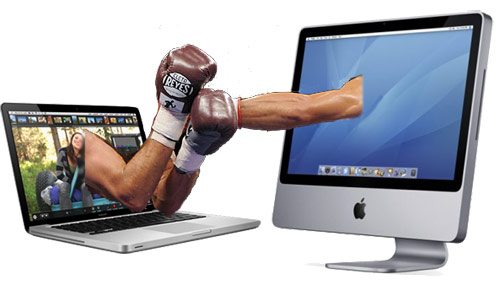 I recently posted a short article talking about my problem with trying to decide between buying a desktop or laptop as an upgrade my currently failing 24″ iMac. A lot of you offered me many convincing comments to that post that advised me to go with a laptop (thanks to everyone that shared their opinions). As a result, I was all set to order a 13″ Macbook Pro until I took a step back and realized that both me and my bank account would be much better off sticking with a desktop. Here are the reasons why I've made that choice…
1. I usually only travel 1-3 times per year, so I don't really need a laptop. I mainly wanted one so I could work in front of the TV, which I always think I might do, but really don't. I already work enough during the day, that time in front the TV at night is for relaxing. Yay reality TV!
2. I already own 2 netbooks (HP mini 1000 and MSI Wind) and an ultra-portable laptop (HP Pavilion DV2) that I can use in front of the TV or for travel. They run Windows XP, but since I work mainly in Firefox, I can deal with that.
3. I'm trying to practice the art of not buying stuff when I already have perfectly good stuff that I can use instead. So, I could hackintosh the HP mini 1000 netbook if I really wanted a "Macbook". I did it before with the MSI Wind and it wasn't overly painful. I think the process has become a lot easier these days.
4. A iMac with keyboard and mouse would take up less space on my desk than a Macbook Pro, external display, docking station, keyboard and mouse.
5. With a desktop, there's no battery to wear out from having it plugged into AC power 95% of the time. There's also no option to pop the battery out of the new Macbooks…
6. There's a rumor that Apple is working on an upcoming iMac refresh that might include slimmer designs and lower prices. Skinnier and cheaper, nuff said.
7. You get a lot more bang for your buck when you buy a desktop instead of a laptop.
The price of a 13″ Macbook Pro with a 2.53GHz processor, 4gb of RAM and a 500GB hard drive is $1,649.00. Since I've been using a 24″ iMac for the last 3 years, I'd want to add an external monitor to the Macbook Pro, that would add an additional $200.00. Let's also add in a Bookendz docking station for $280.00 and an Apple keyboard for $49.00. I'd also want AppleCare, which is $249.00 (ouch). Last but not least, a new Logitech v470 Bluetooth mouse looks pretty nice for $49.99. Add that all together and it comes to a grand total of $2476.99.
The price of a 24″ iMac with a 2.66GHz processor, 4gb of RAM and a 640GB hard drive is $1499.00. Add $169.00 for Applecare and you come up with at total of $1668.00
That's a savings of $808.99 for a faster machine with a faster and larger hard drive. Wow!
8. I can get a 1TB drive for the iMac, but the largest drive available for a Macbook Pro is 500GB.
9. With the $800+ savings, I can buy a really comfy office chair since that's where I park my buns 99% of the time anyway.
10. I'm a woman and we are allowed to change our mind (often). 🙂