We use affiliate links. If you buy something through the links on this page, we may earn a commission at no cost to you. Learn more.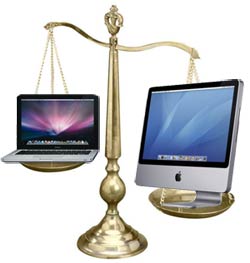 It's time for me to decide what my next computer will be. I've been using a desktop as my main machine since I purchased my first computer back when 10mb (yes, I said MegaByte) hard drives were considered ginormous. The question I'm trying to answer for myself is – should I finally ditch the desktop and go with a laptop as my everyday computer? I welcome advice on which way I should go…
How about a little history first? After several false starts, I finally made the switch from Windows to OS X back in the summer of 2005. My first full time Mac was a 20″ PowerPC iMac. A year later, I upgraded to a 24″ Intel iMac and have been using that same machine ever since. Now that three years have passed, my iMac is starting to exhibit some hardware problems. For the past few months I've been dealing with intermittent lockups that require a complete reboot and weird graphics anomalies.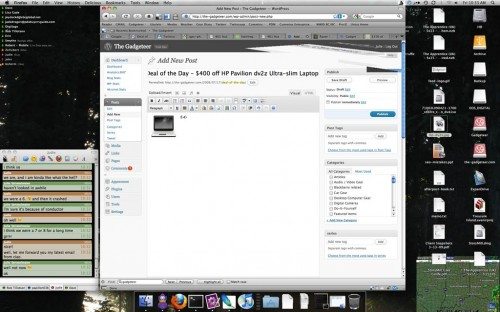 With the help of new Gadgeteer writer Adam Scinto, we figured out that it is a GPU (graphics processing unit) overheating problem that has plagued my particular iMac model. Since the machine is 3yrs old now, I don't think it's cost effective to have the problem repaired, so I've been considering my options for upgrading.
Here are the tasks that I use my iMac for on a daily basis:
eMail – Gmail
Writing reviews – WordPress editor through Firefox
Image editing for reviews – Photoshop (I'm still using the PowerPC version of CS2)
Surfing – Firefox
Chatting – Adium
Listening to music – iTunes through iMac's built in speakers
Nothing too crazy there huh? I don't play games, so my work is actually pretty light weight in terms of needed computing power. Probably the most cpu / gpu intensive tasks that I do are editing photos for my reviews and short videos that I sometimes include in my reviews.
My iMac also holds:
Image archive for pictures that I've taken
Movie archive for videos that I've taken
Music library (all saved .MP3 files)
eBook library
other odds and ends
I do nightly backups using SuperDuper on to an external USB hard drive. I also backup the-gadgeteer.com and other sites that we host to that same drive every night.
What I like about the iMac:
24″ LCD
It runs very quiet
Full size keyboard
Mouse
What I don't like about the iMac:
I can't take it into the living room with me when I want to work in front of the TV at night. I know that isn't much of a complaint, but it's all I can come up with 🙂
Never miss one of our posts again. Sent MON, WED, and FRI with the latest gadget reviews and news!
So, what do you think? Is it time for me to go with a laptop this time or am I better off sticking with a desktop? For those of you that are laptop only people, are you happy?