We use affiliate links. If you buy something through the links on this page, we may earn a commission at no cost to you. Learn more.
My Windows to Mac OS X odyssey started way back in the Spring of 2002, during the heyday of Apple's Switch campaign. A friend at work had given me a demo of his Titanium Powerbook, and it wasn't long after that I placed my own order for a G4 TiBook. Once it arrived, I was completely in love. Unfortunately the romance turned out to be a very short fling. Before the Summer sun barely had time to cool down, I had already sold it and was back in the land of Microsoft.
What happened? Problem #1 was the fact that my Direcway satellite ISP at the time only had a USB modem which was not compatible with the Mac. Since I had to keep a PC around to access the internet, it was way too easy to just use the PC for everything and neglect the Powerbook. Problem #2 had to do with moving my huge Microsoft Outlook email archive over to the Mac. There wasn't an easy way to do this, and I didn't want to start over. So, without much real effort, I threw in the towel and sold the laptop.
Fast forward to April of 2004 when almost 2yrs to the day that I bought my first Apple laptop, I decided at the spur of the moment to try again and buy another one: a 4 month old 15″ aluminum Powerbook from a friend. Problem #1 from the last try was no longer an issue since I had upgraded to a new Direcway modem that used Ethernet instead of USB. And Problem #2 was solved by using a great little $10 program called Outlook2Mac. It allowed me to easily convert my 15,000 emails in Outlook to a format that Apple's mail.app could import. But once again, about 4 months later, I started using the PC again.
I can't really put my finger on why the switch didn't stick this 2nd time. I think it was a combination of a bunch of little annoyances that finally made going back to the PC seem easier. Or maybe I'm just fickle and can't make up my mind which OS I prefer. :o) Either way, I was back on the dark side once again, and around Christmas time I ended up selling the Powerbook to the same person that bought my Tibook!
Of course, you knew the fever would strike me again right? This shouldn't be a surprise by now. ;o) Two months ago I got so fed up with virus problems on my PC, that I snapped and placed an order for an iMac. I know, I know, you're thinking "here we go again…" But I don't think so. You know the old saying: "third time's a charm"? I think that's going to hold true for me. Really. I mean it this time. Come on, don't you believe me? I'm not kidding…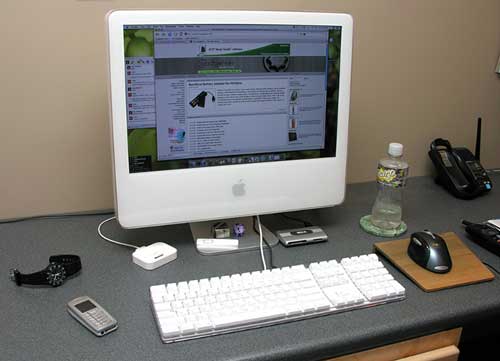 I ordered the stock high end configuration, which included the 20″ display, G5 2.0GHz processor, 512MB of RAM, 250GB hard drive, Bluetooth, WiFi, and a double-layer 8x SuperDrive. From the day the iMac arrived, I've been using it as my main computer. At the same time that I ordered the computer, I also ordered two 1GB sticks of memory from Crucial.com. I decided to use the computer as is for at least a week just to judge if 512MB is 'enough'. I found that if you're not a game player and only do basic image editing, 512MB actually is pretty much ok and definitely usable. I didn't feel like sending the memory back though, so after a week I dismantled the iMac and installed the extra RAM.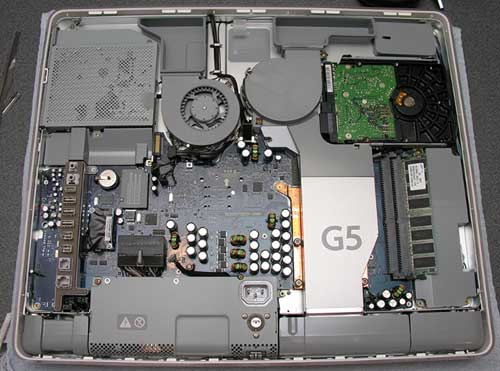 Breaking into the iMac really wasn't that difficult. It just required loosening 3 screws, lifting off the back shell, finding the memory slots, and popping in the new sticks. Actually, the hardest part of the whole operation was picking up and flipping the computer on to its face. This was a little awkward due to the weight.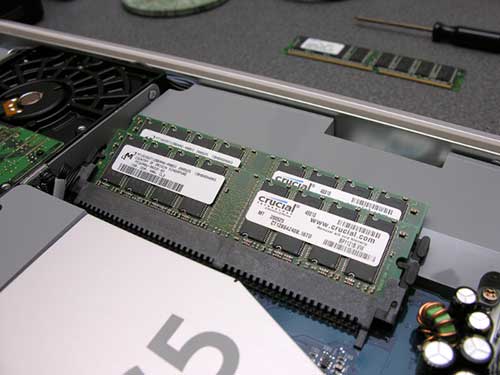 After the new memory was installed, I put the back case back on, tightened the screws, set the computer upright on the desk, and I was good to go.
I should really comment on the overall design of the iMac. I remember when it was first announced, I wasn't all that enamored with it. I have to tell you though, once it is sitting on your desk, you can't help but love this thing. It looks like it has been carved out of one giant block of Lucite. There's also no huge noisy tower to shove under your desk, everything is right there where you need it (well mostly…).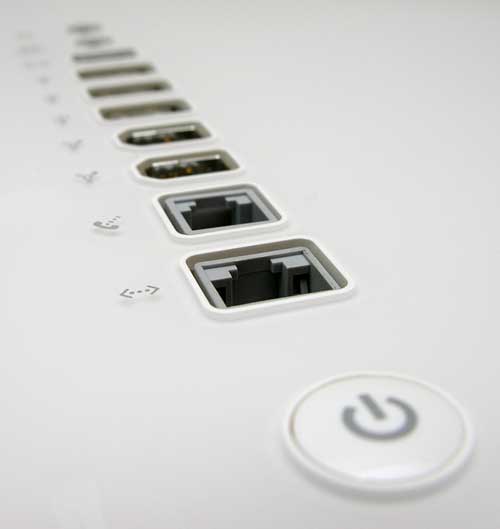 On the back right side (as you are facing the display), you have a row of inputs with the power button on the bottom. The inputs are from top to bottom: audio line in, headphone out/optical audio out, video out, 3 USB 2.0 ports, 2 Firewire 400 ports, Modem, and Ethernet 10/100/1000Base-T. I really wish there were a few USB ports and the power button on the front of the computer. Yeah, I know that would detract from the clean style, but I get tired of reaching around the side to plug or unplug a device.
The 20″ display is wonderful. It's bright, crisp and lovely to stare at for hours on end. I just love it. The only thing that could possibly make it better would be a way to adjust the height. As is, you can only adjust the tilt/angle of the display. At first I felt that the screen was too high for comfort since my desktop is already about 1 inch higher than standard. I raised my chair a bit and am now comfortable. There are 2 USB ports located on the keyboard, but they are not USB 2.0 ports… Can you say slow?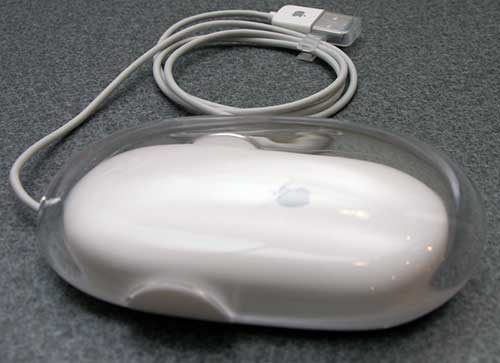 Since I mentioned the keyboard, I'll go on to say that I really like it. The keys are very quiet, but have great action. The mouse on the other hand sucks. I hate one button mice and quickly threw it in a drawer and set up my Logitech MX Laser wireless mouse instead.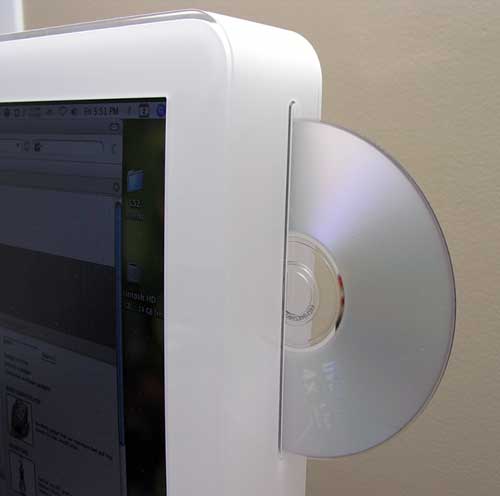 One of the coolest features of the iMac is the slot loading Superdrive on the right side. Like the Powerbooks, you just slide the disc in part way and the computer automatically grabs it and sucks it the rest of the way into the drive. The first time my sister saw a disc eject out the side of the computer, she said "no way!". It's hard for people to fathom that the whole computer is housed in the display.
Although the iMac is not silent, it is very quiet. There is a slight fan whir at all times, but nothing like the loud PC that I've been used to.
Connecting the computer to my network was a no-brainer. I just plugged in a free Ethernet cable and I was in business. No fuss, no muss! I was even able to mount the drives on my PC without even needing to tell it the workgroup name. Nice! I found using the built-in WiFi and Bluetooth to be equally non-stressful. You gotta love when things just work.
As far as how snappy this 2.0GHz G5 computer feels when compared to my 2800 Athlon PC, sometimes it feels slower. Most of the times it feels as fast or faster. I really can't complain and am pretty happy with the performance.
Once again I used that handy Outlook2Mac utility to export my emails to the Mac from my PC. And in the last 2 months, I've collected a nice group of commercial and freeware apps that I have been using on a daily basis:
Quicksilver – This is a keyboard driven application launcher / info finder. It's very powerful, but I've only scratched the surface of its capabilities.
Nvu – Freeware WYSIWYG HTML editor. This is a great application and doesn't me miss Microsoft FrontPage at all.
Adium – Freeware instant messaging application that can connect to AIM, MSN, Jabber, Yahoo and more.
Colloquy – Freeware IRC client.
iuTime – Freeware date calculator. So-so app, still looking for something better.
Fugu – Freeware FTP client.
DockArt – Freeware script that will display album art in the dock instead of the iTunes icon.
Taco HTML Edit – Freeware HTML and PHP text editor.

NeoOffice – Freeware Microsoft Office compatible productivity suite including a word processor, spreadsheet, presentation, vector drawing and database.
JunkMatcher – Freeware spam filter for mail.app. Even though mail.app has very good junk mail filters of its own, this add-on gives it even more power with Bayesian filtering.
The Missing Sync – Commercial application for handheld (Palm and Pocket PC) and Smart-Phone synchronization.
PocketMac – Commercial Pocket PC synchronization software. I really can't make up my mind as to which Pocket PC syncing package I prefer. Both Missing Sync and PocketMac get the job done…
I'm on the lookout for other must have apps, so feel free to send me suggestions. I'm getting ready to try out GIMP (photo editor) to see if I can replace the trial copy of Photoshop that I have.
I am surprised at how smoothly the transistion has gone this time. I have only had 2 small issues so far. The first one is that Safari seems to be too slow sometimes and will do strange things like just display the text for a webpage, without the graphics. I'm sure that this has to do with my Direcway satellite though, so I'm not going to blame it on the iMac or OS X. This problem doesn't make me grumble at all since I am a Firefox person anyway. I'm going to blame the second issue on my Direcway too. Sometimes when I try to do a software update, it will crap out in the middle of looking for the updates and come back with a network error. This seemed to happen more frequently in the beginning and has slacked off in the past couple of weeks. Until I am unable to grab a critical update, this also doesn't bother me all that much.
With only 2 months under my belt this time, it's easy to assume that I'll be switching back to Windows in a few months. I really don't see that happening this time, but I've learned not rule anything out. As anyone that knows me can attest, I get bored easily… with PDAs, phones, and computers. I have to say though that time around, OS X just feels right. In fact, I'm close to buying a 12″ iBook as a travel computer and maybe even a mini just to goof around with. So stay tuned…
Interested in buying your own Apple iMac? Check for lowest prices here.