We use affiliate links. If you buy something through the links on this page, we may earn a commission at no cost to you. Learn more.
Large flashlights with multiple LEDs, rugged bodies and complex features are
wonderful to own – until such time arrives when they are needed but they are not
readily accessible. What good is that torch if it is in the owner's glovebox
while the owner is stranded in a dark location? The challenge then, is to find a
light that is small enough that it can be easily carried, powerful enough that
it will be sufficient for general use, and portable enough that it will never be
left behind – even when the owner is otherwise caught unprepared. It should seem
obvious then, that the answer would be to attach such a small flashlight to
something people always carry – their keys.
Today I will take a look at the Photon
Freedom
Micro, a diminutive single LED flashlight that measures approximately 1.5"
long x 1" wide x 0.25" thick (not including spring and quick release rings) and
which weighs just 0.3 ounces (including both rings).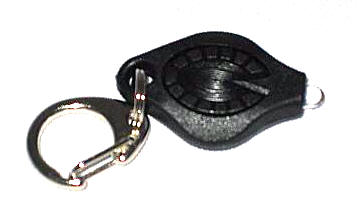 The light is housed in a black "glass filled polyurethane case", which is
described as virtually indestructible on the Photon Light site. Also according
to the site, the light has 24K gold contacts for "superior corrosion
resistance." The flashlight is water resistant and able to operate in sub-zero
temperatures. The included keyring is quick-release, so that it can be quickly
added or removed from the user's keyring, zippers with large pulls, or what have
you.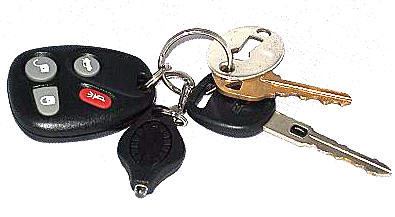 The Freedom Micro is available with one of  eight LED colors: red,
yellow, orange, green, blue, turquoise, white or purple, as well as ultraviolet
and infrared. The color guide listing the advantages and disadvantages of each
color may be seen
here.
Unlike other "keychain LEDs" I have seen, which have a single use button that
must be pressed and held to activate their light, the Freedom Micro uses "smart
circuit" technology to enable various types of use from the single button. One
quick press and release of the button turns the LED on full brightness…and
keeps it on. If the light is too bright, it can be dimmed by pressing and
holding until the desired level of brightness is achieved. By the same token,
pressing and holding the light's button when the light is not turned on will
bring the brightness from the opposite direction – from dimmest to brightest.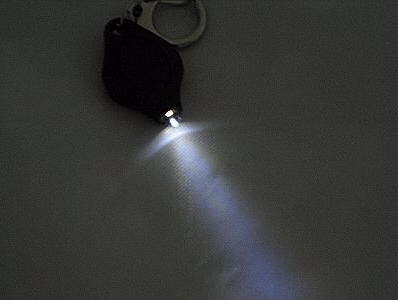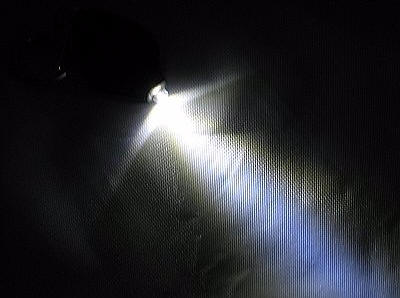 Left to right: dimmest and brightest settings
The Freedom Micro has four safety strobe functions – fast, medium, slow and
SOS. These are reached by holding down the button until the light has cycled
either from brightest to dimmest or vice versa. Once the various levels of
brightness have reached the end of their cycle, the LED will then enter the
safety strobes and the desired mode can be chosen once it is reached by
releasing the button. I admit that it took me several tries before I was able to
master this – Grrrrr. That's because I did not read the big notice in
red on the Photon Light website which says, "IMPORTANT!: The Photon Freedom Micro is shipped in a "point-of-purchase battery
protection" mode. To take it out of this point-of-purchase mode, simply press
and hold the button until the light turns off (approx. 15-20 seconds).

" Ha – so it was totally my fault…oops!
Once I got it right and the strobes were activated, I found that they would
cycle from slow, to medium, to fast, and then to Morse code for a lighted SOS.
While in strobe mode, I pressed the button quickly several times, which entered
"signaling mode". This is where the Freedom Micro will act as a regular
flashlight. What that means is when the button is pressed, the light will shine
and when the button is not pressed, the light will turn off. Pressing and
holding the button for a couple of seconds while in signaling mode turned the
light off completely, causing an exit from signaling mode back into normal
operation – pretty nifty!
Included in the packaging were two items that should interest anyone that
wants a light that has alternative uses. The first item is the multi-purpose
Photon Clip, a $4.95 bonus. This clip accepts the Photon Light, and allows the
light to be clipped to anything with a free edge of under 0.2" for hands free
operation. For additional positioning options, there are three magnets on the bottom of the clip, so that it can be attached to a steel surface. The clip can swivel 360º
horizontally and 180º vertically, allowing
it to be positioned as needed for proper beam aiming.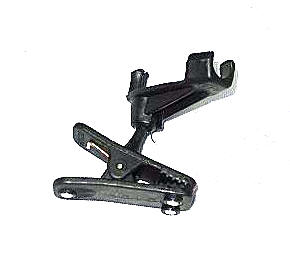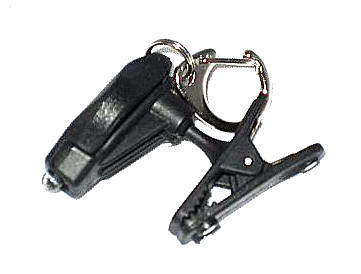 Also included was a lanyard with a similar plastic clip for accepting the
light without spring ring. This allows the Freedom Micro to be worn on the neck
for easy access and downward visibility while being worn.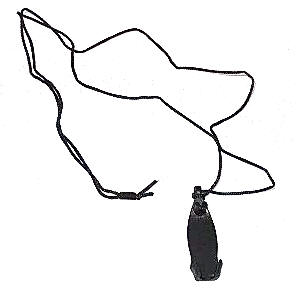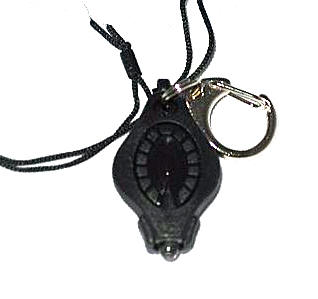 Conveniently enough, the Freedom Micro can be placed in either clip with its
spring and quick-release rings intact. This is a good thing, because getting the
spring ring on and off is a bear, let me tell you!
The Freedom Micro has an extremely bright white LED, which according to the
Photon site is a full "2X brighter", with "no reduction to battery life." I
believe that this picture will show that the single LED of the Freedom Micro was
bright enough to light the door at the end of my long dark hallway – over 37
feet away.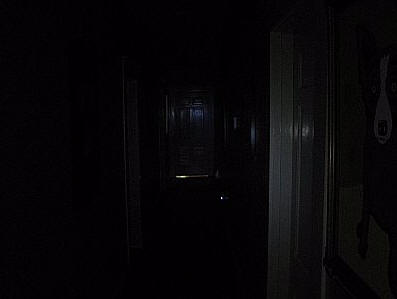 If you are looking for a LED keyring flashlight that is way more than just a
lowly single beam torch, then you may want to give the Photon Freedom Micro a
try; it has earned a permanent place on my keyring.

Lifetime Guarantee: "If your Freedom Micro fails for any reason other
than abuse or battery expiration, return it for a free repair or replacement."
Product Requirements:
Pair of 2016 Lithium batteries, included
Product Information
Price:
19.95
Manufacturer:
Photon Light
Pros:

Convenient to carry
Extremely bright white LED light
Multiple uses with included accessories
Water resistant
Multiple lighting modes

Cons: