We use affiliate links. If you buy something through the links on this page, we may earn a commission at no cost to you. Learn more.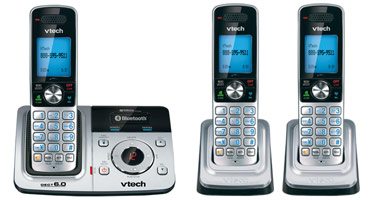 Vtech's new DS6321-3 is a 3 handset system that has the ability to download your mobile phone contacts via Bluetooth. This is the first analog phone system with this ability. The system costs under $100, which is a great deal for a system with 3 handsets (it only requires one phone line connection to the base unit). Full press release after the jump.
VTECH® Converges Cellular, Landline Worlds with THE FIRST CORDLESS PHONE SYSTEM equipped to download CELLular PHONE DIRECTORIES
DS6321-3 Delivers the Best in Home Communication with Advanced BLUETOOTH® Wireless
and DECT 6.0 Technologies to Enable Cellular Call Reception on the Home Phone System
Beaverton, Ore., September 28, 2009 – VTech® Communications, Inc., a wholly owned subsidiary of VTech Holdings Ltd. (HKSE: 303; ADR: VTKHY) and the largest U.S. cordless phone manufacturer, today announced availability of the DS6321-3 (MSRP: $99.95).  It is the first cordless phone system capable of downloading cellular phonebook directory entries (up to 6,000) using BLUETOOTH® technology so that users can enjoy the freedom of making and receiving cellular and landline calls with the convenience of a cordless handset.
Taking a cellular call on the DS6321-3 handset offers clearer, more comfortable conversations, as well as better reception and talk range throughout the home or small office.  Users also have more peace-of-mind that a call won't be missed when the cell phone is stored or charging in another room.
Up to four BLUETOOTH devices (cell phones, smartphones, headsets) can be registered on the DS6321-3, and two cellular phones can be connected to the DS6321-3 at one time.  Operating as a virtual two-line system, the DS6321-3 also allows users to be on a landline call on one handset, while another handset can be used simultaneously for a cellular call.  For added convenience, a BLUETOOTH headset can be used for landline conversations.
In addition to its advanced BLUETOOTH features, the expandable three-handset DS6321-3 system features DECT 6.0 technology for superior sound quality, range and interference-free calls.
"At just $100, the DS6321-3 is an affordable communication solution for any household or small office, especially for 'cord cutters' that rely on cellular service," said Matt Ramage, senior vice president, product management, VTech Communications, Inc.  "By converging BLUETOOTH technology with the benefits of a landline phone, this system helps users avoid typical cellular problems, such as battery life issues, poor audio quality or dropped calls."
Designed for Versatile Communication
With three handsets included and optional expandability up to 12 handsets requiring only one phone jack (using the DS6301 accessory handset, sold separately), the sleek DS6321-3 makes it easy to answer cellular or landline calls from any room.  As long as the cell phone is left within BLUETOOTH range (typically 30 feet) of the base station, users can enjoy clear, comfortable cell phone calls using the handset – up to 1,500 feet away.  Users without a landline can still take advantage of the DS6321-3, since all cellular calls made or received on the DS6321-3 use mobile plan minutes.
For hands-free landline conversations, users can make and receive traditional landline calls on the DS6321-3 while using a BLUETOOTH headset, or take advantage of the handset speakerphones.
Simply Functional
The DS6321-3 can transfer calls or conference calls between handsets, as well as an intercom system, making it ideal for home or small office environments.  Other key features include an extra large LCD with blue backlighting for easy viewing, a digital answering system with up to 14 minutes of recording time and caller ID/call waiting.
The VTech DS6321-3 is available now at www.vtechphones.com and will be sold at BJ's, Best Buy stores nationwide in October.
Additional product highlights are included below.
Product Features
Model

Key Features

Price

DS6321-3

· Three-handset system – includes only 3 handsets and requires only one phone jack

· BLUETOOTH®-enabled technology for connection to cell phones and headsets.

· DECT 6.0 digital technology provides the best sound quality, security and range in cordless phones

· Stores more than 6,000 directory entries from up to four different cell phones – no need to input names and numbers into your cordless phone

· Expandable up to 12 handsets using only one phone jack – uses DS6301 accessory handsets

· Backlit keypad and display

· Two handset chargers and three batteries

· Digital answering system – use the built-in answering system or set up direct access to voicemail

· 14 minutes of recording time

· Landline service not required – works for cellular only households

· Handset speakerphone for "hands-free" conversations

· Intercom and transfer call between handsets

· Digital answering system

· Dual-caller ID/call waiting – stores 50 calls

· Handset volume control

· Wi-Fi friendly – won't interfere with wireless networks

· 100 percent RoHS compliant

· Energy Star® qualified

· Available at: www.vtechphones.com and BJ's and  Best Buy stores nationwide

$99.95

DS6301

· DECT 6.0 digital technology provides the best sound quality, security and range in cordless phones

· Accessory handset only – requires the DS6321-3 to operate

· Caller ID/call waiting – stores 50 calls

· Extra large LCD with blue backlighting

· Handset speakerphone for "hands-free" conversations

· Hearing aid compatible

· Available at: www.vtechphones.com and Best Buy stores nationwide

$19.95
About VTech®
VTech is one of the world's largest suppliers of corded and cordless telephones and electronic learning products.  It also provides highly sought-after contract manufacturing services.  Founded in 1976, the Group's mission is to be the most cost-effective designer and manufacturer of innovative, high-quality consumer electronic products and to distribute them to markets worldwide in the most efficient manner.
For further information on VTech and its array of products, please visit www.vtechphones.com.
BLUETOOTH is a trademark of Telefonaktiebolaget LM Ericsson Corp.
Use of Caller ID/Call Waiting features requires a subscription to Caller ID/Call Waiting services available through your local telephone company.
# # #