The Gadgeteer is supported by readers like you! If you buy something through links on our site, we may earn an affiliate commission. Thank you! Learn more.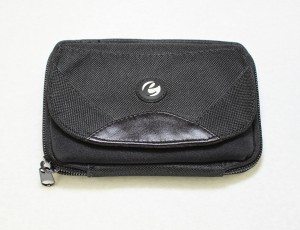 Protecting and carrying electronic gear is big business! Witness the number of reviews on this site alone that cover such products. If you are such a junkie, you may want to avoid the site where the e-Holster e-Vibe iPhone Case and Wallet is sold.  You aren't likely to leave the site without buying something to carry and protect something. If you're weak and can't control yourself then look away, the website is coming…
http://www.eholster.com/…
The e-Holster makes all kinds of belt and shoulder "holsters" for all types of devices. While the title of this product says this is made for the iPhone, it can easily be used for other similar-sized devices, such as a Palm or my Blackberry.  The holsters are built of  either leather or heavy duty ballistic nylon.  The sample I received is made of ballistic nylon and seems strong and  durable.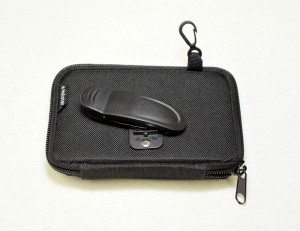 It comes with numerous features, such as a key clip, a universal device pocket that holds the iPhone or like product, and a 180 degree rotating belt clip. The wallet features are easily accessible with the holster on your belt. Inside are an id slot, three card slots, a mesh pocket that easily holds your earbuds, and a zippered pouch great for coins, or a key. I was easily able to carry phone, earbuds, coins and at least eight cards, including several of my now severely bloated credit cards with no problem.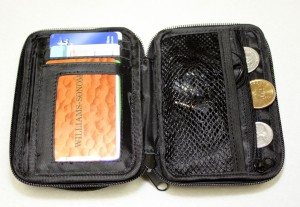 The holster fits very tightly onto your belt.  I frequently wear pants of shorts without a belt, and the holster also fit tightly onto the waist of whatever  I wore (except scrubs at work).   I don't think I would be comfortable having all my "wallet items" attached onto my belt, but there are likely those of you who probably are. Because of this I wouldn't use it as a wallet in crowded places, or traveling when loss would really be a problem.
Now if you have an iPhone or a Blackberry you likely use your device to listen to music.  I listen to my Pandora stations frequently on my Blackberry. There is no problem hooking up the earbuds and listening on the go with your device snugly in the holster.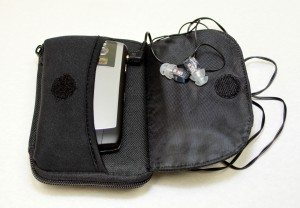 I was not easily able to get a Bluetooth earpiece into the holster, but I do not frequently use one. That could be a concern if you use one frequently.
Overall this is an excellent product and for some folks may be able to reduce what you carry from wallet and device holder to just one e-Holster! I tried the holster while walking and listening to music and had no problem at all.  The device stayed firmly in place.  As I mentioned, I'm normally in jeans, shorts, or scrubs so I normally carry my Blackberry in my pocket in a BodyGlove case.  This is actually quite a pain to answer as it is difficult to get out of my pocket in time.  The phone was really easy to remove and answer from the e-Holster however; the pocket flips up easily and enough of the phone is then exposed to quickly remove it.  I did find I needed to have the phone is standby mode or I would bump buttons as I removed it. The holster was a bit too heavy to attach to the waist of the scrubs I wear.
The nicest feature about the product is the ease at which you open it to get to the wallet section; one quick zip and you're in.  If you just carry some credit cards, a grocery card and some money this product is probably all you'll need to get around.  If you are like some of the ladies I know who essentially lug around the Samsonite, this may not be enough for you.
There are some additional photos available in Julie's spotlight gadget piece from last month:
https://the-gadgeteer.com/2009/08/22/wear-your-iphone-and-your-wallet-on-your-waste-eholster-e-vibe/
Product Information
| | |
| --- | --- |
| Price: | $24.95 |
| Manufacturer: | eHolster |
| Pros: | Versatile, holds a great deal of stuff; snaps tightly onto belt; can use as portable music player holder |
| Cons: | possible target of thieves |