We use affiliate links. If you buy something through the links on this page, we may earn a commission at no cost to you. Learn more.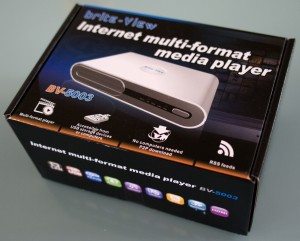 I received a CinemaCube from Brite-View for review. The CinemaCube enters a crowded marked for media players (see the Popcorn Hour Networked Media Tank, and the WD TV HD Media Player) but offers a number of unique features at a very competitive price.
The CinemaCube features:
Multiple Video interfaces
2 USB ports to attach USB devices
Network connection
BitTorrent Client
The footprint is not much larger than a standard DVD case. You can also use the stand to stand the CinemaCube on its edge.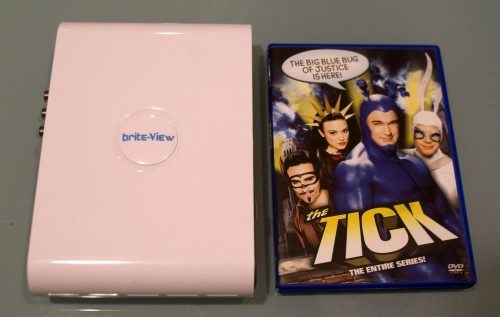 What's in the box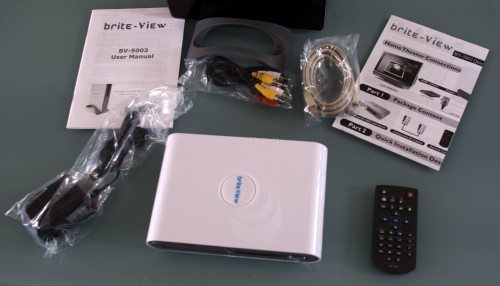 The BV-5003 Internet multi-format media player
Stand
AC Power Adapter
Composite AV Cables
RJ45 Ethernet Cable
User Manual
Quick Guide
The Remote
The remote is fairly small and apparently under-powered. I found the menus to be a little sluggish and non-responsive. But once I programed my Harmony remote the CinemaCube worked noticeably smoother.
Video Interface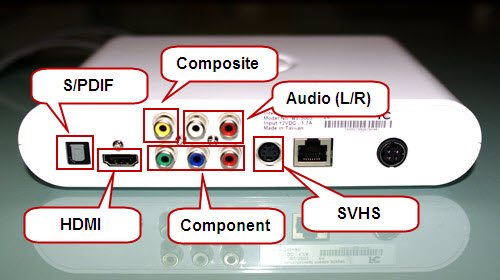 The CinemaCube provides connections for:
Composite Video
Stereo Audio
S/PDIF
SVHS
Component Video
HDMI
I tested Component and HDMI on my television, and both worked very well. Since my TV only has one HDMI input, I primarily used Component. The device does not automatically select the video mode, you will need to use the Video button on the remote to toggle through the options.
Never miss one of our posts again. Sent MON, WED, and FRI with the latest gadget reviews and news!
USB Connections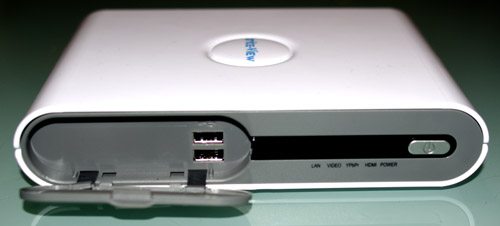 The CinemaCube has two USB ports. They are both located on the front of the device under a hinged cover. I am not a big fan of this arrangement. Unless you primarily use this device to view content on your network, there is going to be a USB hard drive attached to the front of this device. It would be nice to have 1 USB port in the back.
There are also only two ports, if you choose to add a wireless network dongle, and have a hard drive attached, your ports will be full. It would have been nice to have two in the back in addition to the connections on the front.
On the other hand, the connectors on the front do make it very easy to attach a USB device like a camera, video device, or phone to access pictures, video, and audio.
Network Connections
The CinemaCube comes with an Ethernet port to connect to your network. There is also the possibility of adding a USB wireless dongle. They plan on providing a list of compatible devices, and selling one on their site.
The only issue with the wired option is that I did not have a network jack near my TV. I had to rearrange my setup and move the hub to my entertainment room. Once I did that, everything worked fine.
I was able to check for updates to the firmware over the internet, access shared folders on my network, and download Bit Torrents (more on that next).
BitTorrent
The CinemaCube comes with a built-in BitTorent client so that you can download torrents from the CinemaCube rather than tying up a PC/Mac. As they mention, this also eliminates the risk of downloading a virus to your PC/Mac since you are not involving the PC/Mac in the download.
You cannot browse the Internet for the torrents on the CinemaCube though, you need to put the torrent seed on a USB drive or network share the Cube can access. One important requirement for downloads is that the CinemaCube can only download torrents to a drive that is formatted NTFS or EXT3. This proved a challenge for me as I searched through all my external drives to find a properly formatted one. I did find an NTFS drive that had plenty of space. Unfortunately, it had a lot of files that created problems later.
Once you have the setup, you need the content.  They have a number of torrents you can download to demo, but they are all very short pieces. With a little searching (OK, a question sent out in Twitter) I discovered www.legaltorrents.com. I went to this site, and downloaded seeds for Make Magazine's show, and downloaded them to a network drive.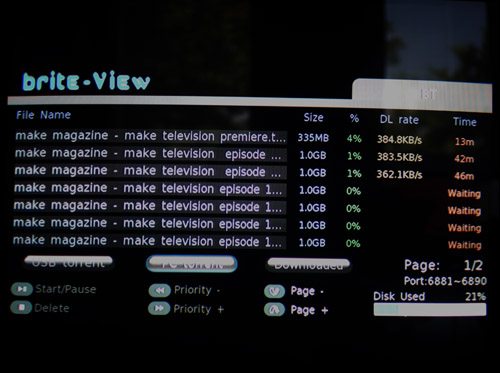 As you can see, the CinemaCube downloads up to 3 torrents simultaneously. Obviously in a device like this, the processor is not high-powered, and you cannot do anything else on the CinemaCube while it is downloading. However, it is very easy to add a bunch of files to download, and then leave the Cube unattended while it downloads your entire list.
Video
The CinemaCube supports a number of video formats up to 720p. Formats include Xvid, RMVB, WMV, AVI, MP4, MKV, and H.264. It did a great job reading the different video files on my hard drive. It was a little slow finding them all, however, since I was using a hard disk with a lot of files already on it. The downloaded BTs worked nicely as well. I noticed a couple times that I would get some audio sync issues, but they were easily resolved by a quick rewind.
The CinemaCube works with the Flip if you plug it into the USB port. I was hopping to try this out with my Sony Webbie. However, the native format of the Webbie could not be read by the CinemaCube. One issue is that my webbie shoots 1080i, but even when I stepped it down to 720p, the CinemaCube failed to recognize the AVC/H.264 file. I'm told the next iteration will support this format.
Pictures
The CinemaCube supports JPEG, BMP and PNG files. I plugged in a  Sony W810i phone and it easily brought up a list of pictures on the phone: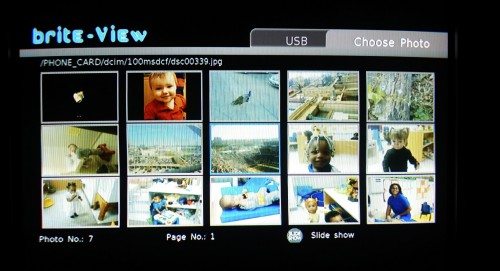 It did not, however, work with my Android G1 phone. In talking to their support, it is an issue with how my Android phone connects to computers. It worked wonderfully with my camera when I shot in JPEG. Unfortunately I tend to shoot in RAW. I cannot imagine a consumer product like this attempting to support all the different flavors of RAW out there, so I was not surprised it would not view those pictures.
The Slide Show feature was fun. It starts a slide show of the pictures in the current folder. It also randomly selects a music file as a soundtrack. This led to some interesting slide shows when it selected a ringtone as background music. It would have been nice to be able to select your own background music, but that would add steps to the very simply one-click option that currently exists.
Music
The CinemaCube supports a number of audio formats including MP3, WMA, RA and even non-DRM iTunes. On the Sony phone it was able to see and play these Venus Hum tracks that had been ripped in iTunes: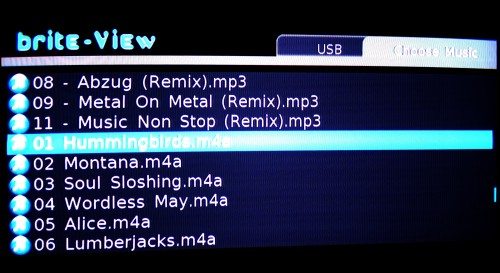 While playing you get a background screen (I apologize for the pictures, hard to get a good picture of a CRT TV):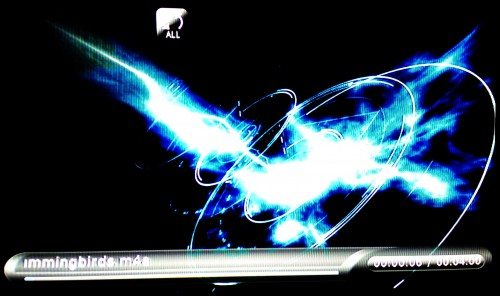 Drive Support
I was able to use this device with all of the Hard Drives and Flash drives I have. The only time you are restricted is when downloading a BitTorrent. In order to save the BT, the hard Drive must be NTFS or EXT3 formatted. But if you have a drive with video, images or audio already on it, any FAT formatted drive will work.
I found the CinemaCube a little slow in bringing up a list of files. However, the drive I had to use had a number of folders and lots of non-media files on it to add to the overhead. I plan to dedicate a drive for just this device to remove the overhead.
Conclusions
I really like this device. It is not without its limitations, but what it can do for the price is pretty impressive.
Product Information
Price:
$64.99
Manufacturer:
brite-view
Pros:

Price
Download BitTorrents without a PC
Access Media on Cameras, Phones and other devices
Small Footprint
Supports 720p High-Definition

Cons:

No 1080p support
Requires NTFS or EXT3 formatted hard drives for downloading BitTorrents
USB ports located on the front
Slow drive access