We use affiliate links. If you buy something through the links on this page, we may earn a commission at no cost to you. Learn more.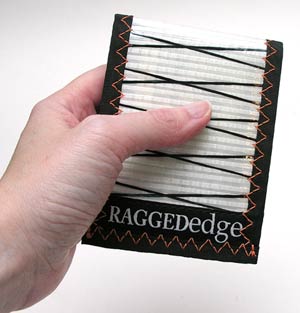 Women and men might not always have much in common, but we do have at least one thing… We both need a way to carry our currency and credit cards. The Waterfield wallet has been my favorite for almost 4 years.  I love it, but I'm always on the look out for something better, niftier and eye catching. I've got a wallet to show you today that is definitely eye catching. It's the RAGGEDedge Gear wallet. Let me show you.
RAGGEDedge Gear is a mother and daughter company that offers wallets, gear bags, tote bags, purses, pouches and more. What sets their products apart from all the other similar products on the market is the fact that they've all been handmade with sailcloth. This is the same incredibly strong, waterproof, lightweight, stain resistant, and quick drying material that is used to make performance racing sails.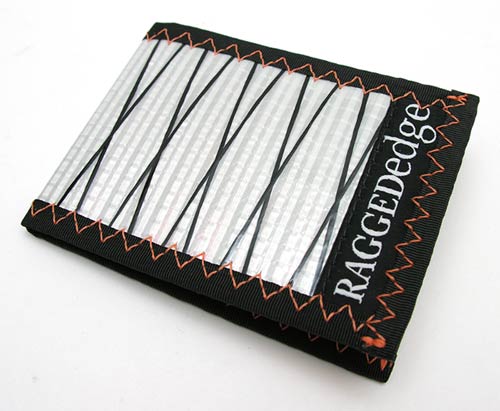 Sailcloth comes in all sorts of colors and patterns. Some of them are laminates that include  fibers such as Carbon Fiber, Pentex, Aramid, Kevlar, Mylar, and Technora. These fibers not only make the finished product look super cool, but they make it stronger as well.
RAGGEDedge Gear sent me their Bifold ID wallet (they also offer trifolds and mini wallets). Folded and empty it measures 3 1/2h" x 4 1/2w" and less than 1/4″ thick.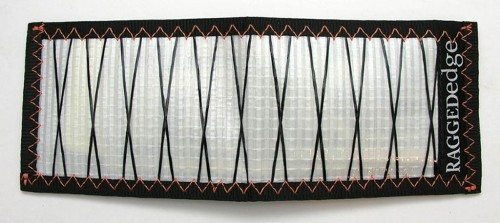 I went with the White X pattern. The material is slick and shiny, with a stiff feel to it. Grosgrain ribbon and a triple step zig zag stitch of heavy weight thread is used to bind all the layers together. Unfolded, the bifold wallet is 9.5 inches wide.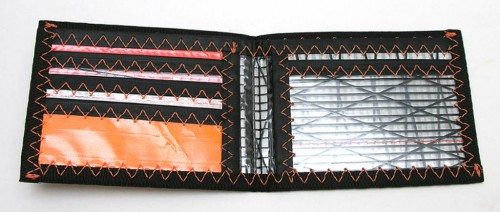 Inside on the Left panel, you'll find three card slots that fit standard credit card sized cards. On the opposite side, there are two more card slots. The top one is a transparent ID window which is made of marine window vinyl (not plastic). That material is designed to remain clear and not crack with exposure to the elements. Behind it is another card slot and below the Right panel is a horizontal slot that can accommodate more cards or folded papers.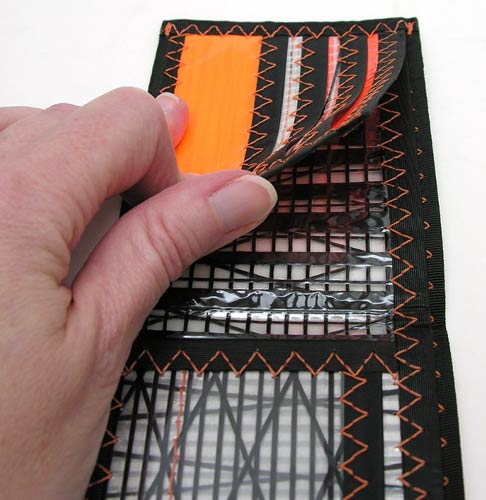 The Left panel lifts up to expose an easy access slot that you can use for receipts or other items.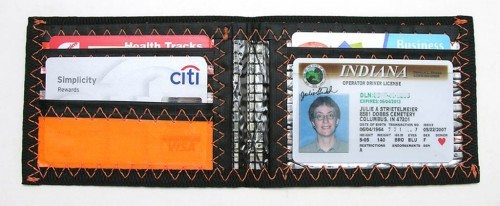 Here it is loaded up with several cards.

The currency slot is deep and really wide.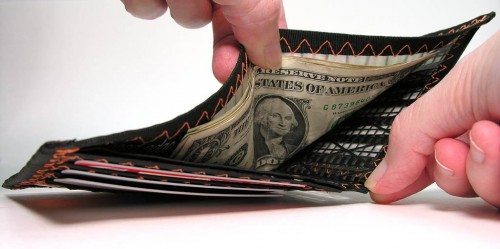 There is plenty of room for your moola 🙂
Since I don't carry a wallet in my back pocket, I didn't test the butt comfy factor for this one. I carried mine around in a Timbuk2 Laptop messenger bag. During the couple of weeks that I've been using it, I've had no complaints with regards to the construction or utility of this wallet.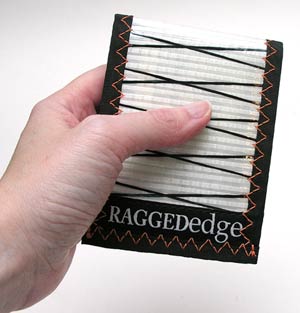 In the end, I'll be going back to my Waterfield wallet because I like the zipper feature. I tend to put my iPhone in the wallet when I go out to lunch, so I only have one thing to hold. That said, I really like the RAGGEDedge Gear wallet because it stands out in the sea of boring brown and black wallets. It's also a great alternative for for those people that prefer not to buy leather products.
The Bifold that I reviewed sells for $35. Other versions sell from $18 – $50.
Product Information
Price:
$18 - $50 (depending on size and customization)
Manufacturer:
RAGGEDedge Gear
Pros:

Unique
Customizable
Tough

Cons: