We use affiliate links. If you buy something through the links on this page, we may earn a commission at no cost to you. Learn more.
Windows 7 will be available in October.  If you are a Vista survivor this will be a long-awaited and welcome relief.  And this book will be a nice read as your blood pressure returns to pre-Vista values.  I can tell if a book passes my goodness test if, while reading it, I pause and double-check the name of the author on the front cover.  I found I did this a couple times while reading the first few chapters of "Microsoft (R) Windows 7 Unleashed" by Paul McFedries; SAMS Publishing; 2010; $49.99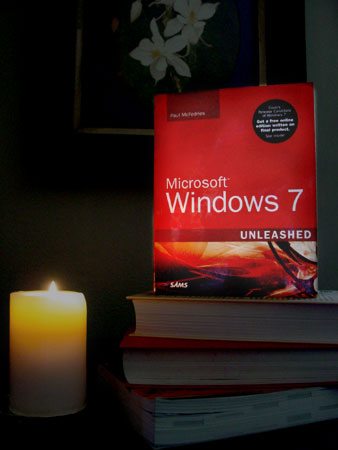 I'm not so sure that I would have embellished the title with the term "unleashed".  The terms "unleashed" and "Windows" just don't mash — it's like saying " hey — there's a giant wild-eyed rabid rat running amok outside gnashing his teeth; let's take off his leash!!  "Microsoft Windows 7 Less Annoying" might have been a more suitable moniker.  But there are enough tweaks and tips that I found the volume worthwhile nonetheless.  I installed the pre-release candidate of Windows 7 on an "experimental" machine and walked through the first several chapters of Windows 7 Unleashed.  After spending a few weeks with Windows 7 on this experimental box and armed with this book I'm ready and looking forward to the switch in October.
You can find this book on Amazon.