We use affiliate links. If you buy something through the links on this page, we may earn a commission at no cost to you. Learn more.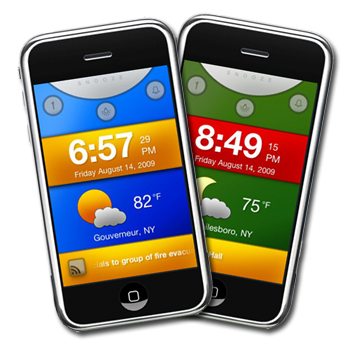 When I got an iPhone, I abandoned the harsh wake up of my old alarm clock. (Love the "Harp" sound…) One of the first things I do in the morning is check the weather and read the online news. With Mendelini's iPhone app, Glance, I can see the time, the weather and a scrolling RSS feed before my feet hit the floor. Considering there are over 200 different alarm clock apps in the iTunes App store… not to mention the very effective built-in Clock app… Glance is an elegant, customizable clock application for Apple's iPhone or iPod Touch.
If you keep Glance on in a dock or stereo, and set the "Do Not Sleep" option, you've got three types of instant information at… well, a glance; clock, weather, and news. The button on the main display allows the user to dim the display for nighttime use. The alarm clock has nine possible sounds, none of which are system sounds. "Good Morning, Your Majesty" is my favorite, or maybe I just like the name.
The app displays a scrolling RSS feed and offers eight News Feeds: BBC, BoingBoing, CNN, Digg, Fox, Google, Onion and WSJ, Sports Feeds: ESPN or Sports Illustrated, Tech Feeds: Engadget, Gizmodo, Slashdot, TechCrunch, Mac News Feeds: Apple Hot News, Apple Insider, MacNN, Mac Observer, MacRumors, and TUAW. There are also two Gaming Feeds, four Entertainment Feeds and three iPhone/iPod News Feeds.
Glance went live in the iTunes store on August 1, selling for .99. The developer is actively seeking feedback through Facebook and Twitter, so new RSS feeds and additional sounds are sure to be added.
Mendelini's Glance is a colorful and useful three-in-one app that will certainly evolve with time and user input. The scrolling RSS feed, weather and alarm clock all in one screen is handy and makes Glance stand out from the over 200 alarm clock applications available in the iTunes app store.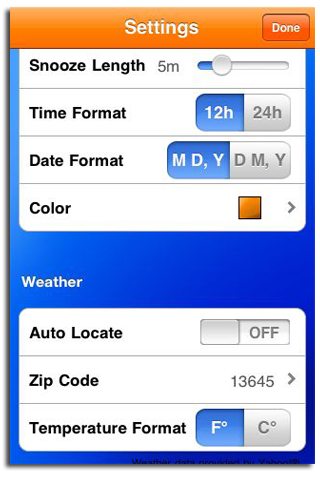 Product Information
Price:
$0.99
Manufacturer:
Mendelini
Pros:

Colorful
Easily customizable information in an attractive display

Cons:

Does not integrate iPhone/iPod Touch sounds for alarm