We use affiliate links. If you buy something through the links on this page, we may earn a commission at no cost to you. Learn more.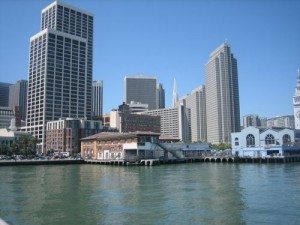 I recently found myself with several hours to kill in a place I knew very little about. While meandering the streets of San Francisco I pulled out my Android G1 phone and put my GPS enabled applications to work.  I found that there are some good applications out there to help you get acclimated to new surroundings without missing a beat.
I was on foot most of the time so I found Android Google Maps application great for giving me overall street directions but when I needed to know where all the closest shops, food, and services were I found Sherpa did a pretty good job.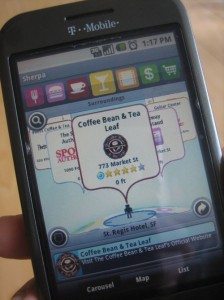 "Sherpa" divides your surroundings up into several categories including coffee shops, quick bites, dining, kids and pets, in a pinch, on vacation, and arts & culture, among others.   The best thing about this application is that the interface is easy to use and not cumbersome to navigate.  Sherpa is exclusive to the T-mobile Android phone.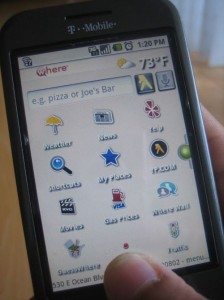 "Where" is another application that gives you a good grasp of your surroundings.    "Where" does a lot of things. Based on your location it give you whether, news, yelp, yellow pages, movies, gas prices, and traffic.  It also lets you read posts by other people and what they are doing in your area.  The "Pulse" feature aggregates the talk around your location to give you the pulse of your area based on what people around you are talking about in real time. Where is available for other phones as well.
Another decent application is the called Places Directory. It uses Google maps to provide a list of places in your current surroundings by categories. While not as interactive to use as Sherpa and Where it does the job a basic level by providing you a directory of places by category in your current area.
All these applications are great until the GPS drains the life out of your phone battery.  Then the next best way to navigate your surroundings is to actually talk to the locals 🙂