We use affiliate links. If you buy something through the links on this page, we may earn a commission at no cost to you. Learn more.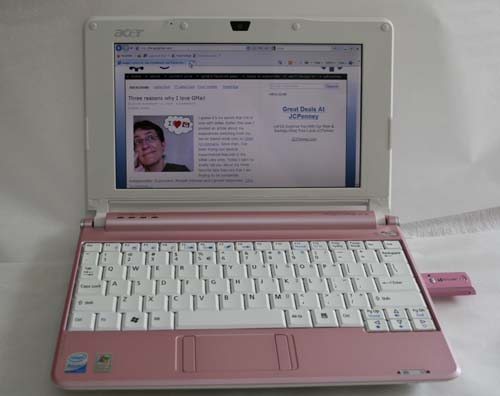 With the approach of mid August so approaches the Back To School Season.  You know what I mean; whole sections of WalMart, Target, and warehouse stores dedicated to pencils, pens, rulers, white glue and notebooks and folders featuring Hannah Montana and High School Musical all over them. It's retail's dedication to sending you or your children back to the Halls of Academe.  But today's student requires much more than a backpack emblazoned with Zac Efron's face.  Today's student is wired to go.
Enter the Acer One Aspire Netbook.  Laptops are cool.  They're portable, easy to use and handy for homework, surfing, listening to music and these days, catching up on the last episode of Survivor.  But they're heavy.  My Dell Inspiron 1521 weighs 6 lbs just by itself.  Forget everything else I carry with it.  And I'm not a high school student, so I'm not carrying around textbooks, binders and other school stuff.  The Acer Aspire One, weighing in at a mere 2.2 lbs lightens the load.  At less than ten inches across, (lid closed), it fits anywhere a 15 inch laptop (lid closed) does not.   Whether you are in class as a student, a mom waiting in a doctor's office, a writer hanging out at a coffee house, size DOES matter and the Acer Aspire One simply has full sized laptops beat pound for pound, inch for inch.  It's portable, light, and boasts plenty of features to make it as sufficiently attractive as its larger brethren.
Regarding connectivity, you get three USB ports, an SD card reader which I really like, an Ethernet port and VGA-out as well as headphone and microphone ports.

It comes with a memory card port, Kensington lock port and boasts 160 GB internal hard drive.   No, there is no CD/DVD player and quite frankly, I'm fine with that.  I'm one of those writers I'm talking about.   When the inspiration to write hits me, I don't need to pop in a CD of classical music; that's what I have a Zune for.  Writers are tired of writing down ideas on napkins and airsickness bags simply because they didn't want to lug around their six pound laptop to Starbucks.  And most high school students already have iPods or iPhones filled with their fave tunes.  Added to that, with sites like Zune and iTunes plus sites like Hulu, needing a CD/DVD player installed into one's laptop is slowly becoming a moot point.  I honestly do not see this as a deal breaker for this computer.
The Acer Aspire One does not come without its own set of cons however.  The screen is viewable but small.  If you're a high school student, you probably have eyesight that can handle it.  If you're me at 43, you're using your reading glasses.  (But I'm using those to read grocery store labels anyway.)   The keyboard is also on the small side but what I have a hard time with is the trackpad and the right and left click.  The right click is on the right side of the trackpad and vice versa and honestly, I'm so used to my larger right and left click keys located directly under my Dell's trackpad, that I find it frustrating to use the Aspire One's trackpad.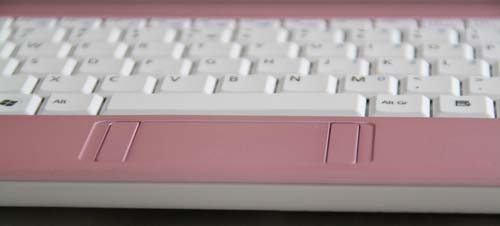 To solve that issue, I purchased a small laser mouse and I'm fine with that.  The computer itself feels solidly made, however having said that, the hinges give me a cause for concern.  My Dell's lid can be opened up and back flat.  The Aspire One's lid can open to about 145 degrees before I'm scared of breaking the hinges.

Regardless of who carts it about, get a sleeve for it and/or carry it about in a padded bag.  I'm at an age where I am over my "designer handbag" fetish, so the Targus netbook messenger bag doubles as a purse and laptop bag.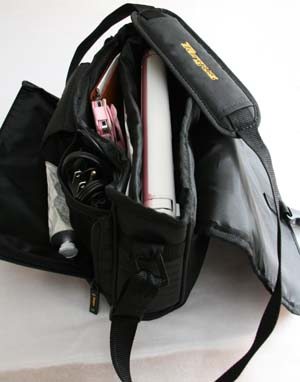 Let's talk boot-up times.  If you have Acquired ADD, (you know… the condition one develops when they can't go five seconds without fiddling with some electronic device) the bootup time is going to feel hellishly long.   If you're booting up and getting your latte settled, it's probably no great shakes.  Also, if you're looking for a Blast You Across The Room processor, you've come to the wrong laptop. Again, think about what you want your laptop to do for you.  Battery life is do-able.  I get about 2 1/2 hours out of my Aspire One as long as I don't use the brightest screen setting.  Again, for students, writers, et all, this is a fantastic, lightweight way to get the job done.   The 3G feature is fabulous.  I love it.  At the risk of sounding extremely spoiled however, I must say that, for me, it runs about dial up speed and I get impatient because I'm used to high speed.  That's not 3G or Acer One's fault.  I do not live in an area where I can get true 3G.  I live in a rural farming community and am lucky to get high speed internet at all. My Dell is on our home network and runs much faster.  In metropolitan areas, however, my Aspire One runs like a little jet.
This laptop has its uses and they're all good.  For high techie types like my husband, this laptop's limitations would sincerely frustrate him to insanity.  But this wasn't made for high techie (Read; uber nerd) types.  This is a perfect laptop computer for your high school/college student.  It's perfect for an aspiring writer or journalist.  It's perfect for mom.  It's perfect for smaller kids to learn on at home.   It's portable.  It's lightweight and you can get the internet on it wherever you can get a cell phone signal.  These are all good positives.
This laptop is also very moderately priced at $300.00 – $ 350.00.  I paid $80.00 for mine at a participating Radio Shack because I agreed to indentured servitude for two years which is otherwise known as a 3G (AT&T) service contract.  You can go either way but I knew that I wanted the ability to get internet anywhere so I was going to spend the money anyway.  The price you will ultimately pay for this laptop depends upon how well you do your shopping homework.  Wireless providers are offering competing deals for netbooks at fabulous prices but again, you are theirs for a period of two years, if you know going in that you want internet capability on your netbook. It's worth thinking about in terms of size and portability if you want to get one of these netbooks for yourself or for your student.  And yes, ladies…it comes in pink.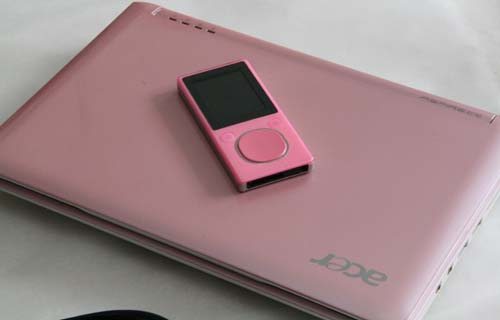 Product Information
Price:
$300.00 - $350.00. Check with retailers such as Radio Shack, Best Buy for better deals as long as paying for 3G service is what you want.
Manufacturer:
Acer
Pros:

lightweight
fits in small bags
performs as well as larger laptops
portability
versatile; good for anyone on the go

Cons:

Slow boot times
small track pad limits movement
right and left click very small
hinges open lid only to 145 degrees