We use affiliate links. If you buy something through the links on this page, we may earn a commission at no cost to you. Learn more.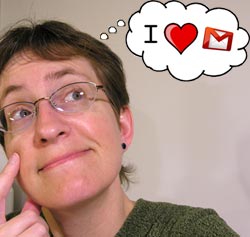 I guess it's no secret that I'm in love with GMail. Earlier this year I posted an article about my experiences switching from my server based email over to GMail for domains. Since then, I've been trying out several experimental features in the GMail Labs area. Today I want to briefly tell you about my three favorite labs features that I am finding to be completely indispensable: Superstars, Multiple Inboxes and Canned responses.
First of all, here is what my GMail interface looks like (you can click the image to see the full-sized screenshot):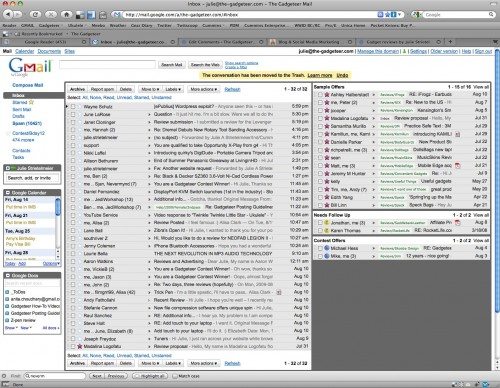 The two main things that you'll probably notice right away are colored icons (stars and bangs) and the multi-windowed setup. Both of these are lab features that are easily enabled by settings/labs menu pick.

I started using Superstars shortly after switching to GMail. This lab feature gives you a maximum of 12 colored star, check marks and bang icons that can be assigned to messages in your mail box. You don' t have to use all 12 if you don't want to. You can use as many or few as you like. The colors help me group like messages. For example, I use the Red star on messages from companies that are asking if I would like to review their products. I use a Yellow bang for messages that I need to follow up on soon. You get the idea.
The cool part comes into the fact that you can do searches on all your mail to find different starred messages. For example, to show all my messages that I've marked with a Red star, I would just type has:red-star in the search box. To see messages with a Yellow bang, I'd search on has:yellow-bang. Easy!
Like I said, I've been using this feature for awhile now to try to stay organized. My organization took a giant leap last week when I finally tried out the Multiple Inbox lab feature.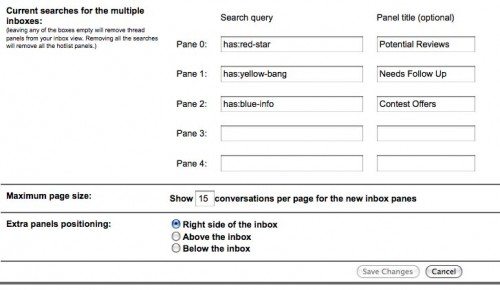 This is the feature that will allow you to show up to 4 additional inboxes (message lists) in your GMail interface. Once enabled, you go into settings to create the inbox queries. As you can see from the screen shot above (click to see full-size image), you just use a search query to build the inbox. I use my star searches, that way I can have one inbox on the screen that always shows emails that I need to follow up on, companies that are wanting me to review their products and so on. I can't tell you how useful this feature is for someone like me that receives close to 100 emails a day that I need to keep track of.
When you receive a lot of emails like I do, you also need to reply to them. This can take a LOT of time. Luckily there's a lab for that (sorry, couldn't resist…). It's the Canned Responses lab feature.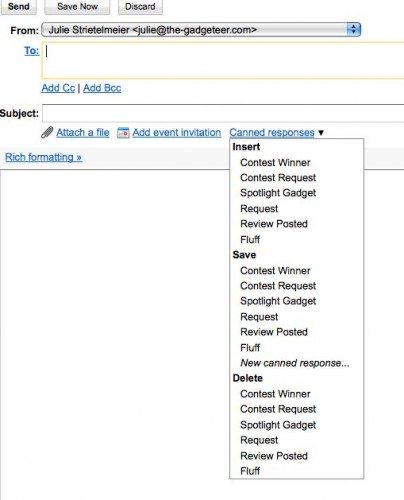 This feature will paste an entire block of text into the editor with a simple click of your mouse. In the image above, you can see a few of the responses that I've created. I use the Review posted and Spotlight Gadget responses most often. When I post a new review, I like to tell the company where they can read that review and thank them for sending the product. The Review Posted canned response is a template that I created that pastes the info into the email for me and then all I have to do is finish it up with the URL to the review. The same goes for the Spotlight Gadget canned response. When a PR company sends me an email about something interesting that I post about on the site, I like to give them a link to that info and thank them. This lab feature saves me a heck of a lot of time.
GMail, I heart you. 🙂
How about sharing your favorite ways to use GMail?