We use affiliate links. If you buy something through the links on this page, we may earn a commission at no cost to you. Learn more.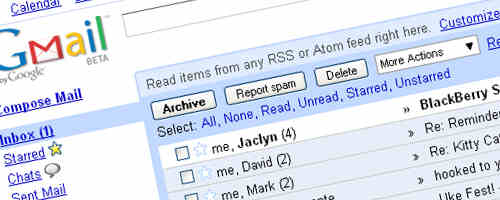 I finally did it. I have untethered myself from my server based email. It's something I had been thinking about for a very long time, but just never pulled the trigger. Two weeks ago The Gadgeteer server had a hiccup that made everything inaccessible for the better part of a day. That experience of being without my email caused me to stop dragging my feet and like Nike, just do it. So I did. Yay GMail for domains! Can you believe that I've had a Gmail account since the days when you had to have someone send you an invite? Well, I've had one, but I never used it. When I decided I would like to start sending and receiving my @the-gadgeteer.com, @ukulelereview.com and another domain through GMail, I thought I would need to do something with that original account. I was wrong. GMail for domains is a whole other animal. I had to sign up for a new account, which wasn't a big deal considering it's free (I like free), if you don't mind a 7.2 GB storage limit, and some google text ads. If you need more space, no ads and some extra goodies, you can opt for the $50/yr deal. Right now, I'm trying the freebie version. I may upgrade at some point though.
Setup was simple as far as creating a new account on the GMail side, assigning addresses etc. But the task of actually switching my e-mail from the gadgeteer server to GMail, required a little bit of hocus pocus. Rob is my server sys admin magician, so he handled all that for me. And at the same time, he also switched his own domain to GMail.
I was able to migrate all my mail on the gadgeteer server (IMAP) into GMail relatively painlessly. I just installed Thunderbird and setup the gadgeteer and GMail IMAP accounts and dragged and dropped folders. Folders don't really exist in GMail though, and will be converted into labels. Labels pretty much work the same way as folders though, so it hasn't be difficult getting used to this new setup.
The best part is that this whole switchover is invisible to anyone emailing me. They don't know I'm on GMail because all my mail comes from @the-gadgeteer.com or @ukulelereview.com. That's the part that had caused me to hesitate moving in the past. Things used to be setup where the message by-line would say something like "From [email protected] on behalf of [email protected]" Not anymore though 🙂
So far I'm really happy with the switch and plan to follow this up with some more switches that will get even more things off my desktop computer and the  gadgeteer server and into the clouds, where someone else maintains the data / backs it up etc.
How many of you out there are totally in the cloud and how has it been working for you?