We use affiliate links. If you buy something through the links on this page, we may earn a commission at no cost to you. Learn more.

At the beginning of this year I began my journey into cloud computing by moving my server based IMAP gadgeteer email to Gmail for domains. The process was relatively painless and it left me asking myself why the heck I hadn't done it sooner. My favorite features have been the awesome spam filtering, searching and labeling.
Not long after I converted my email, I did the same thing with my calendar and contacts. I exported the data out of iCal and the Mac Address Book apps and imported them into Google Calendar and Gmail Contacts. Again, the process was painless. Yay! The next logical step for me was to discontinue syncing whichever phone I happened to be using with my desktop PIM apps. Syncing my Mac based PIM data with Windows Mobile and Palm phones had been a thorn in my side for years, but I found a solution and its name is Google Sync.
Over the years I've tried several different syncing applications such as MissingSync from MarkSpace, PocketMac, Sugar Sync, and others. MissingSync worked the best for me out of the ones I've mentioned, but buying a 3rd party program to sync PIM data to my phone was always some what of a hassle. Especially when I use so many different phones. Most of these syncing applications are not free and require a different version for each platform, like iPhone, Windows Mobile, Symbian, Blackberry, etc. For those reasons, I was so happy to discover Google Sync.
Google Sync is compatible with a wide variety of smart phones and I've personally used it with my first generation iPhone, Nokia N85, Pantech Matrix Pro and now the iPhone 3GS.
Setup on the iPhone is really simple. You just go into the settings for Mail, Contacts and Calendars and tap the Add Account option.
Then you click the Microsoft Exchange option. It's kind of funny if you think about it… I'm using a Microsoft Exchange ActiveSync protocol to sync Google PIM data to my Apple iPhone 😉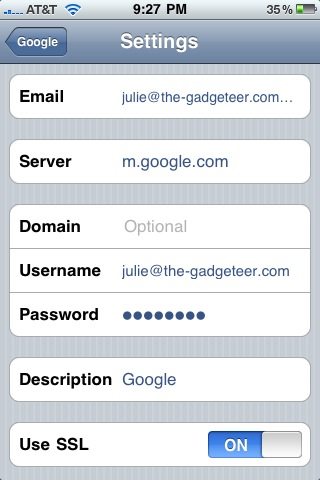 All you do next is fill in the email address you use for your Google account (as you can see here, mine is the-gadgeteer.com since I'm using google for domains), along with the password and the server of m.google.com. That's pretty much it.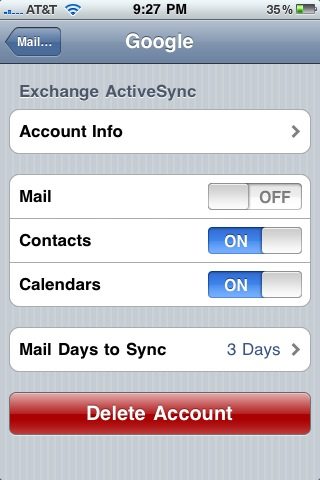 You can decide if you want to sync both contacts and calendar data. Just be aware that the first time you sync your phone, all the PIM data will be deleted and the data from Google will take its place in the built-in phone applications. But, after the initial sync, any changes you make on the phone or through Google will update on both. Syncing is done automatically in the background. The syncing happens pretty quickly too. I just did a test where I changed the picture for one of my contacts. I then went to Google through my browser on my iMac and checked for the update. It wasn't there, so I refreshed and tried again and boom there it was, less than 5 minutes later. Going the opposite direction is even faster. I updated an image on Google and when I looked on my iPhone, it was already there. Nice!
At this time, Google Sync is missing a few features though. For example, Tasks aren't part of the data that is synced from Google and Contacts doesn't support contact groups. But so far, those are the only features that I've noticed. All in all, I've been really happy syncing with the cloud. It's free, it's easy and it's automatic. It also seems to be the way that newer phones like the Android G1 and Palm Pre are going. Both of these phones only sync with online services (Google). So, unlike the length of time that it took me to move over to Gmail, this time I"m actually ahead of the curve 🙂