We use affiliate links. If you buy something through the links on this page, we may earn a commission at no cost to you. Learn more.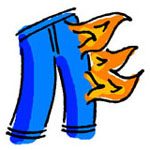 I'll admit it, I'm a liar… But, I'm also a woman and we always reserve the right to change our minds, right? 😉 If you recall, back in June I told everyone that I was not going to buy the iPhone 3GS because I don't have 3G coverage here in the bustling metropolis of Columbus, Indiana. That's still true, the latest date for 3G rollout isn't till the first quarter of next year. I've been hearing 'next year' for years now though, so we'll see.
Why did I change my mind and go ahead and buy a 3GS? I could blame it on the fact that I'm constantly being offered iPhone accessories to review and not having the latest model has kept me from checking out new cases and what not. Or, I could blame it on the fact that I'm bored and just wanted a new toy to play with. But do I really need a reason? I mean, I am the Gadgeteer after all. And with that title comes the fact that I can't help myself when it comes to shiny new things. It's a curse, but one that I'm happy to bear.