We use affiliate links. If you buy something through the links on this page, we may earn a commission at no cost to you. Learn more.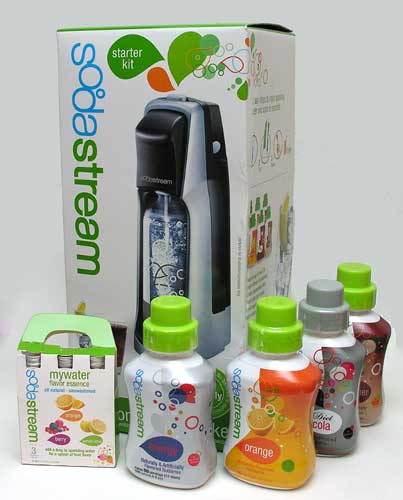 There are two beverages that I would be hard pressed to live without. Tea and Diet Coke. I love tea, but I'm addicted to Diet Coke. I drink the 20 ounce plastic bottles from vending machines at work and cans at home. Even though I recycle, I often feel guilty at the number of bottles and cans that I go through in a week. For this reason, I happily accepted the offer to review the SodaStream Fountain Jet soda maker. I was eager to see if the machine would offer fountain style taste and if it would help me save money and reduce can usage at home.
SodaStream sent me the Fountain Jet Starter Kit along with a selection of their soda mixes and favored water drops.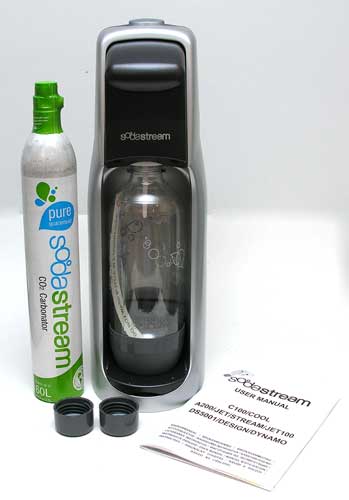 Package Contents
Fountain Jet soda maker
110 Liter carbonator gas cylinder
2 1 liter bottles with caps
User manual
The starter kit does not come with any soda mixes, so you'll need to buy them separately. They are priced at $3.99 – $4.99, with quite a few flavors (20-30) to choose from, including diet and non-diet flavors. Since I am diabetic, I requested samples of the diet mixes and was sent Diet Cola, Diet Root Beer, Diet Creme Soda, Diet Cranberry Rasberry, and others. The diet mixes use Splenda. They also sent me some of their non-diet mixes and I was surprised that they are also made with a mixture of Sucrose and Splenda.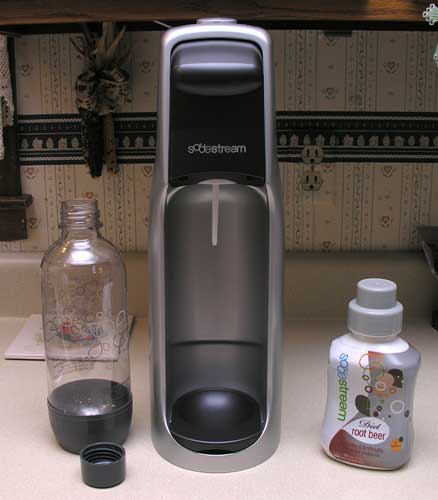 The machine itself is made of plastic and is relatively light weight. It stands 16.7 tall, and just barely fits under my kitchen cabinets.
I was a little worried that the process to make drinks would be more trouble than it would be worth. I'm happy to report that my worries were completely unfounded. I am not sure how much easier this system could be…
To get started, you remove the back cover on the soda machine.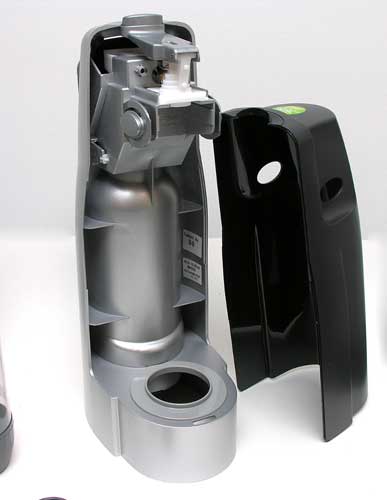 This is where the included carbonator gas cartridge will be installed.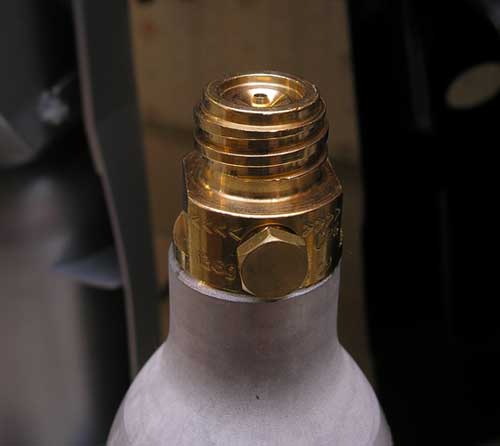 Just unscrew the protective plastic cap from the top and then…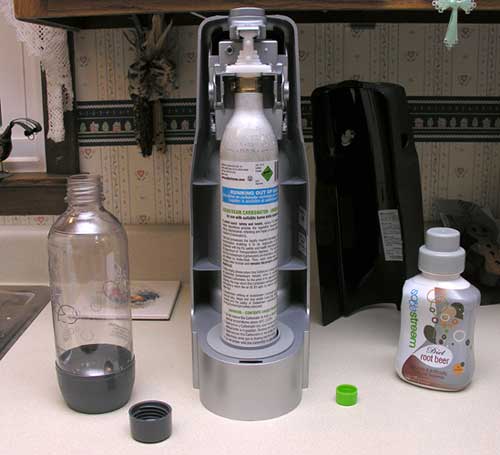 Screw it into the fitting on the back of the Fountain Jet and snap the cover back into place.
Open a soda mix flavor that you want to use and fill the cap full of the syrup.
Then wash one of the included liter bottles. FYI: The bottles can not be washed in a dishwasher… Then fill the bottle to the fill mark with cold water. I always keep a Brita filter pitcher in my refrigerator, so this is what I use to fill the bottle.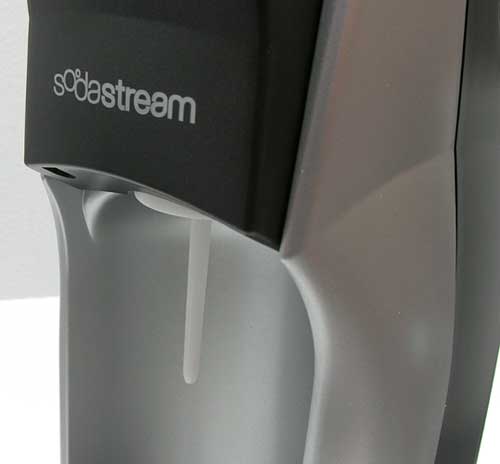 The bottle then screws into the threaded fitting on the front of the Fountain Jet.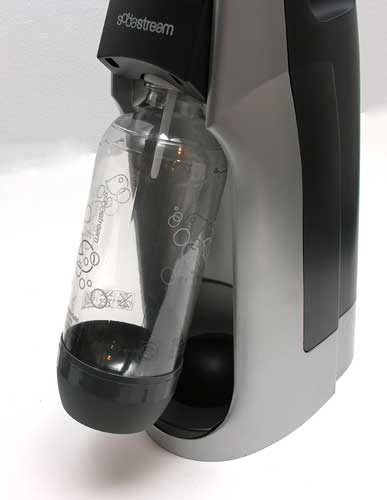 The top part of the Fountain Jet can swivel out to make it easier to screw in the bottle.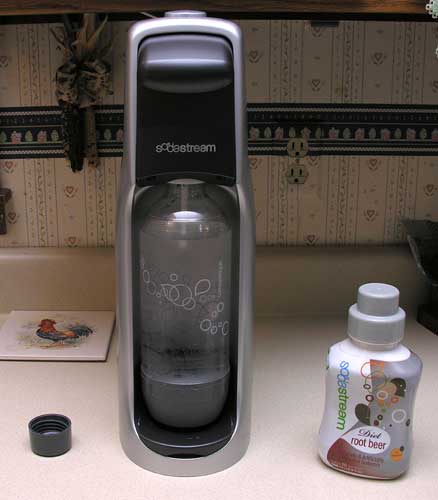 Here we see the filled bottle of water installed in the SodaStream ready to be carbonated.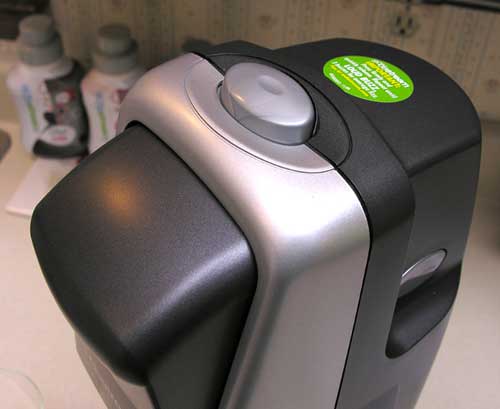 To release the gas from the carbonator cartridge into the water bottle, you just press the large Grey button on the top of the Fountain Jet in short firm bursts. The first few times you press the button, you'll hear and see gas release into the bottle, but you have to keep pressing till you hear a loud buzz. Once you press the button and hear a buzz, you press it two more times and  you're done. Swivel the bottle out, unscrew it, pour in the cap full of soda mix syrup, screw on the bottle cap and shake the bottle gently back and forth a couple of times to mix the syrup and  that's it.
The carbonator cartridge that comes with the Fountain Jet starter kit is supposed to create up to 110 liters (bottles) of soda. New cartridges cost $21.99 and require that you return the used cartridge. If you don't return it, you will be charged an additional $15.00 fee. Thankfully, a return shipping label and box are provided to make the return more convenient.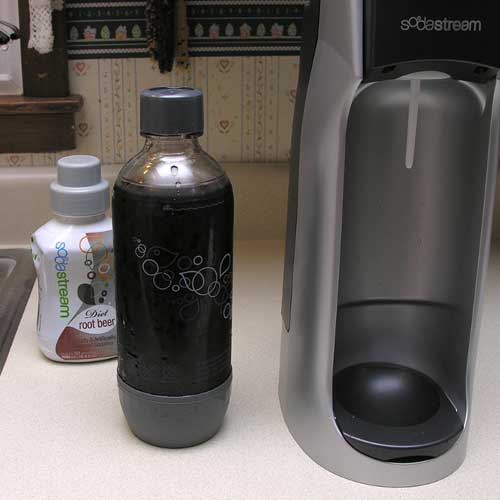 One bottle of Diet Root Beer ready to drink.
I'm curious if anyone has caught on to the fact that The Fountain Jet does not require any batteries or electricity to work. I know that I was a bit surprised when I unpacked the contents and did not see an AC adapter.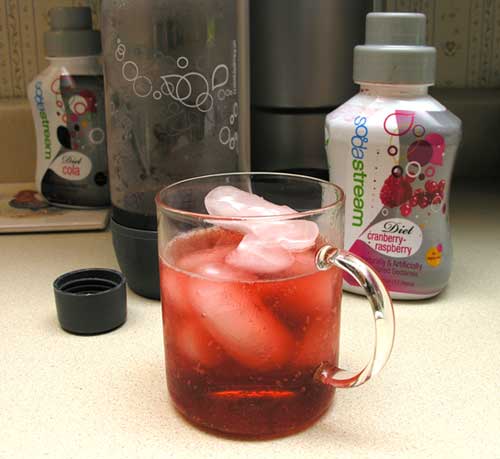 I've made five liters of soda with the Fountain Jet so far and I have liked all the flavors except the Diet Cream Soda which was a bit too sweet for me (even though it's diet). The Diet Cola is surprisingly good and tastes more like Diet Coke than Pepsi. Which is good because I don't care that much for the flavor of Pepsi. You can also use the MyWater flavors with the Fountain Jet to make sparkling water aka seltzer water. I tried the Berry flavor and it wasn't something I'd probably try again. I'd rather have the more flavorful flavors.
The one liter bottles have been the perfect size to share with another person during a meal or with a snack. The bottles keep the fizz in the drinks even if you don't drink them all in one sitting.
We've established that the Fountain Jet is easy to use and makes good tasting sodas, but is it economical? Here are the consumables:
$21.99 per 110 liter carbonator = ~ .20 cents a liter
$4.99 per soda mix (makes 12 liters or 50 servings) = ~ .42 cents a liter
That works out to a cost of about .62 cents per liter. Let's use Diet Coke as a comparison. The prices that I'm going to quote are local for me here in Columbus, Indiana at the time of this review. The 12pk can and 2 liter prices are sale prices for a local grocery store.
$4.00 for a 12pk of 12 ounce cans (works out to ~ .94 cents per liter)
$1.25 for a single 20 oz bottle (works out to about $2.11 per liter)
$1.00 for a 2 liter bottle (.50 cents a liter)
It appears that the SodaStream Fountain Jet does save you money when compared to buying cans or individual bottles. But it does not save you any money when you compare to buying a 2 liter bottle. That said, I don't normally buy 2 liter bottles because I usually only drink about half of it before it goes flat. That is one of the advantages to using the Fountain Jet to make 1 liter bottles, I find that I don't waste as much. Another advantage is that I don't have to lug and store multiple 12 and 24pk boxes of cans. So for me, this product gets two thumbs up. I'll write an update to the review after my first experience exchanging carbonation cartridge.
Updates 05/20/15
I used the SodaStream for awhile after I posted the review, but then stopped using it for a few reasons. The first reasons was that I didn't really have room to keep it out on my counter top all the time. I could have put it in a cabinet, but storage space in my kitchen is at a premium. Another reason why I stopped using it is because I didn't want the hassle of getting new CO2 tanks. But the main reason why ulitmately I stopped using the SodaStream Fountain Jet is that I no longer want to drink drinks with artificial sweeteners like Aspartame. These days I still make my own soft drinks, but I do it a different way. I buy 2 liter plain seltzer from Kroger for less than a $1 each. I add two packets of stevia sweetener and mix with a tiny bit of regular water. I add Capella flavored drops to the stevia/water mixture and then pour seltzer into the same glass, mix and add ice. Our favorite flavors are grape and wild cherry.
Source: The sample for this review was provided by SodaStream. Please visit their site for more info.
Product Information
Price:
$89.99
Manufacturer:
SodaStream
Pros:

Easy to use
Doesn't require electricity
Good tasting diet soda mixes

Cons: