We use affiliate links. If you buy something through the links on this page, we may earn a commission at no cost to you. Learn more.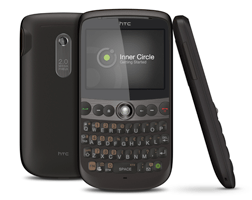 Today HTC has announced the Snap Windows Mobile 6.1 GSM smartphone. This is a successor to the HTC Dash and includes an interesting new feature called Inner Circle. With Inner Circle, emails that are most important to you (from a pre-selected group of people), can be accessed with a click of a button, so that you don't need to wade through a lot of useless gunk to get to the stuff that you really want to read. 
The Snap has a 528 MHz processor, 192MB of RAM, WiFi, GPS, 2.0 megapixel camera and 1500mAh battery. It's 4.59" x 2.42" x .47" and has a QWERTY keyboard. Yay! The jog ball looks interesting too.
I continue to use the HTC Dash aka Excalibur aka S620 off and on, so I'm very anxious to get my hands on the Snap to try it out. 🙂 Here are some more pix of this device to provide you with some gadget lust. Click on the thumbnails to see the full-size images.
Note the fact that there is a dedicated MSN chat key, that also doubles as a FN key / camera key combo.
Will you buy one?