We use affiliate links. If you buy something through the links on this page, we may earn a commission at no cost to you. Learn more.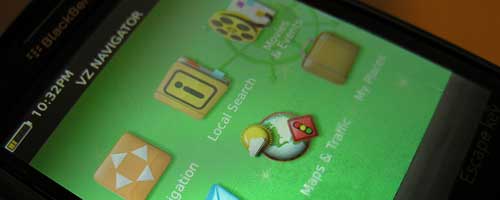 Seven days ago I started using the BlackBerry Storm as my primary phone. I forwarded all my calls from my AT&T account so that I would actually be forced to use this phone full time, with no cheating. Today was my last day to work on this series of articles and I spent it trying VZ Navigator, the e-mail client and the Opera mini browser.
I've used VZ Navigator before when I reviewed the LG Chocolate 3. For those of you that haven't heard of it, it's a map and navigation service provided by Verizon that is pre-installed on the Storm. Usage is not included with your normal monthly bill. You can either pay by the month ($9.99) or by the day ($2.99) to use this feature.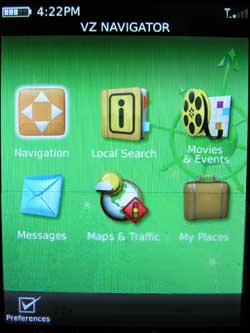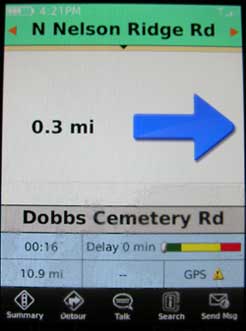 It has turn by turn voice prompts, movie search, maps and traffic, and local search features. It works just like a stand alone GPS. You give it an address and it will give you the real-time directions for getting there, even with spoken street names.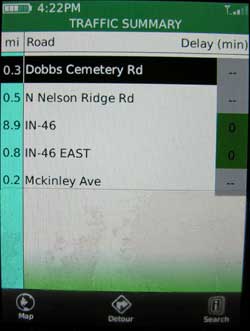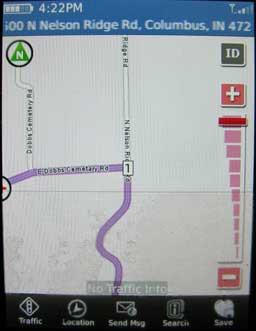 It's really easy to use. The only issue I had was during the first time I used it. The voice prompts were crazy loud and I pressed the volume key to turn it down. Mistake. Doing so pops up a volume selector screen instead of just turning the volume down a little. Getting back to the navigation screen wasn't real easy while I was trying to drive.
Other than that bit of pain, I would definitely use this application instead of packing a stand alone GPS with me when I go on a vacation. Much more convenient.
I finally got a chance to play with the email client today. I remember how lightening fast the BlackBerry Pearl was at grabbing mail, and was anxious to see how the Storm compared.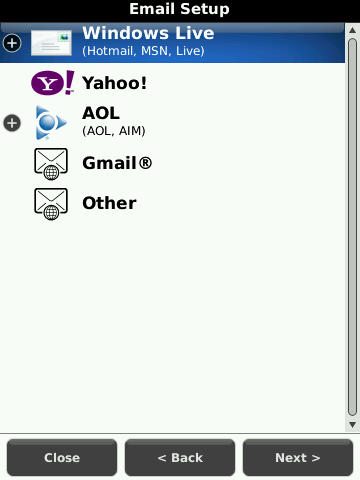 The setup app walks you through creating accounts for Yahoo!, AOL, Gmail and generic server based email accounts. To start pulling in mail from my brand spanking new GMail for Domains account, I just tapped GMail, typed in [email protected] and my password and was done. You can't get much more simple than that!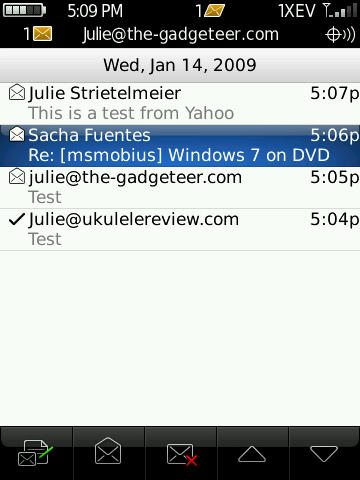 The BlackBerry email client is pretty basic with not a lot of bells and whistles.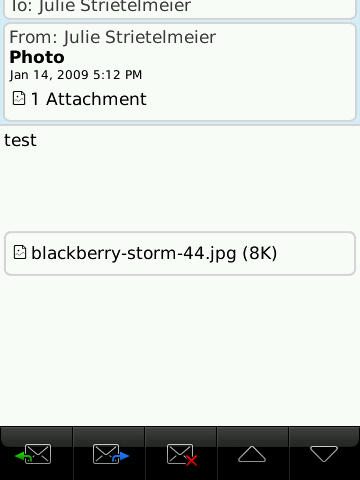 It can handle attachments but doesn't show them in the email. You have to click on them to load them in a viewer. I tried images and .PDF files, which it handled just fine.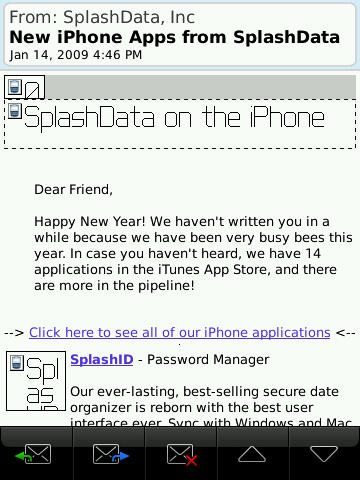 It can handle HTML email, but it wants you to click on images to load them.
As far as speed, it's just as fast as I recall the Pearl being. It was seeing new messages before GMail on my iMac saw them. Nice!
My last task with the BlackBerry Storm was to test the free Opera Mini browser to see how it compares to the built-in web browser. This requires a download and install, but it's fast and not hard to do. BTW: the BlackBerry Storm only has 128MB of memory available for applications.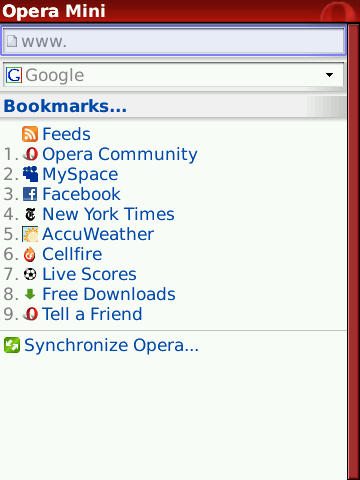 After launching Opera mini, you are presented with a speed 'dial' bookmark list. Now the cool feature I discovered really quick is the fact that you don't have to click the screen to select a link. You just tap it with your finger. Yay!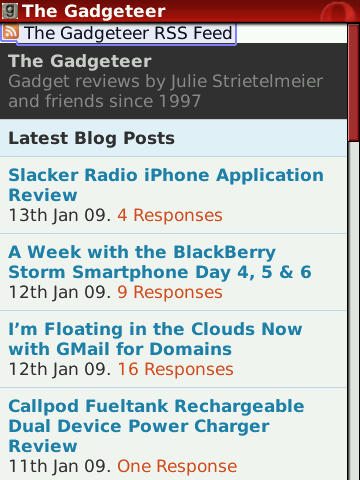 And wow, Opera Mini is about a billion times faster than the built in browser. If you like to surf on your Storm, you want Opera Mini. Trust me.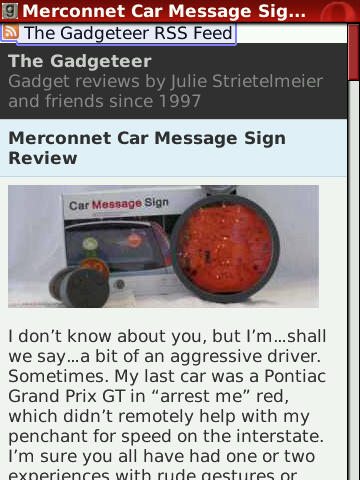 It also renders sites on the small display much much better than the stock browser. Go check out the images of the built in browser  in part 2 of this series (links below).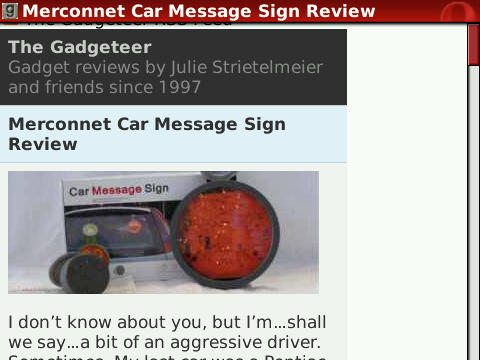 The only weirdness that I noticed with Opera is that if you open a webpage in portrait orientation and rotate your phone to landscape, it will not automatically reformat the page. It will keep the same width. But…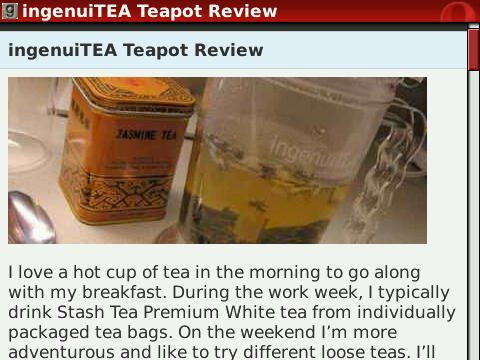 If you initially load the page in landscape mode, it will fill the display. And then when you rotate to portrait…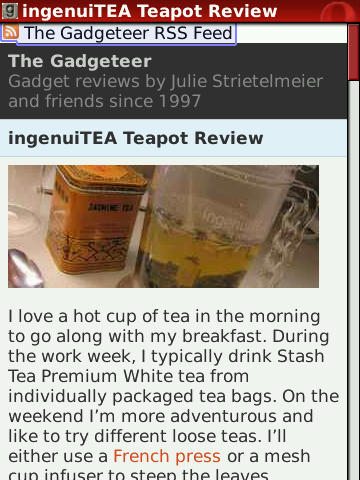 It will prompt you to reload the site to reformat the page. No big deal I guess. Anyway, I love Opera!
And with that, my testing of the BlackBerry Storm has ended. I have to be honest with all of you… The thrill of reviewing this phone left me late last week at about day 2 of this series. Now I'm just looking forward to being done, so that I can get on to other things. I think I've mentioned in the other parts of this series that I've really been trying to like this phone. Unfortunately, it just didn't happened for me.
I know a lot of people think I've came into this 'review' with a comparison of the iPhone already in my mind, making this review biased. Yes, it's true that I use an iPhone. It is not my primary phone, but I do use one on and off. I also use a Palm Centro and other phones. I rarely stick with any phone for more than a few weeks at a time because I just get bored easily. I'm lucky that I have a drawer full of phones, and as such, I know what I like and don't like out of a phone. I have my own set of features that are important to me, but might not be important to someone else. That's the nature of reviewing products though, you do bring your own likes and dislikes to the table.
I'll say it again, I prefer my phones to have buttons. I like to be able to press a button to make and receive calls, launch apps, etc. You can't do that with an iPhone, so the BlackBerry Storm has the advantage in that regard, with the voice dialing feature. Another feature that I like on the Storm is the big, vivid display and very good macro camera capability. Those three features aren't enough to make me love this phone though. The sluggish rotating display and input method just make me feel like it's more chore than fun to use this phone. For that fact, I am glad to box it up and send it back to Verizon.