We use affiliate links. If you buy something through the links on this page, we may earn a commission at no cost to you. Learn more.
I've been an AT&T customer for several years now. The main reason being that I can easily switch SIM cards between the various mobile phones that I have the opportunity to review. This convenience has been great, but if I am honest, call quality and audio clarity on the AT&T network really isn't the best… at least not in my area. Also, AT&T has not rolled out 3G here in little old Columbus, Indiana. Funny thing is that Verizon's 3G (EVDO) network is already here. So, I'm going to try some Verizon phones and see if I might like to switch carriers. LG's Chocolate 3 is my first Verizon feature phone to test. Let's take a look.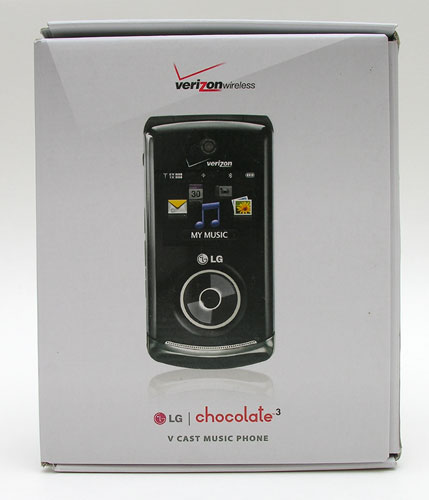 Hardware Specifications
Technology: CDMA
Frequency: 1.9 GHz CDMA PCS, 800 MHz CDMA (Digital Dual-Band)
Data Transmission: EVDO
Dimensions: 3.87″(H) x 1.94″(W) x 0.64″(D)
Weight: 3.36 oz.
Display: Internal LCD: 260K Color TFT, 320 x 240 Pixels, 2.2″ External LCD: 260K Color TFT, 176 x 220 Pixels, 1.76″
Standard Battery: 800 mAh
Usage Time: Up to 270 Minutes (4 Hours & 30 Minutes)
Standby Time: Up to 350 Hours (14 Days & 14 Hours)
Package Contents
LG Chocolate 3 Phone
Standard Li-Polymer Battery
Wall/USB Charger
User Guide
Quick Reference Guide

It's been awhile since I've used a flip phone, not to mention a non-smartphone. I've actually been looking forward to using a basic phone again. The Chocolate 3 isn't exactly a basic phone, but it's easy to use, small and very inexpensive (or even free) when you either re-up or sign up for a new Verizon account.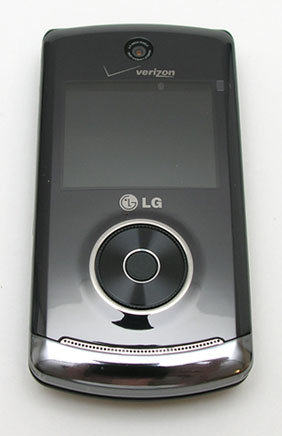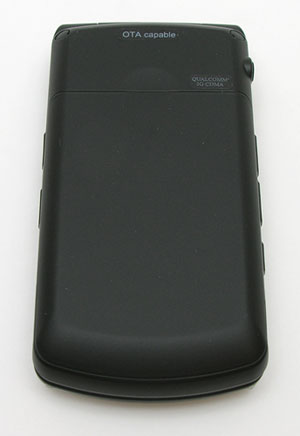 The Chocolate 3 is available in Blue or Black. I was sent the Black version to review. It's really more of a shiny Charcoal color though. The top part of the flip is glossy and shiny, so it does attract smudges and finger prints. The back part has a thin coating of rubber, which helps you keep a firm grip on the phone during use.
Never miss one of our posts again. Sent MON, WED, and FRI with the latest gadget reviews and news!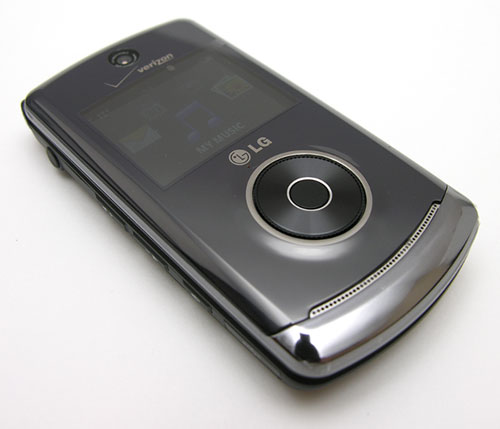 What I really like about this phone is the generously sized outside LCD display and the front navigation wheel.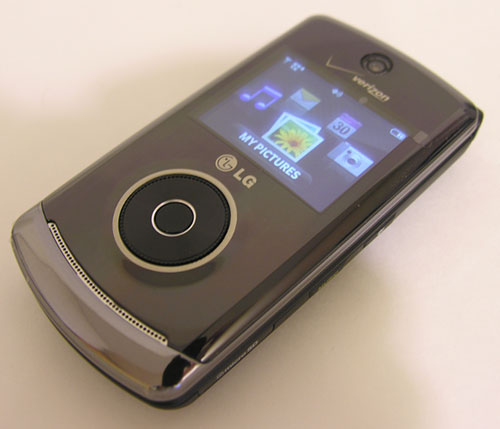 That front display is color, backlit and can be used to access your media (music and photos), as well as check your messages and calender. I do wish that the clock was visible at all times instead of needing to press a button to see it. But that's not a big deal.
The navigation wheel isn't a touch wheel. It actually spins like a tiny record or can be pressed to cycle through the main menu options. The center of the wheel acts as a select button.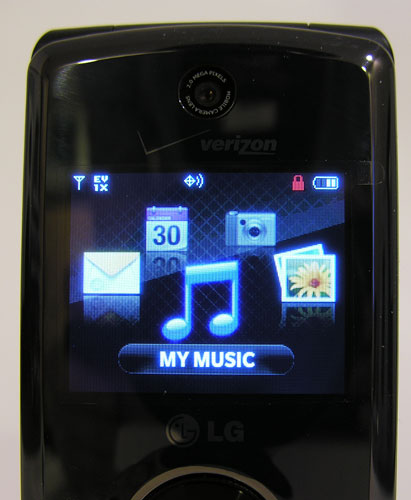 The 2.0 megapixel camera lens is also located on the front of the phone. Don't count on this phone to be your only camera… the pictures it can take aren't too great.

The Left side of the phone has a 3.5mm earphone jack (hidden under a rubber plug), volume up/down buttons, voice command button and a micro USB port for charging the phone. The USB port is protected by a narrow plastic cover that swivels to allow access.

On the other side of the phone, there's a microSD card slot, music application launcher button and the lock button. Like the USB port, the microSD slot is protected by a narrow cover. Every time I would open either cover, I worried it would snap off.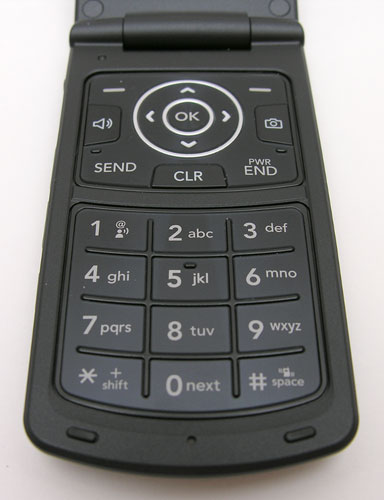 Flipping the phone open reveals a flat backlit keypad. I've never been a real fan of flat keyboards, but I haven't had any issues using this one. All of the buttons are generously sized and have good tactile feedback. It is a bit difficult to tell exactly where each number is located if you're not looking at the keypad though.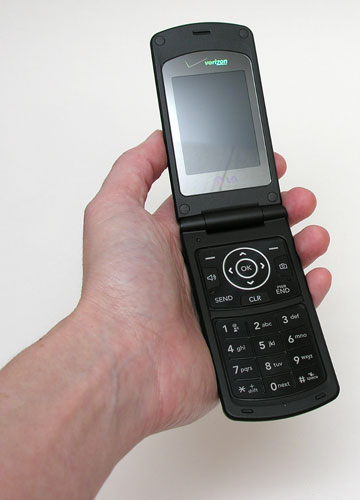 In hand, the Chocolate 3 feels light and comfortable. When closed it fits easily in any of my pockets, and when open, it feels like a full size phone that goes from your ear to your lips. It's been a long time since I've been able to hold a mobile phone between my ear and shoulder ;o) Try that with a Centro!
Making and receiving calls
As a phone, the Chocolate does a better job than most of the AT&T phones that I own. Call quality is great and I didn't have any issues with dropped calls, audio anomalies or volume problems etc. It was quite nice not to have to say "are you there?" at least once during every conversation like I normally do…
I enjoyed using the voice command key to make calls, play back songs, etc. No voice training necessary, just press the button and follow the voice prompts.
Software
Coming from using various Palm and Windows Mobile smartphones, I was afraid that I would seriously miss not having the ability to install applications. In all actuality, this phone has made me feel surprisingly liberated. The only application that I truly miss is an eBook reader.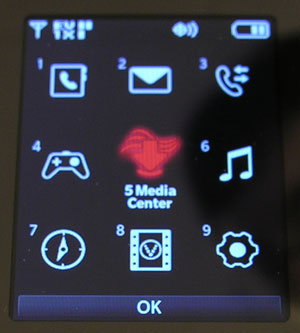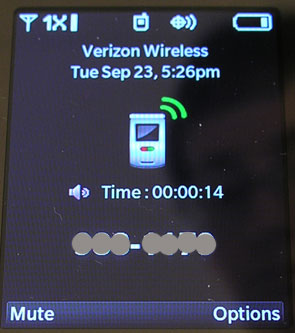 The user interface on the Chocolate is simple and easy to navigate. There are just 9 main menu options, that all fit on one screen.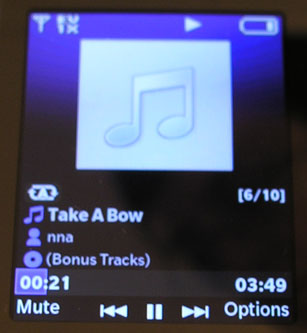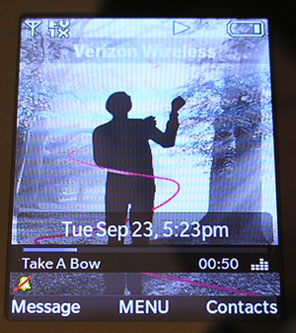 The Chocolate is a music phone and has a decent built in audio player that allows you to control playback while the phone is either open or closed. You can listen to tunes through earbuds, through the built in speaker or using the built in FM transmitter, which is a cool feature to have built into a phone. Music can be stored on a microSD card or by downloading through the V Cast Music Rhapsody service and saved in the 1GB of internal memory. One thing I did notice is that you if you opt to save your .MP3 or .WMA files to an microSD card, you can't save them in folders. From what I found, songs have to be dumped into the root of the card in order to be recognized. I did not try any type of syncing software with my PC though… You can connect the phone to your PC via the included USB cable and is supposed to automatically install a client application on your PC.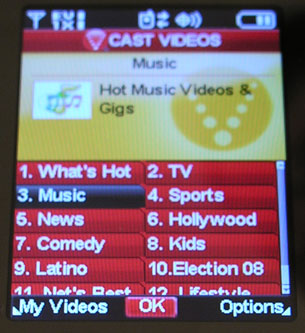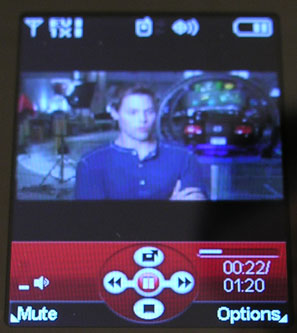 V Cast also allows you to watch video clips and TV shows. I was surprised at how smooth video playback was, even when I only had a 1 bar signal. While I'm not sure I'd want to watch an entire episode of Heroes on the Chocolate's little display, I'd not have any issues watching a few clips here and there when I needed to kill some time.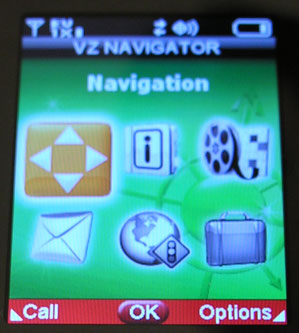 VZ Navigator, which is a map and navigation service provided by Verizon is included on the phone and is very cool. You can pay by the month ($9.99) or by the day ($2.99) to use this feature. It has turn by turn voice prompts, movie search, maps and traffic, and local search features.
Conclusion
I've really enjoyed using the LG Chocolate 3 phone for the last week or so. I found it easy to use and very compact. I like being able to just slip it into one of my jeans pockets when I'm on the go. My favorite feature is the large outside display. Too bad that it doesn't have an eBook reader, if it did, I'd seriously think about using it as my main phone. It's a good phone with a nice set of features (especially if you like music) and doesn't cost much at all if you're upgrading.
Product Information
Price:
299.0
Manufacturer:
LG Electronics
Retailer:
Verizon
Pros:

Large outside display
Good music features
Great inside display
Compact

Cons:

Built in camera isn't very good
Flimsy microSD and USB port covers