We use affiliate links. If you buy something through the links on this page, we may earn a commission at no cost to you. Learn more.
Here's a first – a mobile phone with a built in Bluetooth headset. LG's Decoy for Verizon is a cool little slider phone that has a headset dock on the backside of the phone. Now you'll have no excuse for hands-free talking while driving.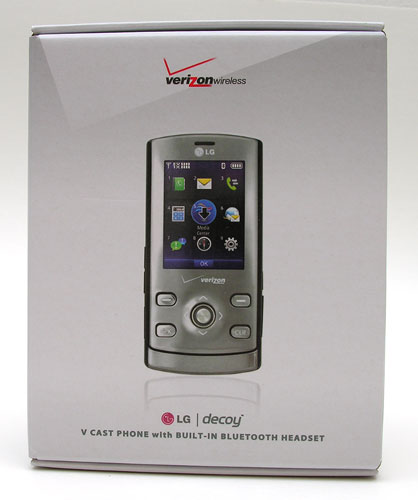 Hardware Specifications
Technology: CDMA
Frequency: 1.9 GHz CDMA PCS, 800 MHz CDMA (Digital Dual-Band)
Data Transmission: High-Speed EVDO
Dimensions: 4.01″ (H) x 1.97″ (W) x 0.67″ (D)
Weight: 4.05 oz.
Display: 262K Color TFT, 240 x 320 Pixels, 2.20″
Standard Battery: 800 mAh
Usage Time: Up to 230 Minutes (3 Hours & 50 Minutes)
Standby Time: Up to 330 Hours (13 Days & 18 Hours)
Package Contents
Decoy phone
Standard Li-Ion battery
Travel charger
Integrated Bluetooth headset
Bluetooth headset charging adapter
Bluetooth headset cavity cover
User guide
Quick reference guide

The Decoy has a sleek design that really appeals to me. The front looks like liquid silver with its glossy mirror finish and the back is a Blue with a slight rubberized feel.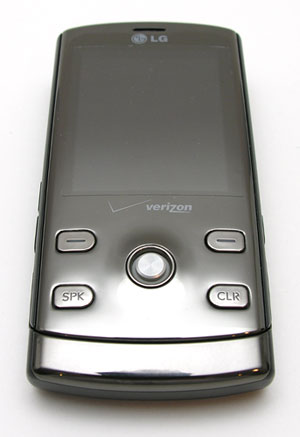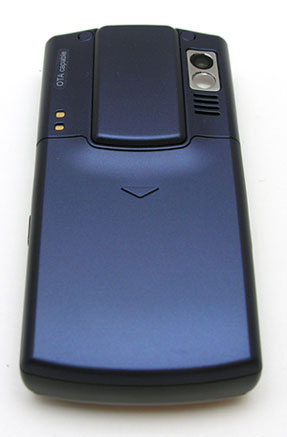 The front of this phone has four buttons and a 5-way navigation joystick in the center. The joystick has circular ridges on the top, to keep your thumb from slipping off as you use it. It's not difficult to use the joystick, but I think I prefer a regular 5-way navigation pad.
Never miss one of our posts again. Sent MON, WED, and FRI with the latest gadget reviews and news!
On the back, you find the camera lens and the cover for the Bluetooth dock. This is what the phone looks like when you don't want to use the included headset. More about this in a minute.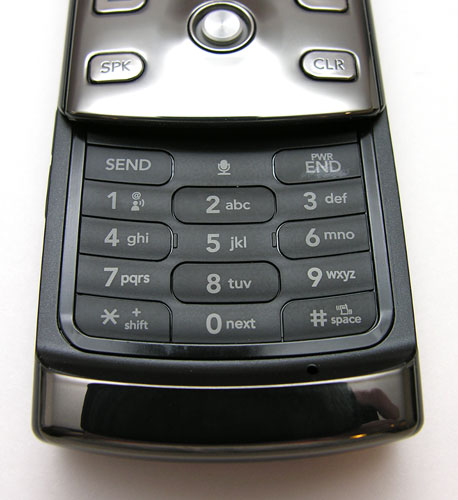 The front of the Decoy slides up to reveal the backlit keypad. The keys are slightly bumpy, making them easy to press. They also have good tactile feedback. The center button on the top row that looks like a microphone will launch the voice command application when pressed. Using this feature, you can dial by name or number by just saying "Call Jeanne Webster". The voice command feature is also launched by pressing the main button on the Bluetooth headset.

On the left side of the phone, there is a volume up/down button and the USB charging port, which is protected by a plastic cover.

On the right side, you'll find a microSD flash card slot and the camera application launch / shutter button. There's also a 2.5mm headphone jack and lanyard attachment point.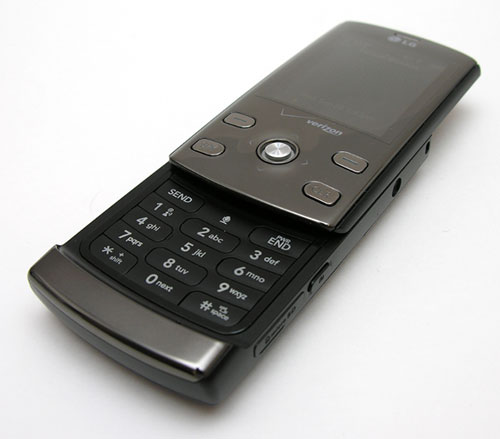 When open, the Decoy is still a pretty slim and compact phone.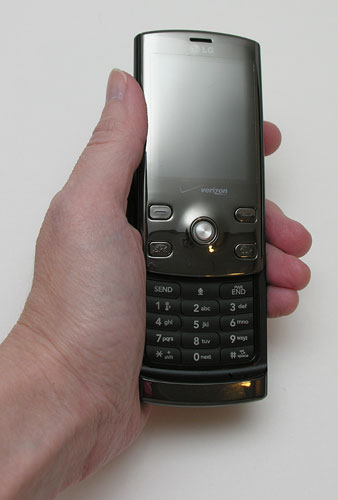 In hand it feels solid and comfortable to hold.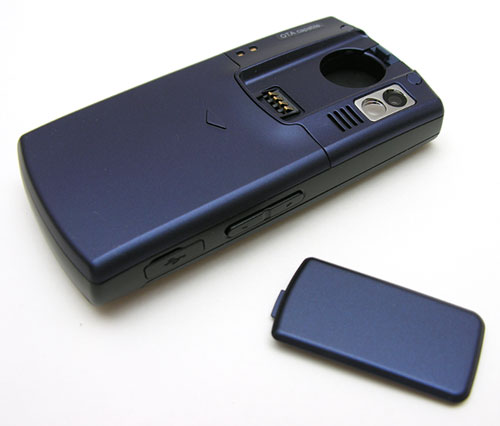 Of course, the most interesting feature of this phone is the built in Bluetooth headset. To use it, you remove the plastic cover, which reveals a built in holder that holds the headset and even charges it while it's docked.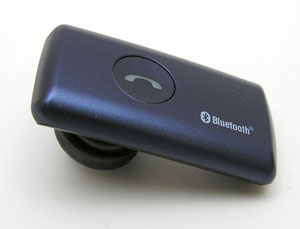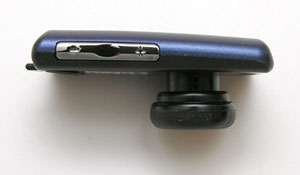 The headset itself is pretty small and only has the one ear pad size, meaning that it probably will not fit everyone. For control, it has one main call start / end button on the face, which doubles as the pairing and power button. It also has a volume up/down button on the top edge.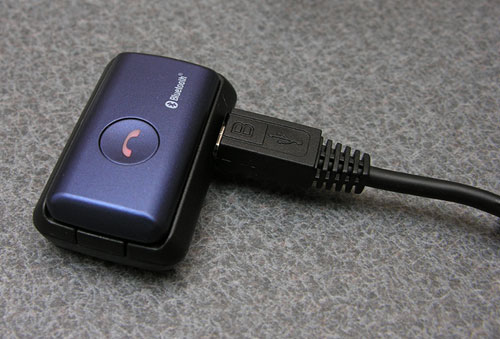 A separate dock is included that you can connect to the USB AC adapter for charging.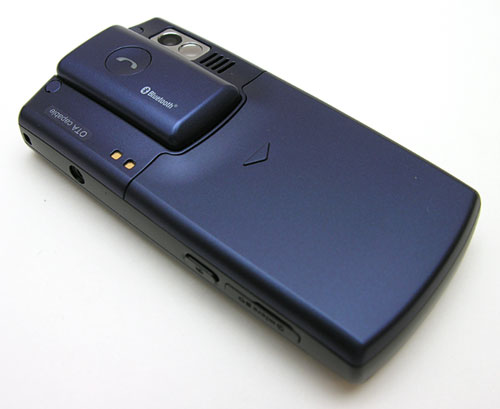 The headset then snaps easily into the cavity on the back of the phone. Pairing is simple and another nice feature is that when the headset is docked on the back of the phone, its battery status shows up next to the Bluetooth icon on the top status bar of the display.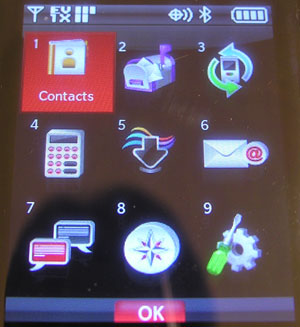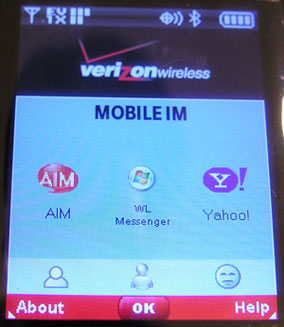 The phone's interface should be familiar to you, if you're a Verizon customer. It's not much different from the LG Chocolate 3 which I just reviewed. The Decoy includes all the same V Cast features which allow you to view video and download/buy music. One interesting thing I noticed was the fact that I was unable to play .MP3 songs that I copied on to a microSD card. This worked just fine on the Chocolate 3… I tried to buy a song using V Cast, but no matter how many times I tried, it kept erroring out during download – even though I had a full signal.
One special application included on this phone is a chat client that supports AIM, Windows Live Messenger and Yahoo!.
As far as using this phone for its main tasks – making and receiving calls, I was impressed by call clarity and volume. I also liked the way it shows very large numbers when you manually key in a phone number. That makes it easier to see when you've made a mistake if you are outside in full sunlight.
Having a designated place to store a Bluetooth headset is very cool, but buying this phone without a new contract or an upgrade is pretty expensive at $350. As an alternative, I'd be more likely to probably just buy a less expensive phone and a separate headset. You can save considerably (right now, $200) if you buy this phone with a 2yr contract, though. If you're going that route, I'd say that this is a sleek phone with a cool feature at a decent price.
Product Information
Price:
349.99
Manufacturer:
LG Electronics
Retailer:
Verizon
Pros:

Built-in Bluetooth headset
Joystick navigation button

Cons:

Can play manually saved .MP3s to microSD card (not 100% sure about this)
Headset might not fit everyone's ears
Expensive without a new 2yr control